New iPhone XR is best option ever from Apple with powerful pack still costing lot lesser than the XS or XS MAX. And that was the reason I went for XR model compromising somewhat on the duel camera and display. But never mind, when I bought the XR I also quickly bought a $10 iPhone XR case. Just wanted to share which one I bought and how I selected it from different cases with all of you.
So here is my list of $10 iPhone XR Cases
The first one in list I am using currently, rest are from my research before I decided to buy this crystal clear case
Crystal Clear Case (The one I use)
The one I selected is crystal clear transparent one so that I don't loose the originality of iPhone color & finish still maintaining my basic moto of protecting the camera and screen.
The case is made from TPU bumper with a PC back and just 0.15 mm thick, so you will not even feel presence of it still protecting your phone.
PC ( Poly Carbonate ) being used in things like car headlamp bezel to make it scratch free still retaining the transparency to its best.
TPU ( Thermoplastic polyurethane ) provides resistance to oil, grease and abrasion.
Thus hybrid of TPU and PC makes it a perfect durable case for the iPhone which crystal transparency like a glass, showing my original phone styled design.
Also the hand grip is pretty descent not to allow slip-fall.
And obviously it has all the basic features like raised bezels which ensures a gap with any surface and screen when kept on table or protects the camera too.
Use of TPU ensures flexibility, especially while operating buttons. The raised buttons still maintains tactile feel during press. And the large cutouts given to the perfect size makes cable connections easy.
Main thing I forgot to mention is that this case supports the wireless charging, so no hassle!
When I bought it costed me around $11 (as on 8 Jan 2019) You may like to check the latest price on Amazon
---
Crystal Lace Stylish Design (SHOCKPROOF – Still in budget)
This one I found after placing an order for the previous case, but looking at the price below $10 still giving so many designer options looks to be an attractive proposal (And with so many positive reviews)
Plus point for this case is design of shockproof features on four corners, thus protecting the phone during general drop-off which generally happen on the corners.
Also the details on the corners to protect camera looks good to create more than sufficient gap when kept on any flat surface.
This slim and thin case protects phone specially from scratches, bumps and drops.
Its available in so many attractive designs as well as colors to suit the moods.
I think there is no harm in checking the latest price on Amazon before you finalize which protection case you want to buy for your XR.
---
A case with Built-in Screen Protector (Slightly expensive though)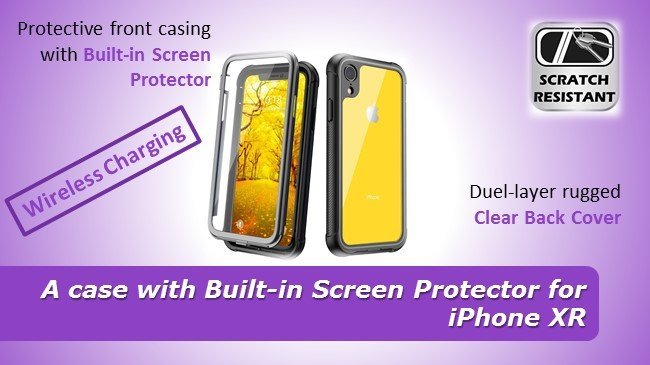 The next I found in this budget is with Built-in screen protector which provides a complete protection package with drop protection too.
Its available in attractive color options like Black, Blue, Pink and Rose Red.
Highlights are –
Provides high level of drop protection
As claimed it is tested as per Military standards for drops.
Duel layer PC + TPU material provides complete body protection for your iPhone.
Added screen protector provides a complete protection.
As like the previous two cases this one also supports the wireless charging.
Raised bulb type corners and lips protects the screen and camera when kept on flat surfaces.
It was available at around $16 when I checked it, you may like to check the latest price on Amazon
---
The last two cases I will be referring from the most famous OtterBox, although they are costly they are from one of the best in Industry.
OtterBox Commuter Series Case for iPhone XR
Now lets see last two recommendations from one of the best in Industry known for phone protective cases, yes, OtterBox cases.
The one which I am recommending for the iPhone XR is a thin, lightweight designed 2 piece case.
As you know OtterBox, this case also provides high level of drop protection, bump and shock proofing.
The case looks as rich as the phone too.
And what is different for this design is protection of port covers which prevents ports from malfunctioning due to dust and debris.
Available in attractive colors like Black, Ballet Way (Pink Salt/Blush), Bespoke Way (Blazer Blue / Stormy Seas Blue), Ocean Way (Aqua Sail/Aquifer)
Finally it is being provided with OtterBox limited lifetime warranty indicating quality.
When I wrote this review the price was somewhere around $30 or so, please check the latest price on Amazon.
---
OtterBox Defender Series Case for iPhone XR
This is the costliest in my selection of best cases for iPhone XR, since I began my selection from $10, this one costing $50 is best from defender series from otter-box.
Its available in multiple colors such as Black, Big Sur (Pale Beige/Corsair), Dark Lake (Chinchilla/Dress Blues), Happa (Silver Pink/Red Plum/Happa Graphic), Purple Nebula (Winsome Orchid/Night Purple), Rt Blaze Edge (Blaze Orange/Black/Rt Edge Graphic, Rt Maz 5 HD (Blaze Orange/Clack/Max 5 HD Graphic
Again it features basic strengths of OtterBox design such as multi-layer defense with solid inner shell protected with softer outer cover still maintaining the wireless charging capability.
Additional feature are Belt-clip holster which also acts as a kickstand, helps you to view movies without hassle.
And as per the basic standards from OtterBox it provides all port protections from dust and debris.
As per me the last two selections are basically suggested for the sport freaks where outdoor use of iPhone is at the most and protecting it from dust and dirt as well as multiple falls is very important, finally you are going to stake a $750 phone.
When you use OtterBox you are using two best brands, Apple and OB! Both are known for being the best.
Price of this particular case was around $50 in Jan 2019, I suggest you to check the latest price on Amazon before buying.
---
Bottom line
When you buy iPhone XR worth $750, its as important to protect it from handling damages, specially if you intend to use it outdoors.
Options available for the protection case from as low as $10 using high grade plastics which are flexible and transparent to maintain phone's originality.
For office use the first three choices are best, third being best for girls with its attractive designs.
And the last two from OtterBox I recommend for those who most of the time want to be outdoors and camping or sports, since specially designed to be shock proof and dustproof with known military grade protections.
Do let me know which of the above cases you liked and why?
Cheers !!