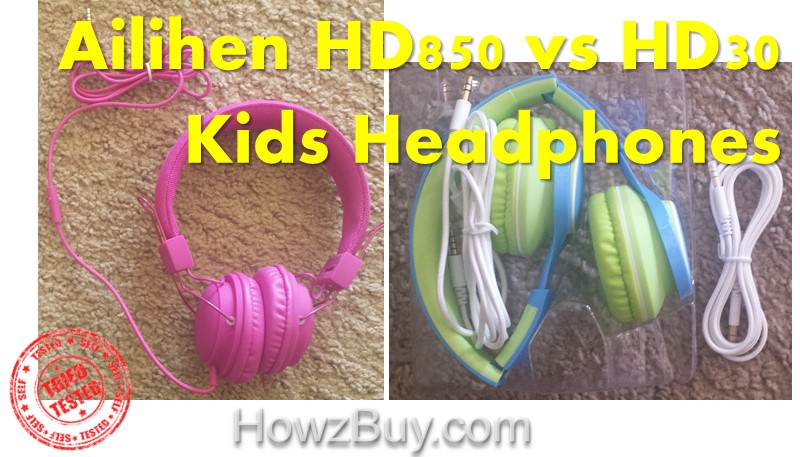 If you ask me, while you select headphones for kids, most important features are Safety first and then Comfort followed by the Quality of Sound.
So while there are many more companies claiming that their headphones are the best for kids … Ailihen kids headphones are doing well on Amazon as seen today …
So in this review I have selected Ailihen HD850 & HD30 Kids Headphones for my Review and Comparison, I am thankful to Ailihen for providing the products free of cost for evaluation purpose.
Now why I selected these two is for Safety and comfort, both are having their volume limited to 93dB which is one of the basic safety feature … Many times kids will not understand and increase the volume to maximum which can cause damage to the hearing !! so feature of limiting the dB level to 93 is very important to me ..
Second is … kids like the catchy colors … lovely textured headband and super styled finish … looks like they will last long .. and the 30 days money back guaranteeing shows confidence in the product by the company 🙂
The nylon cable provided with headphone is also great .. it avoids entangling during handling by children …
Also its folding feature makes convenient during weekend trips …
Now lets look at first hand highlights followed by my recommendation out of two with reasons.
While I evaluated Ailihen HD850 headphones I found them easy to adjust, which surely offers a definite degree of ease for kids … and mind it . their multiple vibrant colors are surely liked by children, only making it slightly difficult to choose from 😛
HD850 headphones with its 40 mm PET soft membrane are highly comfortable on kids ears. Also these Soft ear cup cushions are clearly marked as L (for left) and R (for Right) sides which is important for kids.
Design of ear cups hinges on metal pin and same pin is extended upwards to allow sliding motions between ear cups and headband. Now only here I am slightly skeptical about issue of little kids figures getting entangled into the wires of headphone adjuster mechanism, I must mention that this is only my perception based on the design, however in practice I have not experienced this issue. So here HD30 scores more points due to MORE SAFE than HD850.
This product has a small in-line remote with an integrated microphone making it:
Easy to control volume.
Voice applications
Select tracks
Switching between calls and music
Headphones have an adjustable fabric headband, and gold plated 3.5 mm audio pin on open end of 1.5m audio cable.
Interesting for kids: Connect with each other easily 🙂
Many times kids want to see the same movie, listen to the same music as the siblings / friends, here the Connect+ feature of HD850 which integrates the SharePort Technology comes into picture. Kids will be able to connect multiple headphones to each other !! wow .. that's so  fantastic idea …. I liked it very much
Now Ailihen HD30 also has adjustable guide rails and are available in two tone color pattern. (as against single colour in HD850)
Package contains adjustable headband assembled into the 1.5 m audio cable with 3.5 mm gold plated pin. Package also contains a separate 1.5 m headphone cable.
This product felt superior wearing comfort levels due to its soft leather headband.
However these Headphones are slightly heavier than other Ailihen HD850 offering but are also sturdier as headphone slides into much thicker.
My recommendation based on evaluation of Ailihen HD850 and HD30
Mostly both products have similar safety features, however there are distinct differences making it easier to choose based on your personal needs.
Function:
HD850 scores more compared to HD30, where HD850 allows connection of more headphones with each other, as you know kids like sharing and listening to the same track, watching the same movie. This shareport feature surely scores more in HD850.
H850 wins here!
Stlyle & Colours:
HD850 comes in single color only as compared to two tone attractive colors of HD30, as well as superior wearing comfort levels due to its soft leather headband.
HD30 looks more trendy and contemporary than HD850 (HD850 has wires giving it an age old looks)
So HD30 wins here!
Safety:
HD850 have wires in headphone band .. small kids fingers can get entangled inside it and cause safety issue .. whereas HD30 do not have such issue ..
So HD30 wins here!
Overall impression and final Ailihen kids headphones recommendation:
Looking at the Style, Colors, Comfort, Safety .. HD30 scores bit more compared to HD850 ….
so for small kids I will definitely recommend to go for HD30 .. and for elder ones you can go for HD850 (where they like sharing)
Hope this helps !
Cheers !!