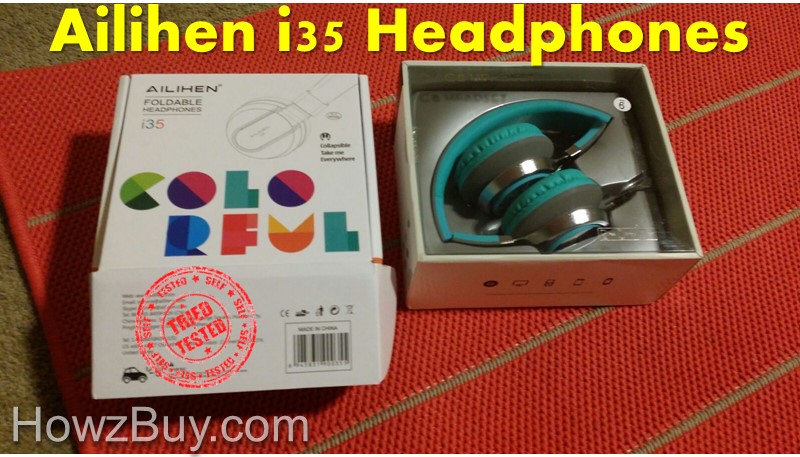 Looking for a Budget Friendly Still Good Headphones ?
Yes, now a days headphones is something like a consumable item, you keep missing them, breaking them, gifting them 🙂 which means the hunt for new models, super budget but giving good sound quality, still comfortable to wear is a never ending quest.
In this post I am narrating my hands on experience with Ailihen i35 which is one of the most admired budget friendly headphone with multiple functions as well as compatible with all Android phones, IOS, winphone and Blackberry system phones, tablets, laptops and desktops.
Here is the hands on review of Ailihen i35
Sound Quality (Which is the prime important feature of any headphone):
Prime feature is noise cancelling which works great (Excellent)
– Specially I liked it while flying, since the turbine boom makes me mad at a times !
With its 40 mm drivers delivering super sound, it Feels like seating in movie theater for certain voice clips.
Sound quality is just great, with nice bass punch
The 360 degree pickup microphone make it have high-definition voice calls
Style & Ergonomics:
Style
– Available is 5 attractive colors, have an elegant look
Ergonomic design
– Really super lightweight (11.2 ounces), allows to wear for pretty long time, I use it frequently to watch movies.
– Leatherette Cushions and padded headband really feels Soft on the ears, I will say Cozy 🙂
Carry during travel:
– Specially during air-travel, these headphones come handy due to its Folding design.
– its 1.5 meter cord allows me to hook it to cell phone, keep it in pocket in front of my chair during air travel … I think for most of you this length shall be more than sufficient even you use it with your laptop or desktop.
– Also the headband is adjustable allowing it to be used by my daughter 🙂 and she likes the Green colored headphone 🙂
Controls & Mic:
Equipped with simple Pause/Play music controls which also support switch of previous/next tracks
Another useful feature is the In-Line microphone which allows me to take calls while I watch movies on my phone … and the so called 360 degree pickup microphone works great (remember if you face echo issue during call you need to adjust the volume)
Compatibility
Have 3.5 mm jack so fits my Android phone and Tablet easily
as the company claims it is compatible with all Android phones, IOS, winphone and Blackberry system phones, tablets, laptops and desktops.
Final recommendation after Ailihen i35 hands on review:
Yes, after evaluation over one month using a FREE product sent by Ailihen by me as well as my daughter & son, I feel like this headphone works great and I am happy with the budget price of it … The contemporary color very much liked by my daughter as well as she likes the touch & feel. The noise cancellation feature works great for me during air travel and busy airports.
Overall I can rate them as great headphones in good budget.
If you wish to buy them on Amazon, please follow this quick product link