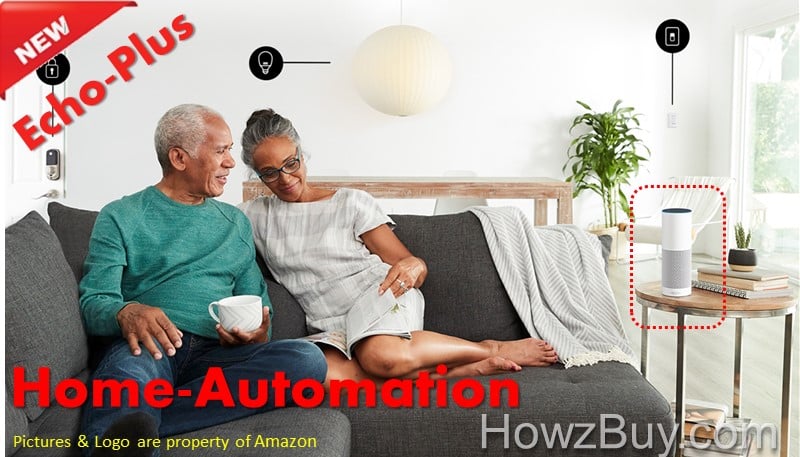 I know soo many reviews on Amazon all new Echo Plus model will confuse you to the great extent, and people do write 2000 words reviews with so much information that you tend to get lost in reading and understanding !
So here is what I will do for you, simplify things, get right information in crisp manner, avoiding all the technical jargon's ( Although after spending 25 years in R&D I can write thesis on this subject 😛 )
So lets begin:
With this simple mathematics equation I will try to explain what an Amazon Echo Plus means to you
Amazon Echo + ZigBee-enabled home hub = Amazon Echo Plus
Mind it that if you already have a smart-home hub in your house, then no need to go for Amazon Echo Plus at all. 
Do I need a separate Hub always for Home-Automation ?
First and foremost thing is that not all devices needs a Hub. What it means is that if you have a Nest thermostat which can contain its own hub then you can control it using Echo Dot only, so no need of separate Hub. There are devices with built in WiFi and when attached to your home WiFi network, you can control them using Echo Dor only and no separate hub is needed.
Then Why & When to use a Smart home Hub ?
You will need to add a hub when devices is using other signals rather than regular WiFi, such as zigbee, or zwave, which are home automation signals, which mesh or bridge signals over one another automatically.
What is ZigBee & Z-Wave?
Apart from regular Bluetooth and Wi-Fi connectivity with your device, ZigBee & OR Z-Wave are the two of fastest and most reliable radio waves used to control Smart-Home-Devices.
ZigBee and Z-Wave hub & devices generates a mesh networks that increases the range by repeating the signal from one device to the next, and hence you will get benefit of Control any device from any location in house through other smart device ensuring a sort of "always on & accessible" capability.
Amazon Echo + ZigBee Hub : What it can do and What Can't
The ZigBee Hub allows the Echo Plus to directly connect to the included Philips Hue light bulb, as well as over 100 other ZigBee-enabled devices – without the need for a separate hub, such as the Philips Hue Bridge, Samsung Smart Things, or Wink hub. [current offer on Amazon is one Philips Hue light bulb for FREE with the bundle (as on 25 Jan 2018)]
---
If you wish to check list of devices that can be controlled with Amazon Echo Plus, Click here
---
First pairing of Philips Hue Light Bulb setup:
As on now you will get FREE Philips Hue light bulb, all that you have to do is to screw the bulb into the desired lamp post and then turn it on.
Now try saying "Alexa, discover new devices" or simply tap "Add device" using the Smart-home-tab in the Alexa App. Wait for a few seconds, and the light shall blink indicating "Successful connection". Yes you are ready to GO automatic.
Simply repeat the same process to get on to connect over 100 different ZigBee-enabled devices, which includes  smart locks, switches, outlets, and more.
Issues using Echo Plus with existing Smart-home devices:
Loss of Third party integrations:
First issue is that you will lose any third party integrations (such as the ability to sync your Hue lights to Movies and TV shows.) After you start using it through Echo Plus integrated hub, you will be left only @ 35% of the available functionality that you would have had using a genuine Hue hub 🙁
Changing Light Colors:
You will be able to change light colors using Voice commands. You will be able to change the brightness and turn it on or off
What you can't do is :

Select a custom color from a pallet of Millions of colors
Use one of Hue's built-in scenes
Use the Hue dimmer switch
Use the hue tap (multi-button control)
Use the Hue sensors
Control the light strips

What you can do is Only control few basic colors, brightness, and on or off and that too ONLY with Voice commands.
App control ?

App is very much basic & you can't use it to control colors. In fact, you can do NOTHING with the app and colors of any of the lights.
Using the Ambiance White bulbs – you cannot change the white character of the light using App
Create Device Groups:
The App does add the ability to create groups of devices – living room, for an example – which will allows you to trigger actions from multiple, varied devices from a single phrase.
Like "Alexa turn on the living room" may turn on all the lights and other ZigBee-enabled devices, but will still require a Hub (and corresponding Alexa skill) like the Logitech Harmony Hub, to also turn on IR devices like TV's and sound bars with the same command.
Can listen to Specific commands only:
The commands given to Alexa needs to be accurate like if you have a light named "Desk

lamp

" and you instruct Alexa to turn of the "Desk

light

" then Alexa will not understand difference in between lamp and light, like Google home! so be specific and accurate to get the results.
Conclusion for color bulb control:
Color bulbs apparently cannot be controlled with the Echo Plus alone, and will require the hue hub.
What are the Improvements done in Echo Plus over Amazon Echo
Speaker's audio performance has been improved with its 2.5-inch downward-facing woofer, and 0.8-inch tweeter
The seven far-field microphones have improved advanced generation, resulting into more accurate wake-word detection.
An integrated ZigBee hub (

hub does nor support Z-Wave devices

)
with Improved smart device integration and interface within Alexa App, providing access to Alexa's wealth of over 10,000 app/device integrations (skills) [Only you should note that Alexa search functionality is not as good as the famous Google Assistant]
Final recommendation on buying an Echo Plus:
Recommended to be bought by beginners of Home-Automation:
Its really a good attempt by Amazon to integrate the Smart-home control hub inside the smart speaker and with easy and quick setup you will be able to climb the first home automation step with low cost.
You will gain control over 10,000 Alexa skills too with this smart integrated hub & speaker.
By spending a few Dollars more you will get bonus of control over all Zigbee-enabled devices to get ahead a step towards building your entire smart ecosystem. With over 100 compatible devices, including switches, plugs, dimmers, lights, and Philips Hue light bulbs
Grab the FREE Bulb OFFER [And as on 25 Jan 2018, you get One Philips Hue light bulb for FREE, so that you can start using it the same minute you bought the Echo Plus]
What if I already have an existing smart home ecosystem?
If you already own an existing smart-home-automation system with separate hub and all, then simply go for buying an Echo Dot or maybe a screen-toting Echo Show or Echo Spot adding a flavor to your home.
Finally the Echo Plus is surely a capable smart assistant at an excellent value for money.
Hope this helps !!
Cheers !!