Amazon Echo vs Echo Plus 2nd Gen comparison is necessary since the new Echo Plus cost almost double that of  Echo. Hence it is necessary to compare what you will be getting more by spending money. Which one is best & why?
Each introduction of upgrade brings in lot of new features considering the feedback's from previous generations. So as Amazon is doing by continuously improving their products keeping them far ahead of the competition of smart speakers such as Google home.
What's there in the old Amazon Echo?
Amazon Echo itself has gone to Second Generation now.
The 2nd Gen Amazon Echo Dot got more styled with fabric finish ditching the black obelisk design style.
The size of Echo Gen 2 was also reduced to almost half making it perfectly mingle with the living room space.
What's there in the NEW Amazon Echo PLUS?
Essentially Echo Plus brought in more power still maintaining the same size as the standard Echo.
Most important change is incorporation of Zigbee hub that makes it the best starting point for converting your house into a smart home.
The Woofer and Twitter has grown bigger to deliver omni-directional sound suitable for your living room.
Thus you can not only make the home smarter but also ditch your age old stereo system with NEW Echo Plus.
Which one to Choose Echo or Echo Plus? What is determining factor?
Well it is solely dependent upon if you already have a smart-hub setup at home or not.
Already own Smart-hub? Then go for Amazon Echo only.
If you already own something like a Philips Hue Starter Kit, Samsung SmartThings kit, or have some smarthome setup that is running the bulbs, plugs, sensors, or cameras around your home. Then simply going for Echo will allow you connecting and controlling over voice using a standard Amazon Echo.
So no need to spend more money to get hands on Plus only to add smart-home control.
Want to begin journey to Smart-home? Then go for Amazon Echo Plus.
But you are starting a fresh to convert your home to smart-home, then instead of spending money to buy separate smart-hub and integrating with old Amazon Echo, best way is to go for all NEW Amazon Echo Plus which has integrated hub.
The ZigBee hub built right into the smart speaker allows you to connect and control hundreds of products without having to deal with a myriad of clunky apps or installing an extra hub somewhere.
In fact, you can get Amazon bundle of Echo Plus with a free Philips Hue smart bulb.
Lets begin by Comparison
First you can quickly look at the comparison table below which figures out technical specs differences and the functional improvements at a glance.
Cells are colored in background for ease of identification of plus and minuses against each other.
Amazon Echo vs Echo Plus 2nd Gen Specs and Features comparison
Amazon Eco

Amazon Eco Plus

Prices gone down

Colors

Charcoal, Heather Gray, Oak finish, Sandstone, Walnut

Charcoal, Heather Gray, Sandstone

Speakers
2.5 inch woofer and 0.6 inch tweeter
3 inch woofer and 0.8 inch tweeter
Microphones
7 microphone array
7 microphone array
Smart hub
No
Yes
Bluetooth
Yes
Yes
3.5mm audio output
Yes
Yes

Features

Alexa, streaming music over Wi-Fi, free voice calls
Alexa, streaming music over Wi-Fi, free voice calls, Built-in smart-home hub, built-in thermometer
Size
5.9 x 3.5 x 3.5 inches
5.8 x 3.9 x 3.9 inches
Weight
29 oz, 1.8 pounds
27.5 oz, 1.7 pounds
Pros
Great room-filling sound
Matches the size of standard Echo, lower weight in-spite featuring large woofer
Six fashionable finishes available
Fresh redesign with a fabric finish
Line-out with 3.5 mm cable or Bluetooth.
Built-in Zigbee hub
Bluetooth and line-out for external speakers.

Cons

Doesn't double as a smart home hub
Expensive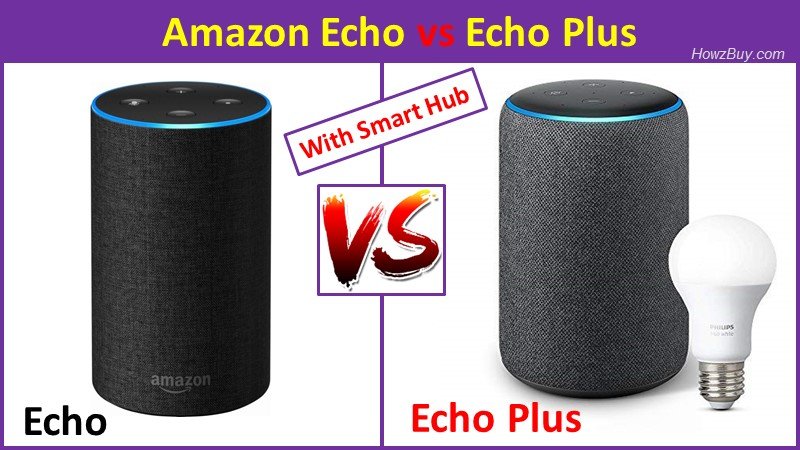 Now lets look at both the smart speakers in depth – feature by feature
Design
The new Echo Plus (Second Generation) looks similar to its predecessor Echo, a stout cylindrical shape.
The style has been improved using a fabric, which is available in three colors  black, grey, and white.
The outer shell is also removable similar to the predecessor.
However the Echo comes in a more styles as compared to the latest version, a light, dark and charcoal-gray fabric, and an oak, walnut or silver finish. (but obviously you are going to select one based on functional requirement and not colors!)
The new Echo Plus bears same height as that of Echo which is 5.8 inches.
Despite of the extra features and larger woofer + twitter, the Echo Plus has surprisingly became ligher by 1.5 ounces (Echo Plus is 27.5 ounces versus the Echo's 29 ounces)
So overall winner in design section is NEW Echo Plus.
Sound Quality
As said earlier the NEW Echo Plus features 3 inch woofer and 0.8 inch tweeter as compared to the 2.5 inch woofer and 0.6 inch tweeter in Echo.
The powerful woofer in Echo Plus delivers an impressive audio quality in comparison to the Echo, perfectly suitable for the living room.
The Echo Plus does significant job using woofer and twitter tuning, delivering definite treble to bass combination.
Ofcourse I can't say that the new Echo Plus beats the Sonos One, however at this price point you get a decent smart speaker empowered by Alexa for your home entertainment needs.
Just like to mention that during the initial period of Echo Plus the sound quality was not found impressive, however the issue got resolved as soon as the firmware got updated in the latest release by Amazon.
new Echo Plus delivers noticeably better audio than the Echo, hence in the Sound section again winner is Amazon Echo Plus.
Smart-Home Features
As said in the beginning of this post, main difference brought in latest Echo Plus is integration of Zigbee smart-home hub.
This is really a most important step to get all your smart-home devices controlled via Alexa voice assistant.
As an example you can simple control the Philips Hue lights or a smart lock directly to the Echo Plus, without having to set up a bridge or third-party smart-home hub first.
Now this reduces so much complications as well as save some cost of buying a separate smart hub.
It also makes the home neat and clean avoiding clutter of hub and speakers.
As an example if you purchase the starter packs for Philips Hue, Sengled or other smart bulbs, which come with a Wi-Fi bridge, you are spending extra money. Instead now with Echo Plus you can just go for purchasing extra bulb kits
Just for quick information, as on Feb 2019, Philips is selling four of its white dimmable bulbs for around $50 ($12.50 per bulb), and the Sengled's bulbs selling for about $10 each (a pack of eight costs $75, or about $9.40 per bulb).
With the Echo Plus, you can control these lights to turn ON/OFF at a specified time using Alexa voice controls.
Further to this, the Echo Plus is equipped with a built-in temperature sensor, which can be used in conjunction with other smart home devices.
Some limitations though!
Remember that you can't expect magical thins from this smart speaker cum smart hub, its integration to a limited extent.
As an example, the SmartThings hub allows you to "turn the lights on if a camera detects motion." this is not available with Amazon Echo Plus.
Alexa can change colored lights to a specific choice with integrated hub, however it can's pick from a color wheel, or select a particular lighting scheme, as you can in the Philips Hue app.
As the updates keep coming I expect NEW Echo Plus to be more and more powerful, with additional functions and Alexa skills, but as on now its basic as smart-home hubs go.
Price
As on Feb 2019, The Echo costs $70, while the Echo Plus costs $149.
What it means that the second-generation Echo's price is $79 cheaper thatn Echo.
Suggested combination –
If you already own Smart hub at home – Go for Amazon Echo (second gen)
If you want to star smart-home systems, Go for Amazon Echo Plus (second gen) saving separate hub cost of around $100. Thus overall saving around $20.
Bottom Line
If you do not own a smart hub, then surely go for new Amazon Echo Plus with integrated hub, it will not only make your home smarter, but also deliver fabulous sound using the large woofer and twitter combo.
Also purchasing the Echo Plus will save spending extra $100 for a smart hub bridge.
However if you want to go for advanced smart home systems, then simply buy Amazon Echo (2nd Gen) and go for a more powerful third part smart hub, which will allow more flexibility in home control systems.
Note – Even though you do not own a smart hub, using Amazon Echo in itself, still you can control some of the Wi-Fi-enabled smart devices, such as smart plugs, which don't require you to connect them to a hub first.