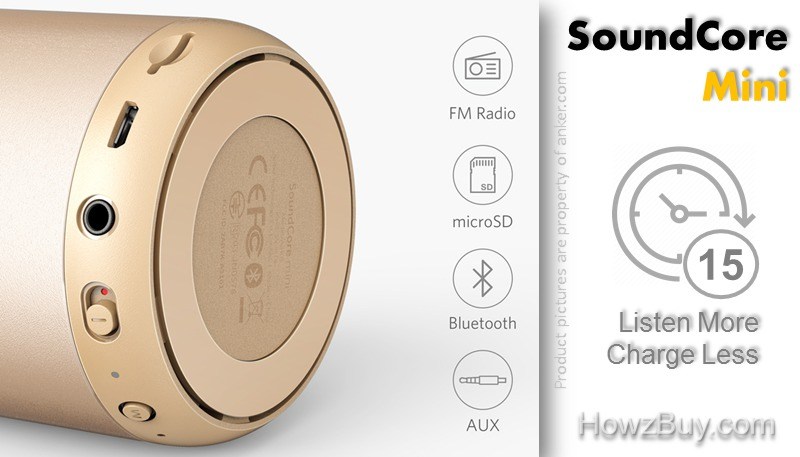 Small Package, BIG Sound!
I think you will agree with me when I say : Its really hard to find a Bluetooth  Speaker which is Portable, Long Lasting still delivering outstanding Sound Quality!
Well looks like I have found the one for you! Compact yet Powerful … Super-Portable … Long 15 Hours Music Playback …
And in Today's post I will be reviewing the Anker Soundcore Mini All-in-One Portable Music System.
I am sure at the end of this post you will be knowing all the Strengths & Weaknesses of this mini-Super-Hero ! The Bass-Master with Passive Sub-woofer.
Lets have a look at Anker Soundcore Mini Specs:
Blujetooth Speaker Model
Anker SoundCore mini
Colors
Black, Gold, Gray, Pink
Driver
5W driver (Passive subwoofer)
Connectivity
Bluetooth, Aux-in, Micro USB and micro SD
Radio
Built in radio
Microphone
Built in microphone with noise/echo cancellers
Bluetooth
Bluetooth 4.0
Battery
Lithium ion rechargeable battery
Playback time
at 80% volume, Playtime is around 15 hours
Charging time
3 hours at 5V/1A to reach a full charge
Size
2.6 x 2.6 x 2.6 inches
Weight
 0.55 lbs
Best Buy Price & Discount
USA, UK

Best Buy Germany
Anker Soundcore Mini Review
Designed to be Compact & Powerful:
Round Shape: Good for backpacking
The most powerful and tight packaging is possible in Round shape, that's what Anker has done here.
The Mini comes with Powerful Sub-Woofer packaged beautifully so that you can easily carry it in your backpack during camping or keep on car dashboard!
Due to its simple shape and round base, it remains stable even on car dashboard with slight curvature.
Super small Super Portable Speaker: 2.6 inches, 0.55 lbs
Mini weighs only 0.55 lbs and dimensions of 2.6 inches (all around) this is one of the most compact package someone can design! This is important especially during hiking, where space and weight both are at stake.
Sound quality: Sufficiently loud volume with descent Bass performance
The Mini is powered with a 5-watt driver and Passive Sub-woofer designed in such a way to take advantage of its cylindrical shape, delivering louder volume, and solid bass (in comparison to other small BT speakers in the market). It is able to deliver good combination of Bass & Vocals as compared to many average quality BT speakers sold today.
All-in-One Pack (Bluetooth Player, micro SD, AUX, FM radio, and Speakerphone)
Anker boasts to be Unstoppable with over 20 million satisfied users. They are the top-leaders in technology, with which they are able to deliver such All-in-One package in Super-compact size!Extraordinary Bluetooth Player:Mini is powered by Bluetooth 4.0, where ordinary BT players in market provides 33 feet range, Anker claims music transmission range up to 66 feet!
[Remember device needs to be in the line of sight of BT speaker for best results, Also interference of solid things like walls, furniture, trees can cause disturbance in the BT signal transmission]Best Compatibility with Smartphones, Mobiles, Laptops, MP3 players:The latest Bluetooth v4.0 in Anker Soundcore Mini provides compatibility with most of the latest Bluetooth enabled devices including Smartphones, Mobiles, Laptops, MP3 players.
Obviously it has got good backward compatibility with Aux input facility, so you will still be able to connect it to old Music system output or use it with a cord.MicroSD Card: Supports upto 32GB [See review on 32GB microSD card here]Although you have Bluetooth and Aux-input  for playing music. What if you don't want to waste battery of your mobile for playing music?
So here Anker Mini is buckled-up with microSD card slot! So don't worry, you can play your favorite music without connecting to any other Bluetooth device or mobile.
Simply pack it with 32GB microSD card, which can carry thousands of songs in a go![

Note: 

The microSD slot max loading capacity is 32GB. If you load large capacity card, say 64GB, it may work, but to ensure stability Anker recommends using an SD card no larger than 32GB.]Hands Free Speakerphone:Wow! Now this is a super bonus for you.
Mini features a built-in microphone, which can be used to Answer your Phone calls using this Mini-Speaker. All you have to do is to press the Play button while you're phone rings!
Also Mini powers noise/echo cancellers which delivers crisp and crystal voice conversation.Voice Commands : You can also activate Siri by just holding down the Play button for 2 seconds.Built-in FM Radio:
I know sometimes even a 32GB card loaded with thousands of songs does not make you happy 🙁
Yes the old and gold way to listen live Radio is something that can'e be forgotten during a night camping trip.
So here this Anker little boy makes your Camping nights pleasant with fresh Radio music.
Its a feel good factor while Cycling, Outdoor workouts, Hiking or Camping!
Extraordinary Playback Time with Lithium ion Battery:
What I like the most in this mini-speaker is the Li-ion battery pack!
Yes, it provides me extra long 15 hours music play, which is most important during my Hiking and Camping trips. or while I am on my road trip where looking for charging point is a pain.
And while you are at home, just forget about frequent charging trips 🙂Quick charging : It takes around 3 hours at 5V/1A to reach a full charge and sustains 15 hours of playtime. One more thing is that you can use this mini speaker while charging is going on.
Display Mode indicators


| | |
| --- | --- |
| Flashing blue | Bluetooth mode, Pairing |
| Steady blue | Working |
| Steady white | Aux/SD Card/FM mode Working |
| Flashing white | Charging indicator Low battery |
| Steady white | Charging |
| Off | Full charged |
Cons of Anker Mini BT Speaker
Can't Store FM Frequencies:
The speaker automatically scans and tunes into any channels within the range! (it uses the Micro USB cable as an antenna), but sad part is that you don't know which station you are tuned into (unless the radio station tells you!) … There is no display on the speaker to show which station is tuned into!!
Also one more thing is that the mini speaker can't store FM Radio frequencies, so each time you need to tune it in blindly 🙁
Portable but need to hold in hand during a walk !
Humm .. Every small electronic gadget is provided with a tether for easy handling. Unfortunately Anker has forgotten to make provision of tether attachment! So you simply can't hang it to your backpack or entangle into wrist.
Outdoor needs Waterproof Speakers:
One more missing thing is the waterproofing, of-course in this price range you just can't expect everything!But still if you are in dire need of waterproof speaker then I suggest to go for . But there you need to spend little more .. I mean almost three time more money !!
Recommendation:
My Anker Soundcore Mini Review is coming to an end with conclusion words of Best of it for the price paid for.
So … Out of hundreds of small Bluetooth speaker options in market, Anker mini speaker provides multiple functions and features to play with.
With quite affordable price of around $25 [Plz cheack latest online prices]it provides good bass with clear vocals for hands free speakerphone calls.
And the design is KISS (Keep It Simple Stupid) type, looks rich quality, stunning color options …
I am sure what Mini offers the competition can't!
So given the Simple & Robust Design, Good Sound quality (true to its size) Mini sized, packed with FM radio, wide transmission range, microSD slot, Aux cable input, this turns out to be a VALUE PRODUCT and a must buy.
Deals, Discount &

Offer Price