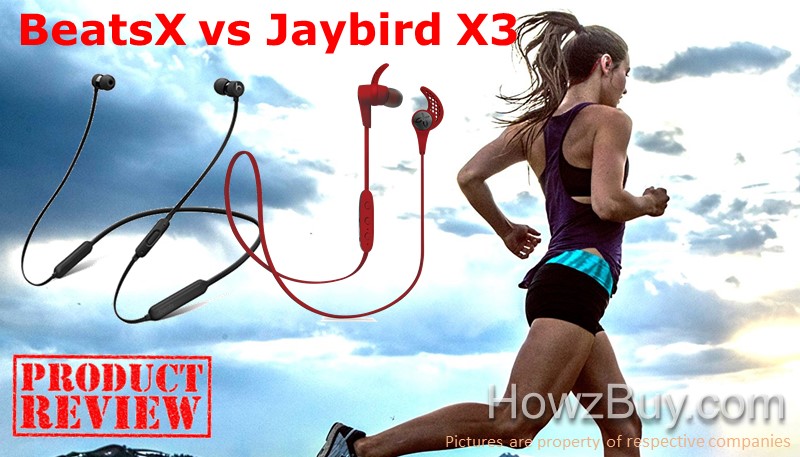 In-ear isn't just an extension of your personality, they're an extension of your Smartphone too- allowing you to answer call and listen to music without your handset seeing the light of day.
I have seen many beautifully designed products that sound equality wonderful or better. One such offering is from a most inspirational company Beats by Dr. dre and second is a brand new line of in-ears the jaybirds.
Music lovers and athletes looking for best quality, comfortable and affordable headphones. As per their requirements, there are tremendous headphones available for a choice, but now a day's wireless headphones are most popular in audio purist, Gym junkies, (Don't worry, you are special in your own way) as compared to the regular wired headphones. Wireless in-ear headphone has no problems, such as music voice quality, noise cancelling. While you are gyming/working you need wireless headphones for relaxing and feeling no pain in gyming/working valuable time. Wireless headphone gives you freedom to move with great bass music. Music lover and sport lovers need extra comport zone while listening music.
I am taking an analogy in brand new latest wireless technology in-ear headphone i.e. BeatsX  Vs Jaybird X3 wireless in-Ear Headphone.
Let's see….
Entre the 21st century
While the development in ear-in buds BeatsX – Beats By Dr Dre and Jaybird X3, they focused on improvements in sound and aesthetics, features are at the forefront of the lines latest evolution.
Both has abandoned the AAA battery in favor of built-in rechargeable lithium-iron battery with a generous claimed battery life of 8 hours, there is now a much neater micro-USB slot for charging. The reality has been that this is usually enough to get you through one or two days without a recharge.
The Jaiybirds colors Blackout, Sparta, alpha, Roadrash, Camo, Platinum finishes look a little less interesting than those of the BeatsX, which also featured colored accents. BeatsX is extra future With Fast Fuel, a 5-minute charge gives you 2 hours of playback when battery is low, but both the built and finish quality are just as pleasing as before.
Fitting and finishing
The BeatsX come with multiple ear-cups option as apples workout based powerBeats, allowing for one of the marvelous in ear fits. BeatsX has Black, blue, gray, white color out of them white color and this color may soon get spoiled due to dust. Flat rubber cord is exceptionally comfortable, two equally-sized lithium-iron battery packs bond to your collarbone. -The permanent magnets are innovative. They keep the beatsX from getting tangled up when not in use. BeatsX has gawky look, dust-collecting.
While unboxing you gets these things, BeatsX ear-buds, 3 sizes of ear-tips, removable wingtips, carry case (oval shape), lightning to USB-A charging cable.
X3 has mainly designed for sweat proof and water resistant, means that they are designed to withstand moisture under normal non-water sports and everyday use, such as perspiration and accidental splashes of water. X3 remote/control box newly designed button easy to operate. Platinum color finished jaybirds logo attracted and shine easily. Remote/Control box designed with integrated sound, indicating light (LED) and three control buttons (Blindly Operated) with sign.
The Ear fins (flanged tips) are the only ones needed because they provide the best seal for ears. This helps to lock in the bass more and keeps from having to increase the volume when walking through best music. If you press down for a 2-4 Sec, it does provide skipping the tracks and to go back, also allows you to access intelligent personal assistant Apple-Siri and Google.  This feature is available in both BeatsX-Apple & Jayabirds X3.
Sound Quality
These both earphones has sound base focused, You need only go as far as a BeatsX with the jaybird X3 to hear that the price hike is justified. Taking their predecessors for details, dynamics and clarity, the jaybird x3 are better at bringing everything to your attention. Play any high node songs and there's greatest texture and clarity to singer's noise, musical instrumental and playback singers also.
The Jaybird app, MySound gives you the ability to personalize the sound setting of your buds in real time. The new Beats by Dre match their predecessor for sound-sucking ability, which remains among the best we know.
Battery Backup
The Beatsx by beats Dr Dre is a bold newly launched (year end of 2017) product for what has quickly become a traditional headphone maker. Instead of Jaybirds X3 launched in November 2017, they quickly became a best-love for athletic and music listeners alike.
Beats by Dre vastly improves the BeatsX's battery life 8 hours for when you are on the go and 5 minutes fast fuel charging you can use 2 hour.
While Jaybirds X3 visual indicates on Smartphone screen % of battery life, this is very useful
Jaybirdsx3 upgraded from NiMH(Nickel-Metal Hydride) to lithium ion battery (LIB) with 8 hour life at mild volume it can take 2.5 hours for fully charged. It also has a very simple way to checked battery level by pressing either of volume buttons when there is no music. A battery level tell you in female voice also battery icon shows on smart phone it indicate battery level.
Jaybirds accessory– 4  Ear-tips are silicone and foam, it has noise-isolating earphone, means it seal ambient noise, you can connect 2 set of X3 in-ear headphone to 1 device and vice versa as per jaybirds says. blindly Jaybirds x3 charging clip (easy to lose) benefits of this charging method is helpful for sweat and grime , Due to more accessories you can try your comfortable fitting with more variation
Bluetooth connectivity
Beats X is the first Apple-Inspired Beats by Dre product released after apple bring in them in 2014; the W1 chip allows for simple pairing and seamless transition between multiple apple devices equate to your iCloud account, and you can connect the beats x to non apple devices along with Bluetooth by pressing and holding the power button to bring them in pairing mode. The W1 chip from Apple designed to expedite a connection to apple device with one click on IOs screen, it can manage battery draining, and connectivity, handles changes between call to music and vice versa also Beats calls a "Flex-Form cable"
While in jaybirds X3 has Bluetooth 4.1 version (apt-X audio codec) with multi connectivity, the connection stayed strong for up to around 20 – 25 feet. It required MyMusic App to connect X3 buds with music device, if you're trying to pair with another music source device, you'll need to manually commence pairing mode on your buds. Sometime, while pairing buds ask you pin, you can enter pin as '0000' or'1234'
Weight and Sizing
Upon scanning for the product detail in Amazon on the date of writing this blog for Apple's BeatsX and X3, 11.2 ounces weights and 7.1 x 2.5 x 5.1 inches dimension of Apple's BeatsX and Jaybirds X3 is 0.48 ounces size 0.5 x 21.5 x 0.9 inches
Inline controller size of jaybirds X3 is slightly greater than BeatsX
JaybirdsX3 a smaller size allows them to fit under helmets and hats, an upgraded with Bluetooth 4.1.
BeatsX vs Jaybird X3 Review of Wireless In-Ear Headphones
manufacturer

Beats by Dr. Dre  BeatsX specs

Jaybird X3 specs

Offers & Dealrs
Best Buy BeatsX
Best Buy Jaybird X3
Fitting
In-ear/Earbud
Earcup Width x Height
0.482″ x 0.482″(Closed Type Earcup)
0.953″ x 0.706″(Closed Type Earcup)
Control
iPhone and Android
Water Resistant/Sweat Proof
No
Yes
app compatibility
No app
MySound  iOS and Android only
color
White, gray, black, and blue
Blackout, Sparta, alpha, roadrash, camo, platinum
Noise-isolation
Passive
Driver Size
8 mm
6 mm
Bluetooth
V4.1, W1 Chip (Apple)
v4.1, handsfree, headset, A2DP, AVCRP, SPP
Battery
8 hours playback, 45 Min – 1 Hour Charge Time,
Fast Fuel Charging
5 Min Charge=2 Hours
8 hours playback, 2.5 hours charge time,
20 minutes charge = 1 hour playback
Microphone
Built-in control, MEMS, Omni directional, Ultra Low Power
Weight
11.2 ounces
0.63 Ounces
accessory
Beatsx earphones, 4 eartips, 1 movable secure-fit wingtips, 1 pocket-sized carrying case(oval shape), 1 lightning to USB-A charging cable,
X3 Bluetooth Headphones, 3 Pair (S / M / L) Ear Fins, 3 Pair (S / M / L) Ear Tips, 1 Charging Clip, 1 Shirt Clip, 2 Cord Management Clips + Pouch Carry Case (rectangle shape)
Warranty
1 year Warranty
VERDICT
Finally, as with all above things, it will come down to what you like, and what is important to you.
If you workout, You have just blast music out of the nearest speakers, so you don't have to worry about SWEAT and WATER getting into anything. The jaybirds X3 and water resistant while the beatsX are not.
MySound app works with jaybirds X3 and give you freedom from connectivity (Others manufacture and older jaybirds buds are not supported with same app). The jaybirds also have much better audio quality compared to the beats as my web research and latest real user review.
If you are truly an iPhone fanboy, and would argue that Apple is better than its challenger (in my opinion it is not) then the Apple's Beats are for you.
Otherwise, if you are practical then you would choose the jaybirds. But for their money, the jaybirds are an attractive option and easily the brands best portable headphone package to date BeatsX and pound-for-pound the best headphone from apple. .
Comparing features, it becomes clear that Apple's BeatsX earbuds are better. Out of them earphones I've tested with the W1 chip the Apple's BeatsX are my favorite.
However, you cannot really go wrong with either of this premium Bluetooth in-ear Buds. If this review was useful to you, please feel free to use the affiliate links to buy.