GAMING?
Newzoo released the latest quarterly update of its Global Games Market Report. It shows that gamers worldwide will generate a total of $29.6 billion in revenues in 2016, up 8.5% compared to 2015 – Early 2016 News.
US games revenue spiked to a record total of $36.4 billion in 2017, according to the Entertainment Software Association.
Gaming Industry revenue sees 18% growth over 2016 with a strong performance from hardware and software sales.
Hardware revenue was up by 19% from $5.8 billion to $6.9 billion, while software revenue rose 18% from $24.6 billion to $29.1 billion.
Playing Games on a PC/PS/Mobile or any other platform has definitely been the thing which you always wanted to write on your Curriculum Vitae(Resume). I always wanted to?.
With many new Games launching every other weekend, and a constant rise in the number of Gamers over past few Years, there has been a noticeable improvement in the ways the games nowadays are being played.
For a Game to be entertaining it must have Realistic or High-Quality Graphics as well as lifelike sound effects to the support.
Imagine how unrealistic it would be playing Resident Evil with the sounds turned off. For Games like Resident Evil, Counter Strike and many other First/ 3rd Person Shooting Genres Music and Sound Effects are the souls of Gameplay.
What if I say that I can help you bring the sound effects to life and make your gaming experience more pleasing and entertaining.
I will be comparing few of the best Gaming Headsets in the market with a microphone for transmitting voiceover while playing online games priced only $100 or less.
Best Gaming Headphones with Microphone $100s can buy you this Summer
1. 
HyperX Cloud II Gaming Headset for PC & PS4 & Xbox One, Nintendo Switch – Red (KHX-HSCP-RD)

USB Audio Sound Card with 7.1 Virtual Surround Sound

53mm Drivers Neodymium Magnets

Noise Cancelling Microphone via Inline Sound Card

Echo Cancelling via Inline Sound Card.Ambient noise attenuation: approx. 20 dBa

15-25kKhz Frequency Response

Memory foam earpads with extra set of Velour ear pads and Detachable Microphone

TeamSpeak Certified – Voice Chat Optimized.Ambient noise attenuation: approx. 20 dBa

Compatibility – USB 3.1 Connectivity for PC & Mac. Stereo compatible with PS4, Xbox One (Xbox One Stereo Adapter Required, not included)
2. 
HyperX Cloud Revolver Gaming Headset for PC & PS4 (HX-HSCR-BK/NA)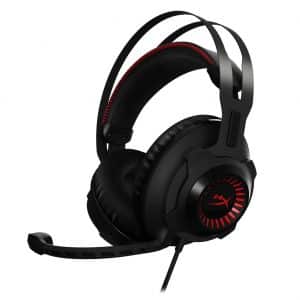 Studio-grade soundstage

Signature HyperX memory foam with premium leatherette

Durable steel frame

Detachable noise-cancellation microphone.Weight with mic:376g

Next-generation directional 50mm drivers

Compatible with PCs, Xbox One, PS4, Wii U, Mac and Mobile (Xbox One Stereo Adapter may be required, not included)
3. 
HyperX Cloud Alpha Pro Gaming Headset for PC, PS4 & Xbox One, Nintendo Switch (HX-HSCA-RD/AM)
HyperX Dual Chamber Drivers for more distinction and less distortion

Signature Award-Winning HyperX comfort

Durable aluminum frame with expanded headband

Detachable braided cable with convenient in-line audio control.Detachable noise cancellation microphone

Microphone Frequency response:50Hz-18,000Hz

..It's also multi-platform compatible with in-line audio controls, so serious gamers on PC, PS4, Xbox One and other platforms with a 3.5mm port will benefit from the bold sound of the Cloud Alpha evolution.
4. HyperX CloudX Pro Gaming Headset for Xbox One/PC (HX-HSCX-SR/NA)
Official Xbox licensed headset

Award-winning total comfort

Solid, durable aluminum frame

In-line audio control. Detachable noise-cancellation microphone

Hard shell carrying case

HyperX CloudX Pro Gaming Headset is designed for Xbox and tested and approved by Microsoft. It works with the Xbox Elite Wireless controller and other Xbox One controllers with a 3.5mm stereo headset jack and provides connectivity from the headset to console and mobile devices¹. With additional Windows compatibility, it comes with a 2M PC extension cable with stereo and mic plugs.
5. 
HyperX Cloud Stinger Gaming Headset for PC, Xbox One, PS4, Wii U, Nintendo Switch (HX-HSCS-BK/NA)
Lightweight headset with 90-degree rotating ear cups.

50mm directional drivers for Audio Precision.

Hyperx signature Memory foam. Adjustable steel Slider.

Intuitive Volume control on headset ear cup.

Swivel-to-mute noise-cancellation Microphone. Multi-platform compatibility.
Hyper X Cloud Stinger

HyperX Cloud II

HyperX CloudX

HyperX Cloud Revolver

HyperX Cloud Alpha

DISCOUNTS & OFFERS
 
 
 
 

DRIVER

50mm

53mm

53mm

Next Gen 50mm

50mm Dual Chamber

FREQUENCY RESPONSE

18-23,000 Hz

15-25,000 Hz

15-25,000 Hz

12-28,000 Hz

13-27000 Hz

CONNECTION TYPE

Single 3.5mm

Single 3.5mm

Single 3.5mm

AUDIO TYPE

Stereo

HyperX 7.1 Surround

Ste

reo

AUDIO CONTROLS

On Headset

Advanced Audio Control Box

Inline

Audio Control Box

Inline

FRAME TYPE

Steel Slider

Aluminum

Aluminum

Steel

Aluminum

Memory Foam Ear Cushions

YES

Extension Cable

Dual 3.5mm

USB

Dual 3.5 mm

Microphone Type

Swivel

Detachable

Noise Cancellation Mic

YES
I hope this helps you in choosing the Best Gaming Headset with a microphone under $100.
Let us know what you feel in the comment section below.