Playing Games – Most Happiest moment…
The moments in life you can enjoy are the happy moments, and what makes me happy – Trekking, Gyming, & playing a lot of PC Games.
I have a long list of Games which I love the most –
Counter Strike 1.6.
Resident Evil 5,6,7.
Need for Speed Most Wanted(2005), Rivals.
Fifa 15,16 & 17.
Battlefield 4.
and many more
While playing this games I realised that along with the Graphics of the game their are lot more things for a gamer to feel through the game's audio or the small sounds which can prove crucial in sniper shooting games.
When you are playing games on your regular music headphones, their are chances that you might miss on many things like the High Quality Microphone, flashy LED lights, Adjustable and flexible head strap and lot many more. Also the Headphones are designed specially for listening music, while playing games their is a lot more happening over the audio of the game.
So, for that purpose using a Gaming headset is kind of essential nowadays, moreover you can find them in a pocket friendly price.
Here I'll be guiding you through a series of some of the top Best Gaming Headsets under $50, don't miss out on this !!
Logitech G430 Over Ear 

Gaming Headset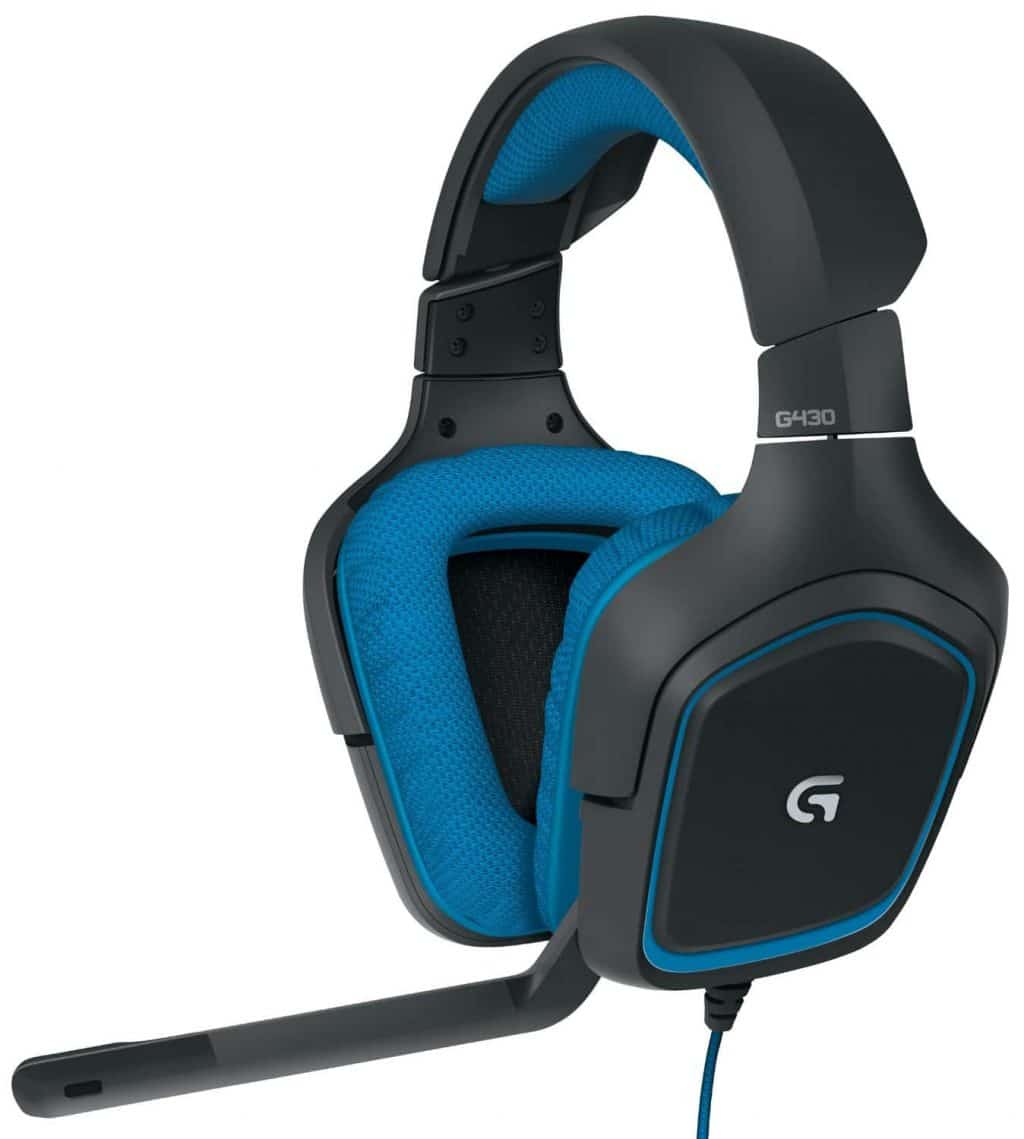 Price : <$40
Stunning X & Dolby DTS 7.1 Surround sound for that

immersive 360 Gameplay, hear what you can't see

Crystal Clear Audio Output with 40mm neodymium drivers, which lets you hear even a single drop of water falling.
Perfect shaped & Comfortable Headstrap for long hours of continuous gameplay.
Boom Microphone with a noise Cancellation feature lets the front person hear every word you speak in crystal clarity,
Moreover Featherlight in weight doesn't feel like you are wearing one, unless you hear it(wink).
Removable earcups for cleaning.
On-cable button for Volume Adjustments & mute  perfect for War scenarios wherein the sudden sound of shooting Guns can kill you in real(just kidding):-p.
Compatible with PC, XBOX & PS4.
| | |
| --- | --- |
| Headphones | Microphone |
| Driver: 40mm | Pickup pattern: Cardioid (Unidirectional) |
| Frequency response: 20Hz-20KHz | Frequency response: 50-20KHz |
| Impedance: 32 Ohms | Type: Pressure Gradient Electret Condenser  |
| Sensitivity: 90dB SPL/mW | Sensitivity: -40dBV/Pa re: 0dB = 1 Pa, 1KHz |
| | Test conditions: 3.0V, 2.2K Ohm |
Sades SA902 Over Ear 
Gaming Headset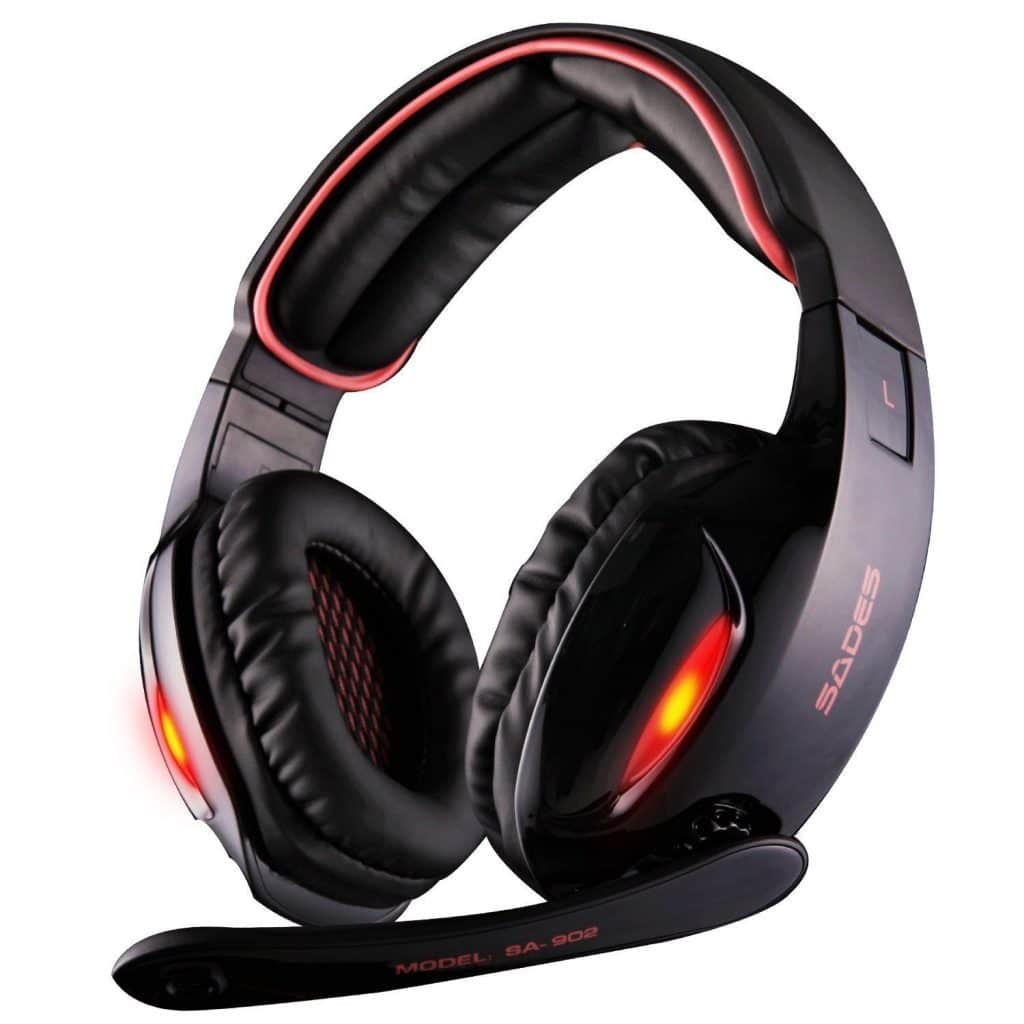 Price : Before – $72 Now – <$30
Comes with a 7.1 Virtual Surround Sound capability, closing your eyes while gaming can take your ears to the live feel of Battlefield.
Comes with Bold LED lights which turn on when you connect them to the PC.
Soft cushioning on the Head strap makes you feel comfortable while you have already played for hours.
Multi-directional Rotating Microphone, lets you wear the headsets in any directions no matter where the mic points you can turn it later to your side.
Compatible with PC, PS4.
| | |
| --- | --- |
| Headphones | Microphone |
| Driver: 40mm(NdFeB) | Mic Dimension: 6.0*5.0mm  |
| Frequency response: 20Hz-20KHz | Frequency response: 50-10KHz |
| Impedance:32 Ohm +/- 15% | Type: Pressure Gradient Electret Condenser  |
| Sensitivity: 112dB +/- 3 dB at 1 khz  | Sensitivity: -38dB +/- 3 dB |
|  Max Input power: 30mW | Cable length: 2.2m  |
HyperX Cloud Stinger Gaming Headset
90 Degrees Rotating Ear cups fits curves on the skull perfect;y without getting tight & uncomfortable.
Comes with a larger 50mm drivers with a loud and clearer audio output.
Soft and comfortable earcups featuring HyperX's memory foam goes gentle on the ears, with an adjustable steel slider.
Volume adjustment keys are mounted on the back of the right earcup.
Just swivel the microphone upwards & it will be mute.
The microphone has a nosie cancellation feature for clear audio transmission.
Compatible with PC, Xbox One, PS4, Wii U (HX-HSCS-BK/NA)
Headphones

Microphone

Driver: 50mm(NdFeB)
Cable length: 1.7m 
Frequency response: 18Hz-23KHz
Razer Kraken Pro Analog Gaming Headset
Price : Before – $80

Now – ~$40

Comes with 40 mm neodyium magnetic drivers which give a powerful bass,without any loss in clarity of sound.
Highly flexible headstrap doesn't snap even if you make the U shaped headsets look like an I, I mean bend it to 180 degrees.
Removable ear cushions, soft and gentle to the ears,
you can adjust volume or mute the headsets through the in line controls on the cable.
Soft and light in weight also supports mobile phones with 3.5mm jack.
Compatible with PC, Xbox One, Playstation 4, Android.