Finding Best Earbuds for your Sports Schedule,
completely waterproof as well as perfect for Swimming?
I'll guide you through this short post in buying the best Earbud as you always wanted.
Go through this complete post I have picked the picture perfect set of buds for you.
Problem… & Research for Solving it…
Best Waterproof Earbuds for Swimming | Top 5 Budget Friendly
When you are on land or air you can have the pleasure of listening to music without any problems, but when it comes to water sports or just a leisure dive in a pool you would have to compromise your love for music.
According to Studies music is the best companion when it comes to de-stressing or making your mood happy.
Moreover music has been also confirmed to be reducing the sense of exertion caused during heavy sports.
Source : The Wall Street Journal.
I personally prefer listening to music while I practice for competitive swimming matches.
It makes me concentrate completely on my performance and also has resulted in improving performances of mine. I say this lines with a research supported to it you can read it here.
Source : Speedo-sponsored study published in the journal Psychology of Sport and Exercise
Underwater Audio Waterproof iPod Shuffle
Best Buy
This iPod cum earbud set is our top pick for you, this Audio player starts life as a Genuine 2GB Apple iPod Shuffle; it is then waterproofed by Underwater Audio. Supported by the endorsement Rebecca Soni, National Champion, Olympic Gold Medalist (2008, 2012), comes with a 2GB of storage and a long lasting 15 hours of Battery Backup.
Also comes with a 2 Years of Warranty.
built-in clip conveniently attaches to your swimming cap or goggles strap
No risks of corrosion, in case if you plan to use them even in Ocean's salty water. 
Compatible with Mac & PC.
100% Watertight.
Indeed the best Earbud for swimming we call it.
It is the real iPod with a superpower of diving deep in the water.wink.
Pyle Flextreme Waterproof Headphones & Swimming Earbuds
Designed for Swimming, Running, Fitness, Exercise, considered as one of the best Earbud for Swimming.
These headphones come with a built-in 4 GB flash memory with quick connect functionality to transfer music and charge the mp3 player.
marine grade rating of IPX8, makes this headphones the best choice when it comes to budget, Audio quality, Design and ease of use.
Complete All in One package, compatible with any head size.
Ability to contain more than 1000 songs, usually we don't listen more than 20 songs in a single hour of swimming, but its better to have multiple choices on your side.
Comes with a 1 Year of Warranty.
Also highly affordable in price, I suggest you to go grab this earbuds now.
AudioFlood Waterproof iPod Shuffle with True Short Cord Headphones
AudioFlood Waterproof Short Cord Headphones are truly a piece of gold when it comes to its value.
They come with a 2GB of memory space,
and 15 hours of Battery Backup
includes all the features of the earbud which I mentioned at the top.
as both are iPod shuffle,
The only difference is their price, I was confused too which one to place at the top position and which one below it.
But it doesn't matter both the earbuds are overall same in quality functionality and the build,i'll personally recommend you to go with this buds as they were selling $10-$15 less than the other.
They also have waterproofing capability upto 200ft inside water.
Diver 4GB Waterproof Headphones for Swimming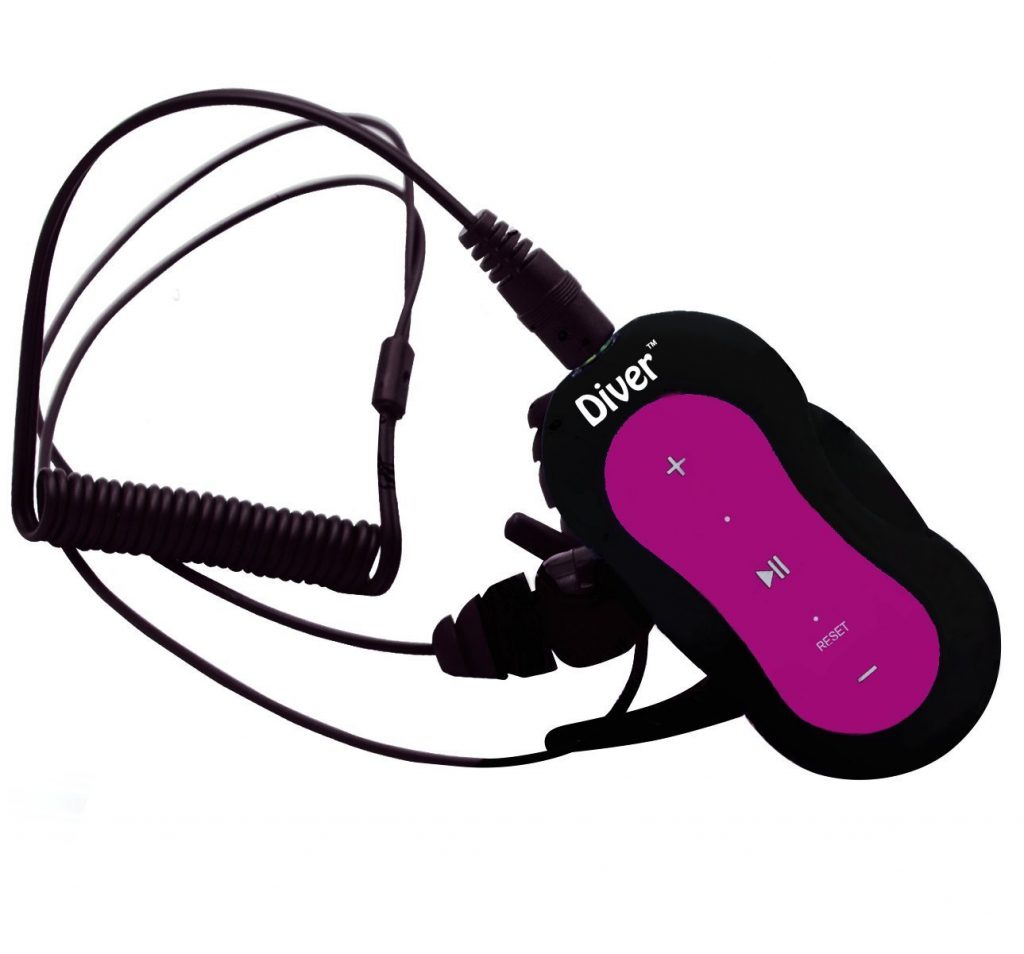 Diver is an another brand manufacturing Waterproof swimming headphones also they have a good customer ratings along with a sleek and minimal design.
The lenght of the cord is just perfect, you don't have to worry about your fingers or hands getting tangled in them while you swim in a swift.
The Media player is available in two colors Pink & Blue.
Also it houses 4 GB of storage space able to carry almost 1500-2000s of songs with you.
One of the best choice by a lot of swimmers seeking for budget friendly waterproof headphones.
Also the price was $100-$120 less than other high priced same functioning earbuds.
This are the one earbuds I highly recommend you buying.(Best for students who are tight on budget).
Best Waterproof Earbuds for Swimming worth trying
Click To Tweet
Aerb MD190 4GB Waterproof Headphones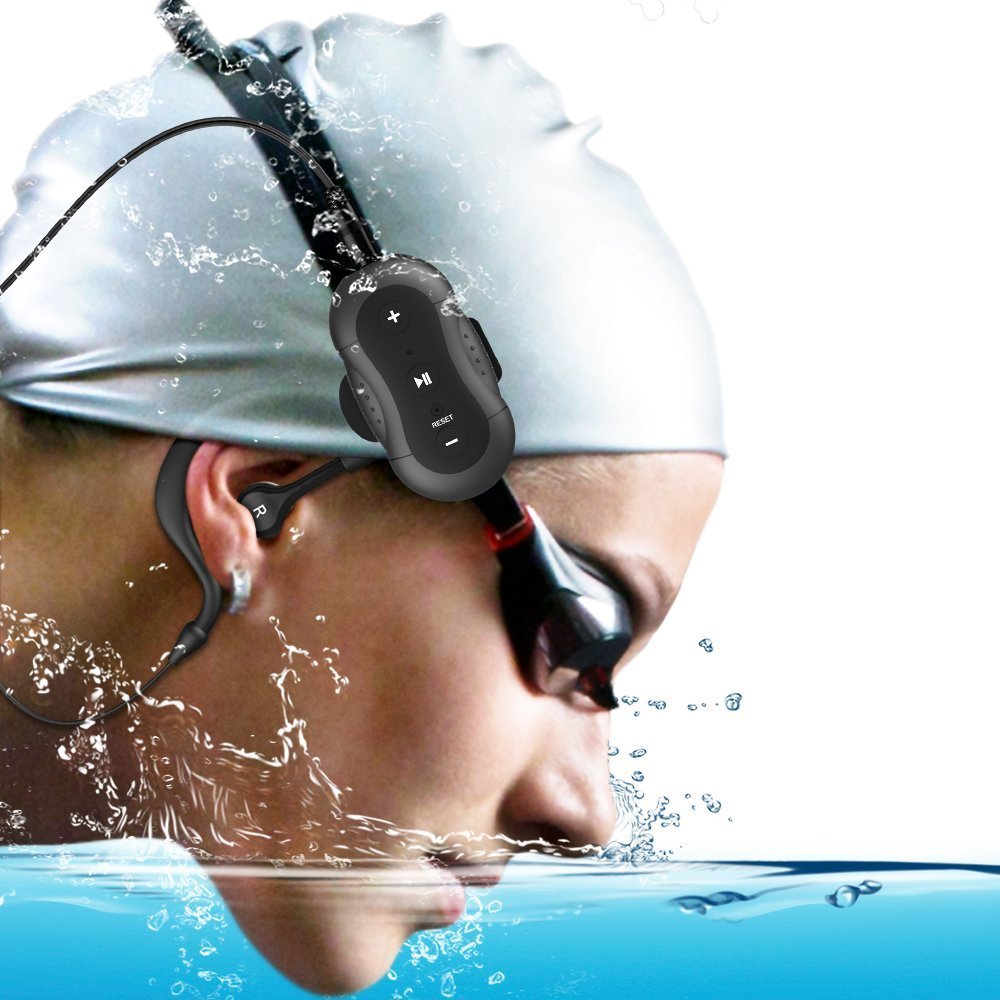 Built with international IPX-8 standard,
Completely water-resistant to a depth of 3 meters,
Specially designed for swimming, running and other sports activities.
Its premium looks and highly reliable waterproofing quality along with low price value are the factors which makes this earbuds earn this place in this list.
2 GB of storage space with a 200 mAh's of battery backup.
I guess this buds would last around 7-8 hours of continuous underwater playback.
Also they were being sold almost around a 50% discount.
So I would definitely suggest you to buy this headphones as along with being cheap they are great in looks,
100% Waterproof and have abundant storage space.
Final Thoughts
The best headphones are the ones which along with being waterproof are budget friendly as well as have good manufacturer's support(warranty/guarantee).
Enough memory partnered with sufficient Battery Life is also the next important thing.
All the above Headphones are chose based on all the above criteria, so when you buy any of them we would say they were the most perfect earbuds for you to take a deep dive in the pool.