I was looking for a battery-operated security camera and finally zeroed down to Blink home cameras based on reviews on various websites and customer voice. So it has got two versions from which I had to pick right one for me. So in this post the comparison is in between Blink Indoor 1 vs Blink XT 1 Camera | Which one to buy & why?
Remember that original Blink home have an Indoor Camera and the Blink XT is latest launched Indoor/Outdoor Camera. Obviously the new camera would have lot of updates but surely at some cost to your pocket and its necessary to have a look at what you get and at what price.
Things you need to use Blink Cameras at home
To use either of camera you must have

at least 5 mbps upload speed

, so before you buy them make sure that your internet is strong enough for using Blink XT for the better video quality.
Sync Module

 You will need a hub which connects all your Blink cameras to the Cloud storage system which is called as the Sync Module (

Check it here

)
The hub allows you to connect up to 10 cameras per module
All cameras you will be able to access using the home security app anywhere around the world.
The Sync Module is available in white and black colors.
Blink vs. Blink XT
First lets have a look at what is common in between both Blink and Blink XT cameras
Both cameras are cute, compact, and would not be easily noticeable especially by an intruder.
FOV 110°
Both have field of view of around 110° which is more than sufficient to keep an eye over my patio or backyard in a stretch.
Powerful 2 years Battery
Again both cameras boast battery life of over TWO years!! wow! that's amazing. You need not worry about once they go up the wall.
Wireless
Best thing is that both are wireless, so you need not worry about the ugly looking wiring all over pointing the exact location of security camera to the thief! and the installation can get over within minutes.
Storage
Both cameras get connected to Cloud storage and can store up-to two hours of footage. They do not have any local storage capacity. Once two hours of footage is over, new footage will start overwriting it.
Audio recording
Both cameras can capture Audio, but its like one way transmission. You can't really communicate to camera, say you can't shout to an intruder through this camera, it can only one way communicate voices in backyard or patio or location where they are fitted.
Basic motion detection – no artificial intelligence
Both cameras can detect motion and alert you, however they can't differentiate between human and animal like many latest cameras can do. What it means is that you need to keep looking at all alerts to determine which ones are important in terms of home security.
Both the cameras only record and save footage when they are triggered by motion.
Once we have seen the basic similar capabilities, lets have a look at the major feature differences in between two camera models. Cells are colored in Green to show where the camera is better than the other.
Blink Indoor 1 vs Blink XT 1 Camera spces & features comparison
Blink indoor wireless cameras review

Blink

Blink XT

Offers / Discounts

Best Buy

Blink Indoor

Best Buy

Blink XT
Color
White
Black (Trim White, Utility Gray, and Brick Red Skins Are Also Available For $24.99 Each)
Resolution
720p
1080p
Type
Wireless WiFi 2.4 Ghz
Wireless WiFi 2.4 Ghz
Operating Temperature
32° to 95° F
-4° to 113° F
Video Quality
Saver and Best
Saver,  Best and Enhanced.
Frames per Second FPS
30 FPS
30 FPS
Night Vision
small LED illuminator
IR LEDs, Infrared night vision
Field of View
110°
110°
Motion Detection
Available
Available
On-Demand Live View
Available
Available
Record Live View

Not available

Not available

Camera Zoom

Not available

Not available

Two-Way Audio
No, only mic
No, only mic
Built-in Temperature Sensor

Available

Available

Usage
Indoor
Indoor/Outdoor/
IP65 rated
Requires a Base Station
Yes, Blink Sync Module
Yes, Blink Sync Module
Camera bundle
Possible to club 10 cameras on single module
Cloud Storage
Free 7,200 Seconds
Local Backup Storage

Not available

Promised Battery Life
2 Years
roughly 55,000 seconds of motion clips and live view sessions
Battery type
2 AA Lithium Batteries
Optional Power Source
Micro-USB AC Plug
Sensors
Motion and Temperature
Motion and Temperature
Smart Detection
Activity Zones
Activity Zones
Encoding (video compression)
H.264
H.264
App
FREE for Android, iOS
Instant App Alerts
Available
911 Emergency Call
Not available
Dimension
2.8 x 2.8 x 1.3 inches
Blink XT is the latest version in Blink series and provides enhancements compared to the basic indoor version including the IP65 Waterproof protection.
Both Indoor and XT can work together using the same HUB.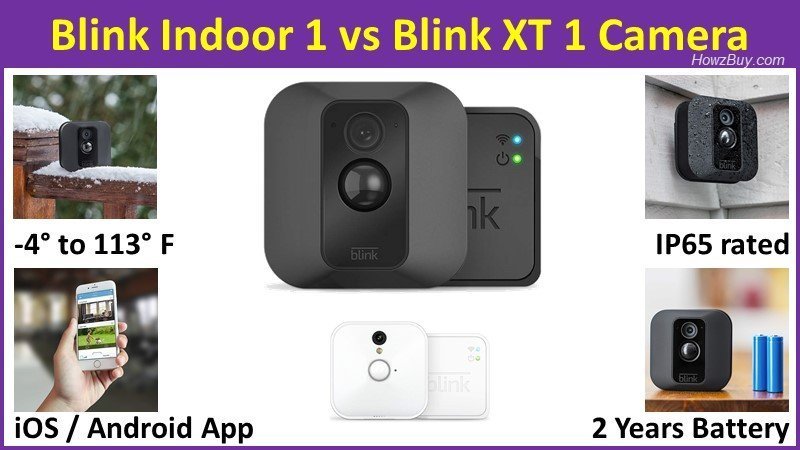 8 Good reasons to buy a Blink or Blink XT wireless camera?
Convenience

Quick setup
No wiring required
Long battery life (over two years) so no attention required

FREE Cloud storage

Do not worry about storage, access it from anywhere around the globe with FREE cloud storage

Multiple camera pairing

It allows me to connect 10 cameras to the same module, which means I can cover all of my home needs in a single go, that too in couple of hours of setup all 10 cameras

Temperature Alerts

A very good feature of both cameras is a temperature sensor, which provides temperature information at each camera's location
You will be able to set alerts, so as to get instant notification when the temperature goes outside a certain range. This is really great feature to keep an eye on your home while on vacation as it will inform you about the temperatures getting too cold for your pipes or too hot for your pets.

Alexa integration

Amazon bought Blink in 2017.
Both cameras integrate with Amazon Alexa

ARMing system

you will be able to arm or disarm entire systems and not individual cameras.

FREE Blink App

Blink App is available for iOS and Android from the Apple and Google Play Stores.
App is simple and intuitive
Dashboard can show live streaming and you can name each camera
You can check if the cameras as online
 You can change settings like adjusting motion detection sensitivity, infrared light brightness and alert schedule,
In the livestream, you can take screenshots and save them on phone.

TWO Years battery life

Default 720p record option gives 2 years battery life and up to 40,000 seconds of motion clips and Live View sessions.
Enhanced mode (available only on the Blink XT)
1080p setting record option gives you around 1 year of battery life and up to 20,000 seconds for motion clips and Live View sessions.
Why should I buy Blink XT as compared to Blink Indoor?
Camera resolution – Blink XT has higher camera resolution as compared to Blink indoor version (1080p vs 720p)
Waterproof
The Blink Indoor doesn't have any weatherproofing, and works in a temperature range of 32 to 95 degrees F.The Blink XT, works from -4 to 113 F which is really important factor if you wish to mount camera outside home.
Good night vision
The Blink XT has infrared night vision, delivering you clear video footage at nighttime.
Blink indoor camera however has only a small LED illuminator which results into poor night recording capability.

Only one negative point in Blink XT is that it is only integrated with Amazon Alexa.


Whereas Blink Indoor has additional integration with Google Home and IFTTT.
---
Buy Blink XT camera for its:
Indoor/ outdoor capabilities (protection from weather, works -4 to 113 F)
Video
Night vision
Best Buy Blink XT 
---
Buy Blink Indoor camera for its:
Smart platform integration
Indoor capabilities
---
Look for these things before you BUY
– Solar Panel for Blink XT Security Camera –

Check here
– If you need

Live View Recording

capabilities in your camera then check

Arlo Pro
– YI 1080p Home Camera
–

Check here
– Zmodo Sight Home Camera
–

Check here
---
What are the
Improvements I expect in next release

of Blink or Blink XT camera?
Camera on a ball mount
Local storage – in case the camera runs out of WiFi and Cloud storage
Two way audio system – for threatening to the intruder or talking to your child
Artificial intelligence – Should be able to detect animal versus human interface / movements
Zoom capabilities
Live view recording