While you think of best noise cancelling headphones in market as on 2019 there are only three top brand names Bose, Sony, and Bowers & Wilkins. All of them falls in the range of premium best sounding headphones and hence it is difficult to choose which one of them is best spending more than $300 to $350 range. And mind it, they all are noise cancelling headphones, hence outdoor performance is well importance with capability to filter subway noise, train noise, jet plane boom or the wind noise.
In this post I will be comparing the three best Bose QC35 II vs Sony WH-1000XM3 vs Bowers & Wilkins PX Noise Cancelling Headphones for their specifications and features versus money spent, lets see who is the winner and why?
Bose is king of sound from years and has winning pair of famous  headphones called as Bose QuietComfort 35 introduced first time in the year 2016, and the latest version as called as  QuietComfort 35 II is in the market.
Sony on the other hand is secondary in the sound market, with its Sony MDR-1000X wireless noise cancelling headphones, having attractive proposition due to its price and features. Here also the latest version which I will be speaking bout are WH-1000XM3.
And when I talk about the latest rival to both Sony and Bose are Noise cancelling headphones from Bowers & Wilkins, the PX headphones are latest noise cancelling once fighting for their space against Bose and Sony.
Out of these three competition I will talk about who will give you best value for money with highest noise cancellation, great sound and low price.
Let's begin by comparing the specs and then look for each feature in details –
Bose QC35 II vs Sony WH-1000XM3 vs Bowers & Wilkins PX Specs comparison
Best Buy price & offers

Sony 1000xm3

Bose QC35ii

Bowers & Wilkins PX

Type
Over-ear
Enclosure
Closed-Back
Wireless
Yes
Noise-Cancelling
Yes
Adaptive noise cancelling
Mic
Yes
4 x mics for ANC (2 x feed-forward mics + 2 x feedback mics)
2 x mics for telephony (CVC2 –

Clear voice communication

2)
Transducer
1.57 ", dome type (CCAW Voice coil)
Dynamic
2 x ø40 mm full range
Impedance
47 ohm (1 kHz) (when connecting via the headphone cable with the unit turned on), 16 ohm (1 kHz) (when connecting via the headphone cable with the unit turned off)
 22 ohms (passive)
Frequency range
4 Hz to 40 kHz
10 Hz to 20 kHz
Sensitivity
104.5 dB / mW (1 kHz) wired
101 dB / mW (1 kHz) wireless
111 dB/V at 1 kHz
Distortion (THD)
<0.3% (1 kHz/10mW)
Weight
0.6 lbs
0.52 lbs
0.74 lbs
Clamping Force
0.8 lbs
0.69 lbs
Ease of use
Good
Feedback
Above-average
Good
Good
Noise Canceling Control
Yes
Adjustable (low, high, off)
Adjustable (Office, City, and Flight)
Talk-Through
Yes
No
Yes
Additional Buttons
Voice enabled controls, Google Assistant integration
Bluetooth Version
4.2
4.1
4.1 with aptX™ HD
Multi-Device Pairing
No
2 Devices
NFC
Yes
Bluetooth profiles
A2DP, AVRCP, HFP, HSP
A2DP v1.3, AVRCP v1.6, HFP v1.6, HSP v1.2, GAP, SDAP, DIP
Bluetooth codecs
SBC, AAC, aptX, aptX HD, LDAC
aptX HD (High Definition) Standard Latency plus HD
SBC (Low Complexity Sub-band Coding)
AAC (Advanced Audio Coding)
Battery Type
Rechargeable
850 mAh Lithium Polymer
Battery Life
27 hrs
20 hrs
22 hours BT/ANC
Charge Time
2.2 hrs
2.1 hrs
Power Saving Feature
Auto-Off Timer
Audio while charging
No
Passive Playback
Yes
Inputs
Stereo Mini Jack
USB-C (Audio, battery charging & FW update)
3.5 mm stern jack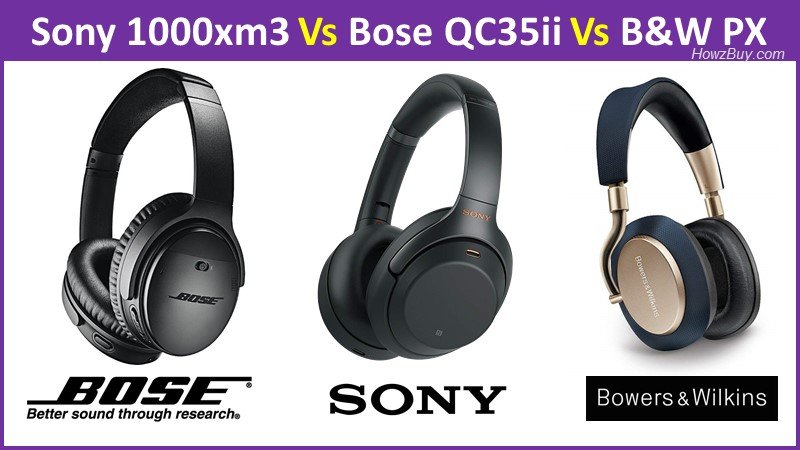 When I want to compare the headphones and select the best out of it, there will be some or the other area where one outperforms the other two, and judicious call need to be taken by you.
Since sound and comfort both are subjective matter finally what you like is more important than what are the features and technical specs of any headphone!
So here we go –
Sound Quality
The first thing that is most important is the sound quality delivered to your ears, how truthful it is or how much it suits your taste.
Each of these NC pairs are top notch quality in sound, but remember they have their own propitiatory signature sound, so lets discuss.
Bose QuietComfort 35 II provides you deep insight of each tiny instrument played with voice clarity at its best.
So as QC35 II perform well on aggressive tracks too delivering powerful bass toning the lowest depth drum beats with balanced mids and highs.
Bose is able to mange the higher frequencies as usual without any trouble or any hit of brashness.
QC35ii are better for listening to Classical music since delivers neutral and true sound compared to Sony
When I talk about Sony's WH-1000XM2s giving good sense of dynamism.
Sony has little more Bass compared to BOSE, sony also offers lot more clarity of instruments and vocals.
Sony is powered by LDAC codec which is one of the best wireless transmission ever (Android 8.0 or higher supports LDAC)
Sony does have app which gives some room effects, however they do not exceptionally do well … but good to have like facility …
Coming to Bowers & Wilkins' PXs with their aptX HD Bluetooth support delivers CD-quality sound (on compatible devices)
They are more true to the sound, delivers detailed and an even tonal balance which is liked by most audiophilic listeners.
In short PX are more honest to the sound delivery, not only in terms of truthfulness of sound but also the way sound is delivered to you via drivers angled at certain fashion.
Finally I will say that PXs' are more sophisticated, and banks on the elegant side of music, showing you details of an individual element such as rendering the harp, violins and oboe.
---
Once you are sure about the sound quality and selected one of them, next comes is the Noise Cancellation, for which you are going to spend extra amount of dollars for!
ANC – Active Noise Cancellation
ANC is most important factor when it comes to listening and talking comfort in noisy situations like restaurants, commute, airplane, subway, office as well as standard noises like AC systems
The QuietComfort 35 IIs have three levels of noise-cancellation ('low', 'high', or 'off'), with numerous patents so far Bose is being able to be king in this area, however lately other companies like Sony has overtaken them in terms of quality of ANC.
Sony surely outperforms Bose in ANC area, XM3 ANC has precision control assisted with dynamic action identification like walking, running, sitting inside office or being on an airplane (with its barometric sensor) Sony's Sense Engine and Personal NC Optimizer works well in all given noisy conditions.
As an example when you are in office Bose and Sony will provide Noise cancellation to max level and as soon as you start walking or jogging Sony headphones will identify the movement and allow ambient sound to creep inside, this is an additional safety feature indeed.
Further Sony gives importance to the atmospheric pressure, what it means is that they can identify if you are sitting inside an airplane thus optimizing the delivered sound quality at high altitudes with the humming of jet engines.
Bowers & Wilkins' headphones also features three noise-cancelling modes – Office, City, and Flight – which can be further fine-tuned through the B&W Headphone app.
B&W PX Flight mode puts NC levels to maximum level. And the city mode allows ambient noise to creep in giving you awareness of surroundings as a safety measure (so that you can listen to the cars).
Talk through
One of the important factor while using ANC headphones is how to listen to other person talking to you?
Being ANC they will isolate the ambient sound, hence during talking to other person you need to switch the headphone ANC OFF or lift the phone from ear to listen to what the other person is saying.
This is irritating, since you need to press ANC OFF button and lift the earphone, mostly multiple times when in office, so it is important how all the three brands facilitate this with Hi-tech solutions.
Let's see how do they do it?
Bose QC35 II are traditional in this matter and you need to select the ANC OFF manually, although the touch control to make it OFF is quite easy to operate, however tech-wise this is old school and Bose needs to workout more in this area for sure.
Sony XM3 wins the technology battle, with its Quick Attention feature, all you have to do is place your hand over the headphone ear-cup housing to turn the volume down for conversation.
Bowers & Wilkins PX plays in between, better than Bose but not as good as Sony's.
B&W PX features lift the earcup method! What it means is that while you wish to speak to someone, all that you have to do is lift the earcup and the PXs will automatically pause the music as well as NC mode (this feature is managed by a proximity sensor built into each ear-cup module)
However to me, this looks like annoying since the person upfront talking to you may feel like mocking by removal of one ear-cup! what do you say?
Voice Assistants
And should you take them off entirely the headphones will go into a standby mode to help conserve power. Put them back on and they ping out a couple of tones to signify they've woken up; playback will then recommence without you having to press a single button.
Bose QC35ii are packed with Google Assistant integration as well as Alexa for Android and iOS users. What it means is that the headphones will read notifications and calendar events automatically or you can even read the text messages with the press of button (however let me ask you, how many of you get text messages now a days?)
Sony XM3 also features Google assistant feature.
Bowers & Wilkins PX features Siri or Google Assistant which are activated by holding down the play/pause buttons.
Control Buttons
Bose QC and B&W PX features traditional hard buttons to control the music and ANC function.
Sony XM3 are powered by the smart gesture control, which means all the music playback controls are done by simple touch of finger to the outside of ear-cup which is easy and intuitive too.
Further the Sony features super feature called as Quick Attention, which allows talking to other person by simply putting one hand over the ear-cup, this is the most natural way of listening to other person.
Wearing comfort
Finally comes the factor of how much time you can wear the headphones continuously?
To me the longest one can or should wear is for couple of hours or till you finish watching the movie during long flight, after that give some rest to the ears. Anything more than that is surely harmful to the ears.
So personally when I talk of wearing comfort I will not go beyond 2 hours of wearing with some rest of 10-15 minutes before using again.
Anyway that's what I think of, lets see how much comfortable these pairs are –
Bose QuietComfort 35 IIs surely wins the battle here with its luxurious comfortable ear-cup and precise head clamping force control.
Bose QC35ii are lightest among all three, and have a gentler grip than the Sony or B&W PXs.
The Sony WH-1000XM3s are also comfortable, with secure fitment over head without feeling vice-like.
B&W PX constructed using lightweight aluminium with ballistic nylon shell over the outer earpads and the top of the headband, still are heavies among all three and scores last in terms of comfort battle.
However as said all three ANC headphones are quite comfortable for long time wearing, considering that you will give a short break in between.
---
Bottom line – Bose QC35 II vs Sony WH-1000XM3 vs Bowers & Wilkins PX which one is the best?
So when I talked on each feature, sound quality, technology, comfort and so one … but then final question is which one I should buy and for what reasons?
As said its subjective matter, however I can surely provide guidelines for selection of best of best ANC among three.
Bose QuietComfort 35 IIs are top notch in terms of wearing comfort and smartphone integration, with its true sound Bose sound signature, best choice for Bose fans. You should go for them if you are classical music lover.
The Sony WH-1000XM3s with great sound quality and super NC high-tech assistant are best for travelers.
Finally the B&W PXs strikes golden mean of easy-to-use noise-cancellation and good music quality. With its classic rich look and feel they are the best choice for any music lover.
Bose QuietComfort 35 II – FIVE STARS
Good points:
Excellent wearing comfort
Impressive noise-cancellation
Google Assistant integration And Siri enabled
Improvements needed:
Active Noise cancellation as compared to the Sony
Recommended for:
Best ANC headphones for Bose lovers, with its super comfort in long time wearing, recommended for office use and home use. (for travelers I recommend Sony due to best ANC performance compared to Bose)
Sony WH-1000XM3 – FIVE STARS
Good points:
Super Bass performance over Bose
Refined sound with balanced mids and highs
Super impressive noise-cancelling (smart to identify the gesture)
Improvements needed:
Touch-pad controls needs some training to newbies
Recommended for:
Sony's XM3 are best choice for frequent travelers, with its smart gesture identification the ANC is controlled automatically, touch control makes the conversation with ease and delivers jazz music with ease over entire frequency band
Bowers & Wilkins PX – FIVE STARS
Good points:
Excellent sound quality with minute detailed played back to perfection
Clever, intuitive features like lift headphone for conversation
Impressive noise-cancelling
Classic and rich build
Improvements needed:
I only don't like conversation feature with lifting the ear-cup, it looks slightly weird
Can be further fine tuned to bring down the weight aspect
Recommended for:
Those who like to look rich and classic, PXs delivers excellent sound, ANC with sturdy build.
---
References for this post are taken from Bose, Sony and Bowers Wilkins official websites
https://www.bose.com/en_us/products/headphones/over_ear_headphones/quietcomfort-35-wireless-ii.html
https://www.sony.com/electronics/headband-headphones/wh-1000xm3