Gone those days of wearing the old fashioned wrist watches which only shows time and date… Gone those days when people used to wear the fitness bands or fitness trackers … This is modern time where Apple watch re-calibrated the thinking of all … They introduced something which is fusion of wrist watches and fitness trackers as called as smartwatch… Which further became popular with something called as Android wear (aka Wear OS now) which can be used by non Apple fans too and pretty inexpensive form of the Apple Watch. While I have already talked on famous trackers like FitBit, I also want to talk something about the Cheapest & Best Smartwatches which are available for as low as $10!
So in the ocean of smartwatches and fitness bands there are plenty of Chinese companies selling on Amazon, banggood which will provide many expensive features as dirt cheap prices, some even costs as low as $10 only!!
I know there are many expensive forms which you can't afford to have when you are on a hike due to fear of being damaged or loosing them, you need to have something that is as functional as the costly smartwatch, but without making a big hole in your pocket. I mean at least it will give you an flavor of what is smartwatch and once you are used to it, go ahead to buy any expensive smartwatch which ranges from $100 to $500.
Which are the cheapest waterproof smartwatches for 2019?
Here I have selected following two models which are cheapest as on June 2019 being sold on Banggood website and also both these watches being tested by me for last one month.
1) Bakeey 116 Pro – Designed for Men and Women
2) Bakeey LV08 – Designed for Women
Both watches are working fine since a month and tested extensively for the usage and functionality by me and my wife.
First to provide you quick comparison of both models I have given below a technical specification comparison chart after which I will be talking in more details on each watch function so that you will be able to select a suitable one for your daily soap use.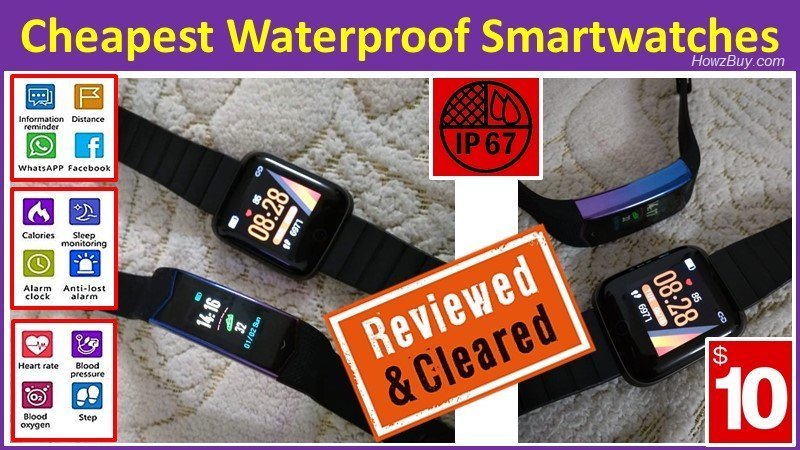 Bakeey Smart Watch /Wrist Band Specs Comparison
 Model

Bakeey 116 Pro

Bakeey LV08

Offers and Discounts

Suitable for
Boys & Girls
Girls
 Color
 Black, Red, Blue
 Black, Pink, Green, Purple
 Bluetooth Version
 BT 4.0 or above
 Compatible OS
 Android 4.4 or above , iOS 9.0 or above
 Operating Mode
 Single Touch
 APP Name
 Lefun Health –

Google playstore link

 Yoho Sports –

Google playstore link

 App Language
English, Portuguese, Spanish, German, French, Russian, Dutch, Polish, Japanese, Simplified Chinese, Traditional Chinese

Special Features

 Waterproof
 IP67 waterproof –

What is IP67?

 Heart Rate Monitor
 Support
 Blood Pressure Monitor
 Support
 Blood Oxygen Monitor
 Reference value display

Not available

 Sleep Monitor
 Support
 Multi-sport Modes
 Support
 Pedometer
 Support
 Call or Message Reminder
 Support
 Reject Call
 Support
 Notification
 Support Facebook,Twitter,Wechat, WhatsApp etc.
 Alert Type
 Vibration
 Auto Light-up Screen
 Support
 Stopwatch
 Support

Not available

 Data Save
 Support

Not available

 Other Functions
Support Alarm, Calendar, Sedentary reminder, Camera remote control, Anti-lost

Technical Parameters

 Sensor
 G-sensor, Heart Rate Sensor
 G-sensor
 Screen
 Size: 1.3 inch
 Size: 0.96 Inch
 Type:  TFT
 Resolution:
240*240 pixels
 Resolution:
160*80 pixels
 Battery
Battery Capacity:
150 mAh
Battery Capacity:
90 mAh
 Standby Time:
About 10 days
 Standby Time:
About 15 days
Using time:
About 7 days
Using time:
About 5 days
Charging Time:
About 3 hours
Charging Time:
About 2 hours
 Charging Type: Clamp charging

Appearance & Details

 Band
Material: TPU
Material: Silicone
Length: about 220 mm
Length: about 208 mm
Width: about 18 mm (detachable)
Width: about 17 mm
 Weight and Size
size: 39*10*260 mm
size: 105*90*30 mm
weight: 48g
weight: 25g
Package contains
 1 * Smart Bracelet
 1 * Charging Cable
 1  * User Manual (English Version)

 Tips:

1. Display and color of product as seen on screen may be different from actual product due to differences in photography.
2. Please download the app using links given in above table so that you can start using the smartwatch immediately. Also check compatibility of App before you order the watch, else your phone may not be able to communicate to the smartwatch.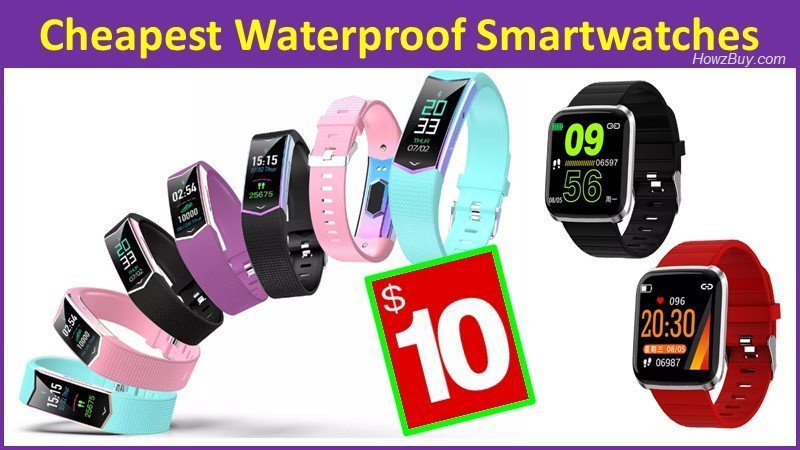 Bakeey 116 Pro Smart Watch Review
This beautiful smartwatch simply looks like an Apple watch and fashioned for men or women.
Bakeey 116 Pro Smart Watch is one of the cheapest smartwatch I have found in my research and tested for about a month for battery life, fit and function.
Surprisingly Bakeey 116 Pro smartwatch contains some of the expensive features like Heart Rate / Sleep Monitor / Blood Pressure Measurement / Timer etc. Now again all such functions even for the expensive watches being debated across web for their accuracy, so I am assuming that you will not be so peculiar about the accuracy to the last digit, to me indicative measurements done using the same watch over the period of time are okay for getting fitness guidance.
Anyway lets look at each feature in detail –
Design
The Bakeey 116 Pro smart watch has rectangular shape like Apple watch, with a big screen of 1.3 inches with very thin body, this upgrade of the Bakeey 116 Plus has zinc alloy bottom case and a skin friendly soft TPU Band which ensures comfortable wearing experience for 24×7 hours.
Waterproof
This smart watch being rated IP67 which means the device is fully protected from dust (6) and can also withstand being submerged in 1m (about 3.3 feet) of static water for up to 30 mins (7) … I have tested Bakeey 116 Pro smart watch under shower and worked perfectly (look for the video which I shall be posting by next week for the usage and water test)
Obviously this watch is protected from the sweat generated from exercise or hiking / trekking etc.
Just for reference iphone7, iPhone X are also IP67 rated,
—– Read in details about IP67 waterproof rating here  —–
Simple one touch operation
Operating the watch is pretty simple with single touch button at the bottom of screen, which allows switch ON/OFF, scrolling in between the menus.
If you wish to get into sub-menu, all you have to do is press the main button for few seconds.
Display
It features pretty large display of 1.3 inches, which looks nice as well as easily readable from a distance without specs (for me).
The screen resolution is 240*240 pixels with color display which makes it stand out of crowd (even MI basic bands do not have color display)
The screen also displays SMS messages as well as all social media messages which are readable easily due to the screen and font size. It is compatible to almost all famous social chat apps like Whats App, Wechat, facebook, twitter, Line, Kakao talk etc.
Best part of it is information on incoming calls, I can surely roam around my workplace by keeping mobile phone on charge and rush back to pick any important calls. The watch simply vibrates and shows caller ID, useful specially in noisy environment.
Only one thing that I think need to be improved is the display visibility in daylight, I can't see it in sun, but works fantastic in shade.
Watch faces
The watch once connected to your mobile phone gets synchronized for date and time automatically.
While it displays time, you can change the looks which is also called as watch face by simply pressing the main button for few seconds. It rotates through different watch face options. Select the one which suits to your taste.
Battery [Over 1 week]
The smartwatch is powered by 150 mAh powerful battery which lasts for a week easily in a single charge. I think this is pretty good life.
(This battery life is tested by me with measurement of hear rate, blood pressure and oxygen level at least once in a day as well as wearing it throughout night to check the sleep quality)
Features
Sleep Monitor
First day when I saw this feature I didn't realize the importance, but within first week of wearing 24 hours made me realize the importance of feature called as sleep monitor.
It precisely gave me breakup of deep sleep vs temp sleep with Star rating over weeks period, it was reflection of what I did in a day! What I mean is when I went to work walking 5 kms, night deep sleep was fantastic for over 3.5 to 4.5 hours!! whereas when I went to office in my car, the deep sleep came drastically down indicating that exercise is important for good quality of sleep. Wow!! what a feature!!! generally found only in expensive watches.
Heart rate monitor
The Bakeey 116 Pro has sensors which can measure your heartbeats in no time.
Perfectly useful to keep watch during exercise, simply connect it to your smartphone and keep watching on the heartbeats.
Again as said the green light sensor accuracy can't be expected to be like a scientific medical instrument, but surely as per me it was in ball park figure of what I feel for me.
Smart tracking
Like all other smartwatches the Bakeey 116 Pro permits measurement of steps, distance covered, and calories data at any time, allowing to monitor your performance. Again when you connect it to the smart phone, you can keep looking at data real-time.
Selfie
One of the add-on feature is to take selfie by shaking of watch. Honestly I do not like to take selfies, so tested this feature only to check if it works! but someone may find this feature much helpful.
Bluetooth 4
The watch gets connected to your smartphone using Bluetooth wireless technology.
Mostly I use it with my mobile phone is range of 10 feet in the line of sight so no issues so far, however if I move behind solid barrier like a concrete wall then it looses connectivity with my smartwatch.
I tried a feature called as phone finder in this watch and found that it works good in the line of sight, however in case there are barriers in between then it won't work as expected. So practically this find phone may not be that useful since the phone might have been dropped in locations like below the table and the Bluetooth won't work with barriers in place! anyway !!
Mini-Personal Assistant
Yes, there is a miniature version of personal assistant which reminds you for drinking a glass of water at specified intervals (customizable timings through App)
And the sedentary reminder (vibration in your watch) makes you move out of workplace after specified interval. Best for those who sit on single place on computer for long period of time.
Other useful features like a stop watch and alarm clock are really handful .. I am using the alarm clock daily now.
Bakeey LV08 Smart Watch Review
This is second version from the same company Bakeey which is beautifully designed sleep & simple wrist band for women available in attractive colors. The body is surface treated so as to create a colorful gradient, specially keeping in mind that girls like such moving colors.
This watch is also powered by Heart rate monitor and Blood pressure Monitor like the Bakeey 116 Pro, however it does not have the  Blood Oxygen Monitor and stop watch functions which are present in 116 Pro model.
This watch also is waterproof to rating of IP67, which means you can wear it in showers without worry of getting spoiled due to water.
Other features like sleep monitor works fantastic allowing you to monitor your sleep health and thus overall health.
Specially for women, they can keep track on the calories burnt and set goals that are achievable. When achieved, do not forget to share it across social networks among family and friends.
Bottom line
While you can afford to spend hundreds of dollars in buying expensive smart watches, I suggest to try these two versions by spending simply $10 – $15 which is nothing as compare to the value they bring to your life.
Specially when the kids want to have a smartwatch, this can be a beautiful gift for them, and you need not worry at all since both the models are waterproof!
Overall after one month of use I got very good battery life of over a week in a single charge.
Functionally I could analyze my sleep quality, calories burnt, steps walked etc (although I did not use the various sports mode available in this watch such as cycling, skip, situp etc. I extensively used the pedometer)
Watch build quality is really good and people do ask which make this watch is 🙂 and when I tell them the price, they just lie flat!! ouch!!!
So overall good, try getting hands on one of them.
| | | |
| --- | --- | --- |
|  Model | Bakeey 116 Pro | Bakeey LV08 |
| Offers and Discounts | | |
Note – Do not expect features like On board GPS, Mobile payments via NFC, Voice assistant, Call receive / answer, music streaming etc which are available in expensive versions like Apple watch. Keep in mind about the price of Apple watch as well as its battery won't last as long as this $10 watch will.