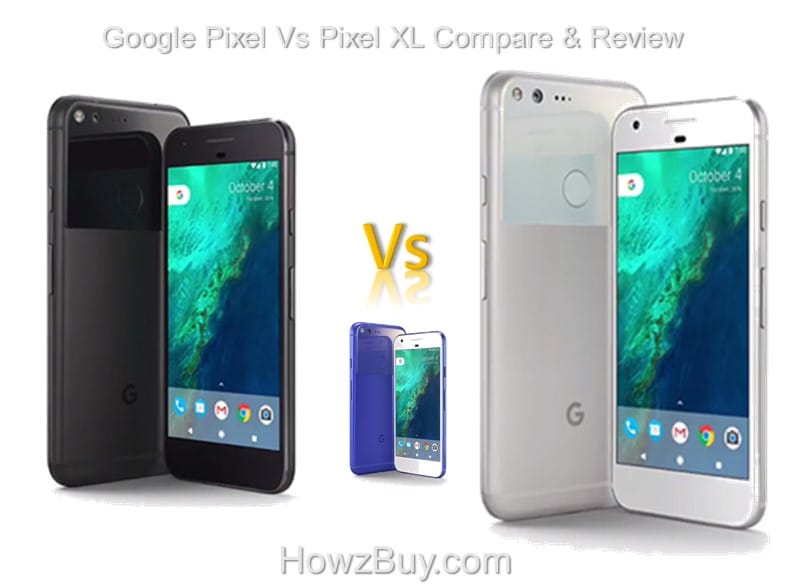 The Google Pixels, the first smartphones to use Qualcomm's Snapdragon 821 chip set ! which is incremental upgrade of Snapdragon 820, runs at higher efficiency & remains cool 🙂 resulting into prolonged battery time. Obviously Google has mingled 821 hardware into Android 7.1 taking full advantage of its capabilities like Google Assistant, quick 3D touch, App drawer giving you real feel of speed and perfection at its own.
Also real fun begins when you look at the Camera output ! With phase detection & laser auto focus the camera operates at super speed producing extraordinary images using Google's superlative image processing. Aided by the relatively large 1.55µm pixel size it can shoot in pretty low light scenarios. In fact is supersedes performance of well know iPhone 7 or Galaxy S7 Edge in terms of true colors & capturing details. And if you have time to spend on Google's HDR+, you can produce professional quality images, may be use of tripod gives you extra bit.
Over time, Google has graduated from its Nexus series with some premium in price to Pixel, but for sure people will keep comparing with iPhone 7 every second. Where the looks and finish of iPhone 7 supersedes the Pixel ordinary looks (compared to iPhone) I am not so sure at this point of time how much it will fight with iPhone 7 and the One Plus Three.
What's so different in Google Pixel & Pixel XL ?
Body
Bottom half of the back is made from a metal body & the top half from glass, which is said to maximize the antenna performance ! Also catering to the fingerprint sensor and the camera.
Battery Life
With bigger battery, Google Pixel XL can last as long as 32 hours of talk time, compared to the Google Pixel's 26 hours.
Quick charging
It needs USB Type-C connector facilitating 0-30% charge [@7 hours of use] in @15 minutes, super quick charging !
Low-light shots
Aided by the relatively large 1.55 µm pixel size delivers super low light performance.
Google Assistant integration
Needless to say, no one but only Google can integrate best with Google's own digital assistant, which is said to be superior than Siri ! Creating a Voice Conversation between you and Google
Night Light
Changes the colors shown on the screen to show less blue light
Daydream compatibility
Turns your phone into a virtual reality device, XL scores more with higher pixel density and larger screen size
Unlocked ?
Both are sold unlocked on famous online stores as well as google stores
Lacuna compared to iPhone !
It lacks Wireless charging and Water resistance where Apple and Samsung's flagships score more.
Google Pixel Vs Pixel XL Compare & Review
Google Pixel

Google Pixel XL

Operating System
Android 7.1 Nougat with Google UI
Processor
Qualcomm Snapdragon 821
RAM
4 GB
Display
5-inch AMOLED
5.5-inch AMOLED
Resolution
1,080 x 1,920 pixels
(441 ppi)
1,440 x 2,560 pixels
(534 ppi)
Rear Camera
12MP f/2.0
1.55-micron pixels
PDAF
Front camera
8MP
Video
2,160p at 30fps
Battery
2,770 mAh non-removable
3,450 mAh non-removable
Charging
Fast charging
Connectivity
USB Type-C
GSM / CDMA / HSPA / LTE
Bluetooth
Yes, version 4.2
Fingerprint sensor
Yes
Other sensors
Accelerometer, gyroscope, barometer
Storage
32 GB/128 GB
MicroSD card slot
No
NFC support
Yes
Water resistant IP rating
IP53 – Pixel or Pixel XL are

not waterproof

, it can protect you from rain shower or splashes only.
Protected from water spray less than 60 degrees from vertical.
+ Protected from limited dust ingress.
Colors
Quite Black, Very Silver,

Really Blue

Size
5.6 x 2.7 x 0.2-0.3-inches
(143.8 x 69.5 x 7.3-8.5 mm)
6.0 x 2.9 x 0.2-0.34-inches
(154.7 x 75.7 x 7.3-8.5 mm)
Weight
143g (5.0 oz)
168g (5.93oz)
Deals, Discount & Offer Price
Best Buy in USA
Best Buy in USA
Looking at the technical comparison and actual performance, Pixel and Pixel XL does not differ much apart from its screen size, battery, may be the Pixel XL scores bit more marks with resolution along with screen size supported by better Battery life 🙂
Hope this helps !
Cheers !!