It is the first time I wanted to buy action camera for personal use, keeping budget, quality of video shooting, durability and resistance with drops and water in mind I selected best brands to compare which are GoPro Hero 7 Black vs Hero 6, Hero 5, Sony FDR X3000 vs YI 4K+. I did lot of research and comparison to decide which is best action camera as in 2019 for me since it will be a new year gift for my wife. In this post you will see my research and recommendation on which action camera is the best and why?
Obviously the starting point for me was to look for the best models that are available in market and I shortlisted the following 5 models / from 3 top brands of action cameras as in 2018 (although I will buy it in Jan 2019)
How I selected best action camera? My criteria –
So in this post I have first compared Specifications of these action cameras, detailed comparison of performance in video and photo shooting under daylight, low light conditions, memory capacity, electronic stabilization (which is one of the most important criteria in action cameras), battery performance, durability under shocks / dusty conditions / water, charging time, type of battery and finally value for money.
Shortlisted action cams are –
GoPro Hero 5 Black
GoPro Hero 6 Black
GoPro Hero 7 Black
Sony FDR X3000
YI 4K+
Once I sorted out action cameras to research for I prepared a technical specs comparison table with lot of efforts, as you know that GoPro does not provide complete specs on their website so as the other manufacturers! I am not sure why and for what reasons … Anyway I enlisted the important factors which should be known to me to determine the differences in between the action camera models to get some indicative direction on how much I will spend and what I will get.
For ease of understanding I have highlighted some of the pros and cons in RED or GREEN color, however they are not the determining factors but indicative for you to keep in mind, as you see the actual performance photos in the trailing post, you will realize that output is what matters w.r.t. money that goes into buying the camera and not the specifications.
Tip : If you face issues in seeing the table on your phone or tab, go to the end of post where the same table I have inserted in JPEG format, so as to see it as an image file
Basic Specifications comparison of top action cameras in market
GoPro Hero vs Sony vs YI
GoPro HERO5
GoPro HERO6
GoPro HERO7
Sony FDR X3000
YI 4K+
Best Buy
Best Buy
Best Buy
Best Buy
Best Buy
Voice control
yes,  hands-free control
yes,  hands-free control
yes,  hands-free control

No

yes,  hands-free control
Touch screen display
2-Inch Touch Display
2-Inch Touch Display
2-Inch Touch Display
No screen, also no touch screen to change settings
2.2 inch touch screen
Waterproof
 33ft (10m) underwater without a housing
 33ft (10m) underwater without a housing
 33ft (10m) underwater without a housing

splashproof – IPX4


(waterproof / freezeproof using case to 197ft / 60m)
 up to 130 feet underwater using case and freeze proof
Photo features
12 MP
Image Recording Format
JPEG, RAW ( .gpr files  based
on the Adobe .dng format)
No RAW image capture
JPEG, RAW
Modes
Single, Burst and Time Lapse
video
4K – stabilized video
4K – stabilized video
Hyper smooth video stabilization
Balanced Optical SteadyShot
Electronic Image Stabilization
MICROPHONE
Stereo – No additional mic jack
Stereo (+ additional mic jack)
Microphone Features
Wind noise reduction
LENS SYSTEM
Focus free
Navigation
GPS receiver
Wireless Interface
Built-in Wi-Fi, Bluetooth
Size
1.8 x 2.4 x 1.3 inches
1.75 x 2.44 x 1.26 inches
2.45 x 1.77 x 1.3 inches
1.2 x 1.9 x 3.3 inches
2.6 x 0.8 x 1.6 inches
Weight
4.2 ounces
4.2 ounces
4.2 ounces
4.2 ounces
3.2 ounces
MEMORY / STORAGE
micro SD card
microSD, microSDHC, or microSDXC
Class 10 or UHS-I rating
Capacity up to 128GB
Capacity up to 256GB
Capacity up to 256GB
Capacity up to 128GB
Capacity up to 64GB
Battery charging time
The battery charges to 100% in about 2 hours
The battery charges to 100% in about 2 hours
The battery charges to 100% in about 2 hours
4 hours
under three hours using USB-C
Download product manual
Download manual Hero 5
Download manual Hero 6
Download manal Hero 7
Download manual FDR X3000
Download manual YI 4K+
Tripod socket
Case required to mount on tripod
Available on camera body 1/4"-20
Karma Grip
Yes
Yes
Yes
Processor
Ambarella A9SE7
GP1 chip (custom processor)
GP1 chip plus 2G SD RAM
ZEISS lens and Exmor R CMOS sensor. BIONZ X processor
Ambarella H2 system-on-chip
low light performance (see the image snap shot in post)
Good – Almost comparable to Sony
Not so good (to be honest)
Not so good (to be honest)
Good
Better – Almost comparable to Sony
Head to head comparison of Best action cameras
GoPro Hero 7 Black vs Hero 6, Hero 5, Sony FDR X3000 vs YI 4K+
I do not want to go in too much technical stuff (although after spending 25 years in R&D I can really dive into) but I will concentrate on the actual output in the same light conditions and closeness which will surely give you an idea on what each of the above action camera can deliver you.
Daylight Video shooting : Trueness of colors
Look at below snapshot which is sequenced in order of comparison, as the pictures speak for themselves I will give you my own assessment (since I want to spend money to buy one of the camera now)
First test done in daylight, where the camera by default shall perform to its best and most of the time we use it in these conditions only. Also here you must look for your personal taste about the colors, some of you may like True colors and some of you Vivid colors, some may like more contrast. So in this daylight video test you will determine the DNA of camera sensor which will be one of the determining factor for buying.
Color depth of Green leaves and contrast to the flower color is almost same for GoPro Hero 6, Hero 7 and Sony FDR X3000. Sony shows more vivid colors, to me it is slightly exaggerated to the truthfullness, but may be liked when you put it on social media!
YI 4K+ performs the worst to show contrast of colors as well as the sharpness of picture.
Hero 5 Black strikes a golden mean in between all w.r.t colors and contrast too. The colors also look more natural.
Again here is one more comparison of daylight photos where sky, trees, a hillock, road and a car is playing a role for you 🙂
Look at the blue sky, car color, camera coverage in the same zoom, shadows fallen on road.
If you observe carefully again the Sony shows its DNA of vivid colors, showing high contrast of shadow on road, sky, trees.
Here also YI 4K+ shows inferior color depth and contrast ratio too.
The hero 6 and 7 perform almost equal.
finally the GoPro Hero 5 Black shows golden mean in colors and contrast of shadows.
Evening Video shooting : Low light performance
Second litmus paper test is to check camera performance during evening hours .. yes .. after the sports you are going to spend evenings at sea shore or looking at the sunset 🙂
So checking low light performance is a must before you decide which action camera to buy for?
You can see here that the Hero 5 has slightly yellowish tint (however it can be removed by editing),
Hero 6 & 7 performs equally well, however if you super zoom this shot, they you will realize that Hero 7 performs bit good in terms of clarity and sharpness as compared to the previous Hero 6 model, however again you need to decide how much you are ready to spend for just to get this Zoom clarity! at least for me, spending $100 more for only getting this would be slightly no.
Sony outperforms in low light conditions with best contrast and colors
Surprisingly the YI 4K+ also performs well in low light conditions!
Evening Video shooting : Dark night shooting performance
Below comparison picture showing the dark night light conditions is so good that in a glance you will realize that Hero 6 and 7 failed to perform in dark light / night / no light conditions.
In this case Sony will be the baseline which is GOOD in my point of view.
Hero 5 closely performs to the Sony output but with some yellowish tint, so as to YI 4K+, but again in YI model the colors are lacking a bit.
Again if you take which is value for money I will say it will be Hero 5
Sound recording Qualities on videos
While the video performance contains picture quality which you have already seen, second factor is recording the audio too.
So if you compare head to head, then YI 4K+ and Sony does great job during the sound recording as compare to the GoPro models Hero 5,6,7.
Hero 7 slightly performs better in the black model, may be due to the third mic added.
Voice commands
Hero 7 Black performs well due to addition of third mic as compare to the previous hero 5 and 6 models, however the just is not drastic (what I mean to say not so perceivable to me at least)
Sony lacks of providing this must have feature, since during most of the action stunts or even while riding on your bicycle it will be great to have the action camera doing actions like start and stop shooting based on voice commands.
However again voice commands is not a must, but good to have feature. Traditionally the larger button layout makes it easy to operate even while you are on a bicycle trip or motorcycle.
Touch screen
Again one of the most useful feature (although the touch screen won't work under water)
in modern life when 99% of smartphones are touchscreens, it is evident that the cameras screens also should basically touch screens, except Sony all other Hero models and YI model supports touch screen.
If you ask me only for this reason I will not go for Sony for sure!
Waterproofing
Yes, surely this is one of the most important determining factor for me to buy an action camera.
Hero outperforms in this area by making its basic camera body itself waterproof, hence you need not have any external case to protect the camera from water.
Whereas the Sony or YI needs additional case to make them waterproof and the basic model without the case lacks protection from water! to me this is not a complete NOGO situation, but surely good to have feature.
Image quality and format
Except Sony, All hero models as well as YI 4K+ gives you option to deliver the RAW format.
However again this is mostly required by professionals, like I own a Canon DSLR which is well capable of delivering things in RAW format, however I used it only in the beginning for trials purpose but not later due to large consumption of space on my hard disk!
So choose wisely if you really wants to have RAW capability!
All cameras do deliver 12 MP photo quality.
Electronic Image stabilization
Well this is one of the most important factor wherein you may like to spend some good amount of money.
And surely Hero 7 outperforms with its Hypersmooth gimbel like stabilization.
In hero 7 it almost practically eliminates need to go for gimble! which means you can save good costs as well as you need not carry additional gadgets but the stabilization is built into the small power-packaged camera.
In all of these selected models this is the feature which I will give more importance, since it supports the basic purpose of any action camera, shooting during you are moving giving shakes to the camera, hence the footage output is smooth then you are achieving the most out of your action camera.
Although other Hero models as well as SONY and YI do provide some other form of image stabilization and works well, surely they don't deliver gimble like stability in video shooting.
If you wish to see the impact then do see the video link which is given at the end of this post in references section.
Battery performance
Honestly battery performance is super complex factor for any action camera, since the battery life entirely depends upon the quality of video you have selected, the temperatures around (like freezing temperatures or very hot conditions reduce battery life drastically), the idle time, battery age etc.
second this is time taken to recharge the battery.
and third factor is if the camera has removable battery.
To me the camera having removable battery leaves you chance to maintain the spare fully charged battery which you can simply swap on during your travel while the other one goes on charge to get ready to perform again.
All models which I have selected (including Hero Black ones) have removable battery, however if you go for Hero models which are non-black you may end up having non-removable battery, so be careful in this area while you finalize the model of camera lower than Black.
Memory card capacity GB
Again as the technology is improving it is allowing more data to be stored in less space, which supports you to record more HD quality videos without worrying about the space.
In this aspect the Hero 6 & 7 supports memory cards upto 256 GB.
Whereas the Sony and Hero 5 supports only 128 GB of max capacity memory micro SD card.
YI 4K+ only supports 64 GB card, which is also not bad.
There are positive and negatives of having large memory card that you must remember.
Say if you have single 256 GB memory card which gets corrupt in a trip, they you loose all picture / videos as well as no backup left, however if you have 64 GB 4 memory cards giving equal 256 GB of total capacity, then you divide your risk of card getting corrupt or loosing complete data. Personally I prefer going for 64 GB multiple cards for safety reasons.
Second thing is that since you are able to transfer data online to backup servers easily (due to high speed internet) there is no need to go for very high space on camera memory card, so keep this also in mind while you become too much excited on large memory card support.
So larger micro sd card support is a good to have and not a must feature for sure.
---
Before I conclude on which action camera to buy after spending $200 or $300 or $400, lets look at latest launch Hero 7 model.
Considering that budget is not a constraint, lets see what can be the technological factors to buy the latest action camera in market which is GoPro Hero 7.
Major improvements in the GoPro Hero 7 are
– Lens flare is gone (as compared to the Hero 6 where lens flare against light was one of the biggest trouble)
– Stabilized video- Hypersmooth gimbel like stabilization (although it crops Wide FOV by 5%), now this is the most fantastic thing to have, it outperforms and does not need any external gimble to stabilize the video. However point to be noted and kept in mind that this Hypersmooth gimbel like stabilization does not work great in darkness or low light conditions, also you will see some hitch while you do a slow motion video using this feature.
– 3 microphone design given in the Black model delivers an improved performance over Hero 6 – The practical tests showed surely an improved performance on recording.
– GUI is newly designed, those who are used to work with old interface of Hero 5 or Hero 6 would find it slightly difficult, but any change is always resisted by mind! isn't it?
– You can go online video on FaceBook, best for those who are social media freak!
What remained same as compared to the previous version GoPro Hero 6?
– Battery remained same as the previous versions
– Same GP1 chip from GoPro 6 version
– works over Karma drone and Karm grip
– remaining video time, battery life etc are displayed over to the front of camera rather than rear screen (which is slightly weired!) this might be useful to those who are mounting the camera on helmet and can see the display in bike mirror!
Improvements needed in Hero 7 model
– Low light conditions shooting is better in Hero 5 compared to Hero 6 and Hero 7. Sony FDR X3000 outperforms in low light conditions
– Touchscreen is not super responsive
– While operating with Karma grip the touch screen is difficult to operate (no access due to Karma grip L bend)
– Sometimes in lifetime, GoPro should go for body integrated tripod mount, not sure why they are stucked up so many years with the camera case just to mount it to tripod?
– Battery performance – Camera did overheated in steady (in room) testing to ~62 deg centigrade after an hour or so. However GoPro has already said on their website that camera will get heater during steady recording or HD recording. Obviously if you are in motion duirng the shooting, camera will get cooled due to air flow over the body.
---
My final selection & recommendation on best action cam –
Looking at the latest launched Hero 7, I first want to suggest that there is No need to upgrade from Hero 6 to Hero 7 since there is not much technological jump compared to the Hero 6 version.
However if you are using Hero 4 or Hero 5 then surely you will feel lot of difference in terms of processing power and quality of video shooting without using any external stabilizer / gimble, so there is a point in upgrading to Hero 7.
If you really want to go for value for money products then you can select either of GoPro Hero 5 or YI 4K+, most of the time you get good festive offers on Amazon like websites where you can get the YI 4K+ sometimes at $150 too, so keep looking for good deals and if you get one, simply grab it.
For those who simply love vivid colors with high contrast, go for Sony, but personally I hate being in dark with no screen to view thinking I am shooting in dark! also the camera shape itself makes it perfect to handheld but not so good for mounting onto the helmet or handles as compared to the hero one or even YI 4K+ Also one more thing I miss in the Sony camera is voice commands. So personally I am not going to buy Sony for sure.
Finally I will go for either Hero 5 or YI 4K+ since I am limited by budget of around $200 for buying my action cam gift for wife.
Hope this helps!
Cheers!
---
 Image of specs comparison table for reference only.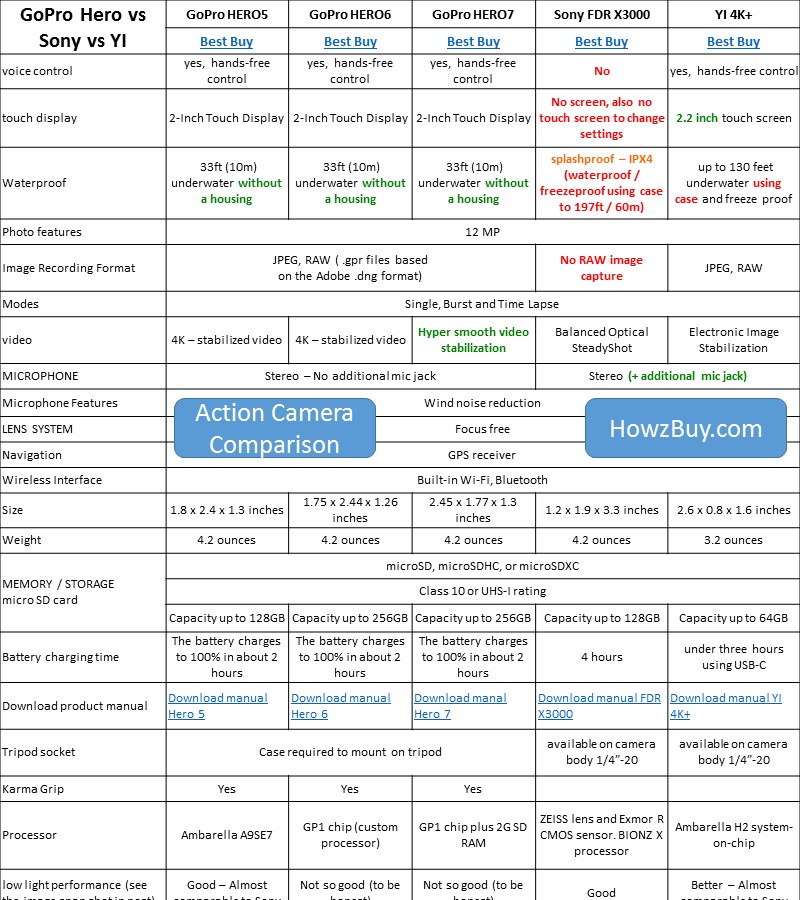 ---
References for writing this post are also taken from
GoPro website
https://gopro.com/help/articles/block/what-is-hypersmooth
https://gopro.com/help/articles/block/How-to-Pair-Your-Camera-with-Your-Smart-Remote
https://gopro.com/help/articles/block/GoPro-App-Preview-While-Recording
https://gopro.com/help/articles/block/microSD-Card-Considerations
https://gopro.com/help/articles/question_answer/how-long-does-the-hero6-black-battery-last
https://gopro.com/help/articles/block/compare-cameras