I wanted yo buy cheap headphones for my travel and the target budget was under $20 only. Needless to say that purpose was durable headphones which I will be able to use in busy places like airport without fear of being them lost or broken during use. Surprisingly this week I found many options under $20 with different styles and brands, some of them introduced from latest brands, available may be in best buy prices this week. Hope you will find my best budget headphones listing under $20 super useful. [ Listing done in Nov 2018 ]
Set your expectations right
Yes, you need not spend hundreds of dollars for headphones for daily used, however when you look for very low budget cheap headphones under $20, you need to set the expectations right.
Surely again its a matter of personal taste so in-spite of having thousands of good comments and star ratings on forums and Amazon reviews, you may still find he headphone not so great! So do remember that your hard earned money is at lowest stake, risking only $20 and not more than that!
You will surely get many options of brands and styles to choose from, however the sound quality, design, comfort and the durability to stand up to your everyday routines or travel will not be as great as say a $100 or $200 headphone.
When I researched this week for headphones, surely I found options fulfilling my basic expectations and that is the reason of putting them on one page for you (remember writing is my hobby and not profession, whatever I write is based on my own research and not just to make money out of it 🙂 )
You will be getting great sounding headphones through my research
Again coming back to the main point, you can get great sounding headphones on this budget which sometimes may be as comparable to the super high end headphones!
I am not kidding, everyone on this earth is not an audiophile, so finding what is good enough for most of the people is just enough, rather than hunting for perfection on this earth!
While I spend most of my time listening to a lossy MP3 over poor internet connections, looking at some movies as a time-pass on public places before catching a bus or train or flight (sometimes) I expect getting satisfying quality sound in a crowdy public places, without fearing of loosing my super expensive headphones.
I do keep my expensive headphones at home where usually I enjoy them during my leisure time, in quiet environments with lossless audio soothing me and my ears 🙂
So while I travel I still want a good sound without feeling sorry my headphones being lost or broken.
Again I am not debating over high-end versus low-end headphones, but just iterating over the compromises over studio quality versus acceptable quality.
So here are my best picks,
Tip of the day : Most of these headphones will be having 3.5 mm jack connection, if you wish to use them with your iPhone X the simply use Apple Lightning to 3.5mm Headphone Jack Adapter alongwith the headphone. (check reviews on adapter here)
1) Mpow Flame Wireless Sports NC IPX7 Waterproof headphones With Mic
4 Star rating by more than 11 thousand customers!
Update 11 Nov 2018 – Mpow has introduced an upgrade of Flame called as Mpow D7, do read "Mpow Flame Vs Mpow D7 [Upgrade] Worth spending $2 more?"
This one tops my list due to two reasons, they are under $20, they have more than 11K reviews out of which more than 80% are 3 * 4 stars which means a lot about the acceptability of durability and sound quality.
Third reason which is also important is that they are wireless at this low budget, which is too good to believe.
Just have a look at its feature and specs listed below info-graphics,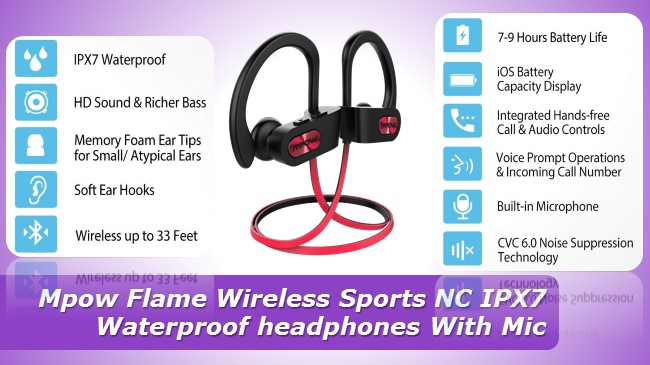 Pros :
Truly wireless with Bluetooth 4.1 support (which is a low energy protocol) – Also you get them quickly paired with iPhones and Android phones.
They also provide about 30 feet range without any issues of breaking signals.
IPX7 water resistance (read more on IP rating), which means that your sweat from a workout or jog won't ruin them. Although I suggest not to wear them during showers or swimming, do remember than even Apple iPhone being IPX7 rated do not recommend wearing it during showers!
Noise cancelling technology with an integrated microphone for hands-free calls (

Read more on NC technology

) this surely helps completing calls during driving in windy conditions (so far so good).
Good battery life – approx 7~9 hours of battery life, with quick charge to top-up the battery in just 1.5 hours
An ear-hook typed design, ensuring good fit during use / workouts / running exercise.
Cons :
Rest things being fine, this headphones are bit bulky and do stick out of the ears!
USB charging cord given with the headphones is too small, although I use it with my own mobile charger, so no issues.
If you have small ears, then mostly they won't fit into your ear canals (Even you use the Small tips provided by the company)
With all the above pros and cons, Mpow flame tops my list of budget range of headphones.
Check latest price on Amazon for Mpow flame
---
2) Anker SoundBuds Curve Bluetooth NC Headphones
4 Star rating by more than 3 thousand customers!
Update 17 Nov 2018 – Anker has introduced an upgrade of Anker Soundcore Series,  do read "Anker Soundcore Spirit X vs Spirit Sports vs Spirit Pro Earbuds"
Well again one more fantastic and good looking choice by me, with powerful battery backup they are best for the travelers. And further the CVC noise cancellation helps talking over busy public places and airports.
Sound quality is descent, and if you like more bass then you will surely love these headphones from Anker. (Mid-bass and high-bass are also hyped a bit, so I will say them good for noisy environment)
Pros :
Decent-looking, sporty aesthetic with a decent build quality
Stable and portable design.
Comfortable fit with 6 tip options
Very low leakage.
Bluetooth support with hold-to-pair procedure which is very simple to pair with iPhones and Android phones, delivering descent range without any interruptions in signal.
Inline microphone with controls over it provides easy access to buttons. 3 button layout with essential functions; call/music, track skipping, and volume controls.
Very good battery life – practically it outperformed expectations, I mean anything that even works over 10 hours is completely Good for any frequent traveler. Also the quick charge only takes around 1.5 hours, which is again a boon for a traveler.
Low latency for a Bluetooth headset and even support aptX, this is good to watch movies over my mobile phone without creating a lag in leap movement to the sound heard over headphones.
Powerful pack of accessories – just look at the image above showing loads of accessories in this tiny price you are paying for! no-one ever gets this under $20 price.
Cons:
Mediocre-at-best noise isolation – It works but not at its best, so outside environment noises do tend to creep inside. Also this creates an issue for the calls, with NC working not at the best. Again at this price-point surely it functions at acceptable levels though.
Slightly thin audio cable.
The rubber tips slide a bit in the ear canal during use, which I felt slightly uncomfortable and distracting.
do not support simultaneous multi-device pairing or NFC
Although I have enlisted some cons here, they are comparing to the expensive versions of headphones, so you can surely ignore them while paying only few dollars, also look at the accessories which you will even not get with a $100 headphones.
That is the reason these tops second in my best of best headphones list.
Check latest price on Amazon for Anker Soundbuds Curve
---
3) Otium Wireless Sports NC IPX7 Waterproof headphones With Mic
4 Star rating by more than 9 thousand customers!
Update 18 Nov 2018 – Otium has introduced an upgrade of Sports called as Sports UPGRADE, do read "Otium Bluetooth Wireless Headphones Upgrade – worth spending $2 more?"
The Otium Wireless Sports headphones features a similar color scheme and design as the Beats PowerBeats2 Wireless. But the cost differs a lot and so as the sound signature. Anyway you know for what you are paying for, I am taking here about headphones below $20 mark only! so no issues.
Here is my third option from an affordable pair of earbuds to wear while in the gym, but it also works great on busy public places where noise isolation is required during waiting hours for a flight or train!
Pros:
Super lightweight and comfortable for long time wear. I think the simple memory foam does the trick of comfortable wear for hours. Although I did not wear them for more than an hour, since I feel its good thing to provide a breathing to ear canals for a few minutes after an hour of wearing.
Good Bass with a sound signature that is a little more balanced
Built-in-mic works great to have a hands free call. Further these headphones provide voice assistance for an incoming call, now this is something I liked since I need not pull out the phone to see who called me and whether to take a call or not? So simple, so intuitive, so useful feature indeed.
Powerful battery that lasts 8 hours of music, which is more than sufficient for my trips. And the most liked thing is that it displays battery status on my iPhone, so I need not keep guessing about when to charge the headphones!
The Bluetooth 4.1 ensures two things, one is that good connection quality, I mean uninterrupted and second thing I am able to hook up two devices at the same time. This helps me during my travel, I connect my iPad to see movies, at the same time my iPhone to take and make calls. Super helpful concept …
Cons:
Play, pause/skip track buttons located on earbuds are slightly small in size as compared to the Answer call button. So it might be challenging for someone to press the tiny track buttons (not for me though)
One thing that irritates me a bit is, when the battery remains 30% it keeps repeating "Battery Low", I mean its not necessary since already I have battery remaining life indicated on my iPhone. OR at least they should provide an option to turn this OFF at a will of customer!
Well Otium Sports Headphones gets thirds position in my best of best headphones list.
Check latest price on Amazon for Otium Sports Headphones
---
4) Panasonic ErgoFit RP-HJE120-K [ Wired headphones ]
(4 star rated – Check reviews on Amazon)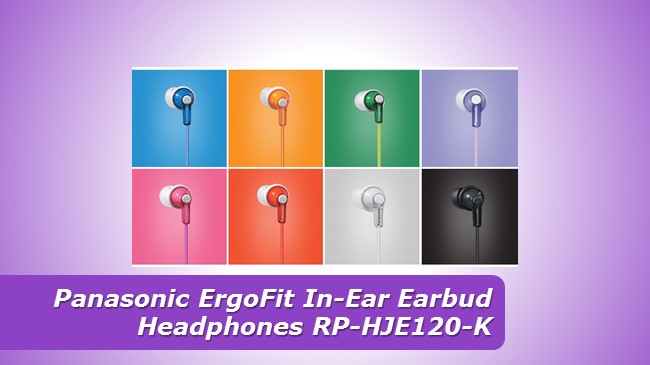 To me nothing else you can get on this earth for as cheap as these headphones.
They are one of the highest selling ErgoFit earbuds available in a variety of 9 colors, so that even you can buy each color just to match the fashion wear during travel, looking more trendy each day.
Pros :
Delivers crisp highs, warm mids and good lows? Not at all, however compared to its budget to sound quality comparison they meet basic expectations.
Ergonomic, confirms to shape of your ear canal more easily, practically a snug fit comfortable for an hour of use ( I will not say they are comfortable for hours though). You can try the S/M/L earpads provided in the pack.
Extra long 3.6 feet cord, more than enough for anyone who travels frequently.
Super light weight, you almost feel carrying nothing!
L-shaped jack connector helps preventing damage to my phone during use (my personal experience is that straight once collide during use damaging my phones 3.5 mm port.)
Suitable for Android phones as well as iPhone, iPad and iOS devices / tablets.
Cons :
You can't answer a phone call – Yes, there is no microphone attached to them so you can't use them as hands-free. But alternatively you can surely speak into the phone directly still keeping them into ears, so still useful on busy places like airports or public places.
No volume control – You can still pause, play and answer calls
If you wish to buy version of these headphones with microhpone, with marginal higher costs (still below $20) you can buy it from Amazon – Check reviews here
---
5) MAXROCK Sleep Earplugs [ Wired headphones ]
4 Star rating by more than 1,300 customers!
What makes these headphones get place in my top 5 headphones list?
Yes, there is unique reason which I had not found in any of other headphones seen so far! What is it?
It relates to wearing the earbuds while sleeping, yes – if you have ever tried wearing any of the headphones while sleeping, mostly its impossible due to the fact that the headphones being hard will plunge inside ear canals hurting  them, I mean its impossible to do so.
But these Maxrock earbuds are designed to wear while side sleeping! They are made from super light soft squishy silicone which is comfortable even when you are sleeping on one side. What it means is that you will be able to use white noise or other sleep apps to help to improve the speed of falling asleep and increase deep sleep.
I feel guided meditations will be the best use of these earbuds, not only for improving the sleep quality but also to improve the peace of mind.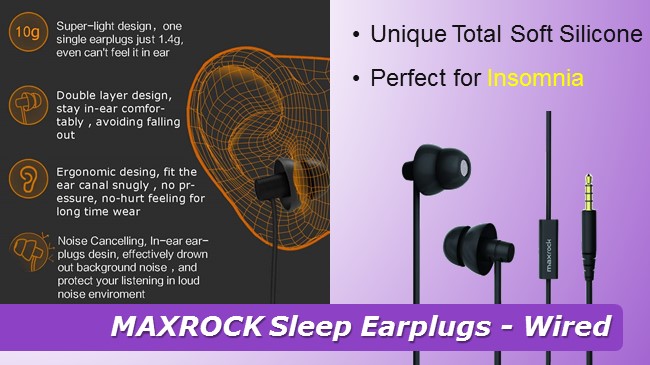 Pros:
Super comfortable silicon earbuds allowing to wear during sleep, this is the unique pros of these headphones.
Passive noise isolation works great due to perfect fit to the ear canals.
Cons:
Only hitch I found in this design is the wired thing! I mean wearing them during sleep means connecting to my iPhone to listen to something, right? then how to make sure that it remains untangled throughout night? I will love if the same design existed in the wireless form i.e. Bluetooth version of the same earbuds. I think the company shall think of launching one.
Workaround is you can try putting the iPhone behind the head, thus allowing connection without being entangles during sleep movements.
Well MAXROCK Sleep Earplugs gets fifth position in my best of best headphones list due to its unique SIDE SLEEP DESIGN.
Check latest price on Amazon for MAXROCK Sleep Earplugs
---
Bottom line
So after good amount of research I have shortlisted only 5 best budget headphones you can buy under $20, the finding of new options like Maxrocks side sleep design earbuds is also pretty important one (which I never thought of in this budget)
Out of top 5, first 3 are wireless designs and remaining 2 are wired options.
Wireless is generally preferred option, but with risk of being iPhone battery drain with Bluetooth continuously ON, so in that case the wired option will be the lifesaver, especially for the frequent traveler. And like I said in the beginning of this post, for the latest iPhones X series, you need to use an adapter to accommodate the 3.5 mm jack versions of these wired headphones.
Although wireless versions are preferred for easy movements, say while you are in an airport lounge waiting for your flight and need to walk across a queue, or sitting inside airplane seat – wireless always creates comfort of movements. But every design will have its own pros and cons, which are also enlisted with each of the option that I have shortlisted.
This does not mean that these are great sounding headphones on this earth! You need to set the expectations right, while spending only $20 budget, you will get best our of the dollars spent, but don't ever compare them with a $300 headphones!! Never!
Anyway ! If you find this post helpful, please do put a comment below to let me know if this helped you in finding right one!!
Cheers!
The 5 best budget headphones you can buy under $20