You might be wondering why we are posting iPhone 6 VS iPhone 7 review in the year 2018 ! Well fact remains that both these iPhone models are still being sold, used and preferred by numerous Apple fans across the world. Specially looking at the vast price difference, Apple iPhone 6 being sold at almost half the price of iPhone 7 it becomes important that we compare both of them. Remember that it is not necessary that latest model means the best, sometimes the previous version found better than new launch due to some changes in features. Anyway .. lets have a look if still Old is gold? iPhone 6 still the best?…
After researching latest review and comments of real users of iPhone, we found iphone 6 & iPhone 7 difference  with respect to each other. In this post we will be detailing out the differences between the two on the basis of Apple technology.
We have deep belief on Apple products …… Quality .. being THE BEST of BEST.
Apple iPhones are launched every time in a new fashion, Consumers of Apple's iPhone always want something new, and Apple does the same. We have seen that the android users are leaning towards Apple's side, as Apple's growing popularity and its technology is also impressive.
Apple technology is a very fast developing technology and today is definitely growing and it is one of the best technology companies. Their products are worth and you can depend on it because it is reliable, economical, and sustainable All of its major details leaked ahead of time, not to mention a good handful of rumors about next fall's iPhone, which could be a major redesign with an OLED screen and no Home button. The iPhone 7 makes minor changes to the phone's form and bigger improvements to its function. But it adds a couple new annoyances at the same time, which makes the iPhone 7 feel a bit like a beta version of what's to come..
iPhone 6 Vs iPhone 7
Apple

iPhone 6

iPhone 7

Offers & Deals

Color Variant
Silver, Gold, Space Gray
Jet Black, Gold, Silvefr, Rose Gold, Matt Black
Realise Date
September 19, 2014. (16,64,128 GB) and 32 GB in March 2017
September 16, 2016
Dimension
62.5 x 7.1 x 138mm (WDH)
67.1 X 7.1 X 138.3mm (WDH)
Weight
129 g (4.55 oz)
138 g (4.9 oz)

Battery

Battery Capacity (non Removable)
Li-Po 1810 mAh battery (6.9 Wh)
Li-ion 1950 mAH Battery (7.45 Wh)
Stand By
Up to 245 h (3G)
Up To 250 H (3G)
Talk Time
Up to 14 h (3G)
Music play
Up to 50 h
Up To 40 H (Wireless)
Display
Screen Size
4.7 inches, 60.9 cm2 (~65.8% screen-to-body ratio)
Resolution
750 x 1334 pixels, 16:9 ratio (~326 ppi density)
Pxel Pre Inch
IPS technology 326 PPI, eye-popping 1,423:1 contrast ratio,

Hardware

Processor
Apple A8 system-on-chip, and an M8 motion co-processor
 Apple A10 Fusion 64-bit system-on-chip
RAM
1 GB RAM DDR3
2 GB LPDDR4 RAM
Internal Storage
16/32/64/128 GB
32/128/256
Expandable Storage

No

Operatating System
iOS 8, upgradable to iOS 11.3
Original: iOS 10.0.1, Current: iOS 11.4, released May 29, 2018
Chipset
Apple A8
Apple A10 Fusion chip
CPU
Dual-core 1.4 GHz Typhoon (ARM v8-based)
2.34 GHz quad-core (two used) 64-bit[3]

Connectivity

Wi-Fi
Yes
GPS
Yes
Bluetooth
4.0, A2DP, LE
NFC
Yes
Headphone
3.5 mm stereo audio jack
Not Available
Sim Type
Nano-SIM
4G/Lte
Yes
Sensors
Compass/Magnetometer
Yes
Proximity Sensor
Yes
Accelormeter
Yes
Ambiant Light sensor
Yes
Gyroscope
Yes(3 Axis)
Barometer
Yes
Temperature sensor
No
Speed
HSPA 42.2/5.76 Mbps, LTE-A Cat4 150/50 Mbps, EV-DO Rev.A 3.1 Mbps

Camera

Primarry
8 MP (f/2.2, 29mm, 1/3″, 1.5µm), phase detection autofocus, dual-LED dual-tone flash,
12 megapixel with telephoto lens
Secondarry
1.2 MP (f/2.2, 31mm), 720p@30fps, face detection, HDR, FaceTime over Wi-Fi or Cellular
7MP camera, Retina Flash,  ƒ/2.2 aperture and 1080p HD video recording
Video
1080p@60fps, 720p@240fps
720p@30fps, 1080p@30fps, 1080p@60fps, 4k@30fps
Accessory
 iPhone, earpod (earphone 3.5mm),  Pin for to open sim try,  usb-lightning cable, usb charger(5w),  apple stickers and paper manual
iPhone with iOS 11, EarPods with Lightning Connector Lightning to USB Cable,  Lightning to USB Cable, USB Power Adapter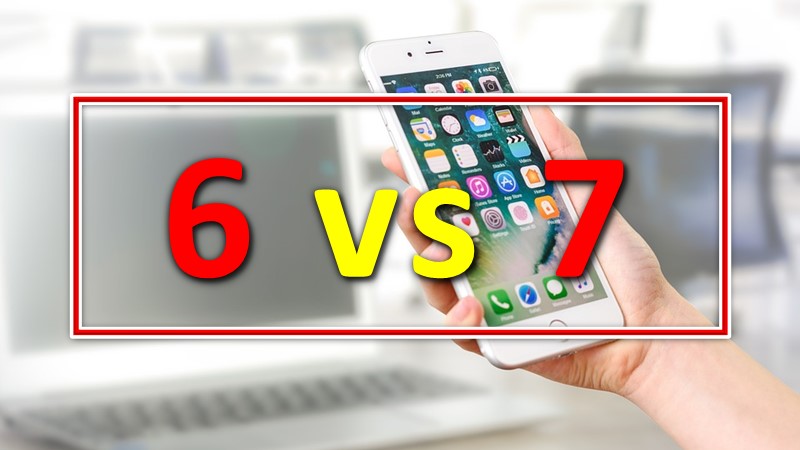 We researched latest reviews, comments and American customer satisfaction index (ACSI) survey on iPhone user in U.S., Apple's iPhone 7 was slightly more popular from date of launching with U.S. buyers in its first four months on the market than last year's iPhone 6s, but fell well short of the blockbuster iPhone 6, which was a total redesign and marked the introduction of the larger-screened Plus version.
Lets continue our discussion on iPhone 6 Vs iPhone 7
iOS 10 Operating System of iphone 7
Apple Inc developed the iOS10 operating system for iOS mobile phone in September 13th 2016 along with iPhone 7s & iPhone 7 plus. IOS has attain new emojis, keyboard enhancements, new features for drawing in messages, ability to change font size in text messages, ease of deleting all notifications by holding harder on the "X", and responding messages directly from the notifications screen are some of the new features of iOS 10 that are also available for other Apple devices.
Example :  If you are in a market area, your iPhone recognizes your location and accordingly your location you can find the calculator pop-up on the home screen, the operating system recognize your location automatically, and gives you comfort with them, and many more.
A10 Fusion chip over A08
Apple introduced in a new processor chip, the A10 Fusion that, according to the company, comes to revolutionize the mobile market to be the best processor of the current generation. It was logical to imagine that the A10 Fusion was going to be better than everything in the past Apple processors, but it was not a benchmark has thrown us data and numbers when it is not believed. Apple doesn't usually give numbers in their presentations, only percentages, but we like to see clearly the changes they have made.
The A10 (2.4 GHz) 8700p will be 50% faster than the A8 (1.4GHz) 7410p in CPU performance. And has an astonishing 3x faster GPU.
Lithium polymer(Li-Po) battery over Lithium ion (li-Ion)
Apple iPhone 6 Lithium Polymer has become a battery of 1810 mAh battery. And the iPhone 7 is made with a lithium-ion battery capacity of 1950 mAh. Non removal battery's are in both the iPhone's, the basic difference between both battery are A lithium polymer battery, or more correct lithium-ion polymer battery is a rechargeable battery of lithium-ion technology using a polymer electrolyte instead of a liquid one. It just means it's packaged in a vacuum formed polymer pouch. iPhone batteries are all pouch type, so you're always getting a "Li-po" battery, but understand that Li-Po isn't a thing. It's just a way of denoting packaging.
A battery capacity gives talk time of iPhone, means 1950 mAh battery gives more battery backup.
New iphone 7 camera is significantly better than iphone 6 camera.
While stationary shooting in bad light, both iPhone 6 VS iPhone 7 cameras will automatically stop resolution for low light sensitivity. Both face problems with bright light sources at night. However, the total result is that the new 7 gets more detail, so that more accurate color and better contrast compared to shots by the iPhone 6. Apple has started retina flashes for photo shots in front camera like the rear camera true tone flash. Retina Flash illuminates scenes based on color measurements captured by the camera module, adding a slight tinge of warmth as needed. Another significant "camera feature" is the new iP67 water resistance of iPhone 7 and 7 Plus. You can now carry your phone to the pool, or a water park, or hiking up a creek, without worrying about a splash of water damaging the phone and potentially losing all your data and photos.
The cameras on both models now capture Wide Color (Wide Color is that good. Once you see it, its one of the things you don't want to have to live without anymore) as defined by the Digital Cinema Initiative's P3 color gamut specification. This extra color information isn't visible on most of today's PCs, tablets or phones, but is of course displayed by iPhone 7 and 7 Plus. Additionally, iPhone 7 and 7 Plus also feature radically enhanced displays with very high contrast ratios, very low reflectance and peak brightness levels above 700 nits. Display Mate rated the new iPhone 7 Retina HD panels as "most color accurate display that we have ever measured."
DDR4 2 Gb RAM better than DDR3 1Gb Ram
DDR4 operates at a lower voltage than DDR3. DDR4 runs at 1.2 volts, down from 1.5. Another big difference between DDR3 and DDR4 is speed. DDR3 specifications started at 800 MT/s (or Millions of Transfers per second) and some went as high as 2133. DDR4, meanwhile, starts at 2133 MHz. The increased speed means an overall increase in bandwidth.
A dual core(iphone 6) and a quad core processor (iphone 7)?
Generally we know, more cores means better performance in the case of many simultaneously running applications that all actively use the CPU, or in applications that are made to use many cores (modern games sometimes require 3 or more cores). Thus a dual core processor can run 2 tasks in parallel. The processors communicate with other by reading and writing to the common RAM. Although, a quad code processor has 4 pieces of hardware units and thus can run 4 tasks in parallel. All four processing units share the computer RAM and can read / write to the memory.
Resolution 750 x 1334 pixels, Over 1080 x 1920 pixels, 16:9  WXGA standard ratio
Mobile phone screen size in pixels is known as the 'Resolution" and is the pixel measurement of a phone screen. So Resolution of a phone screen is a measure of so many pixels from left to right and from bottom to top of the phone screen. Generally, 16.9 WXGA standard ratios are used to describe a native screen resolution of approximately 1280 x 800 with 16 million colors. It is a popular type of display screen for iPhone and computers. 16:9 (1.77:1) (16:9 = 42:32) is an aspect ratio with a width of 16 units and height of 9. As per aspect ratio 16.9, 1080 Height X 1920 width is denoted full HD.
Body Build and screen of iPhone 6 and iPhone 7
iPhone 6 and 7 has come with gorilla glass and oleophobic coating. Gorilla Glass is a brand of specialized toughened glass developed and manufactured by Corning and oleophobic coating is Oleophobic coating provides a certain amount of finger smudge resistance to your smartphone's display; it doesn't make it fingerprint proof, mind you, but keeps the grease at bay, not allowing it to adhere to the glass.
iPhone 6 body build by aluminum, aluminum body polished or anodized with a crisp finish does make a iPhone look good, so naturally, a lot of people associate them with high-quality, even if only subconsciously. But metal body has some cons like Bends and dents, RF transmission, Heat transfer.
iPhone 7 has come with plastic body and plastic body phones can feel slimy or even soft when made of plastic. Plastic body has pros like Resilience, RF transmission, colors variant. Also cons like stain some time.
Headphone jackless iPhone 7
As you aware about releasing date of The iPhone 7 was released in September, so you've certainly heard by now that it has no headphone jack and it looks almost identical to the 2014 iPhone 6 and 2015 iPhone 6S. I think it's not cons of the iPhone 7, its gives you a number of options: Get a pair of Bluetooth headphones Apple's AirPod.  Also USB-C port donggel can give you freedom from headphone jackless thinking.
Apple's IP67 Water resistant means "splash and water resistant", IP67 means one meter of water for 30 minutes and complete dust resistance. You can easily survive trips in rain and snow, as well as getting dropped in tubs, pools, sinks and other wet environs.
iPhone 6 is not water resistant.
So, which is best? Should I buy an iPhone 6, or 7?
Just compared to each other for most users, the iPhone 7/iPhone 7 Plus models are the best by far. They're faster, a higher quality display, better cameras, better battery life for Internet use, the option of additional storage, support faster LTE-A, and much more water resistant.
However, while you compare the iPhone 6 VS iPhone 7, for those on a tighter budget — or those who have older, but expensive headphones that use a traditional headphone jack — the iPhone 6/iPhone 6 Plus and iPhone 6s/iPhone 6s Plus remain well worth consideration.
Given the option, would suggest buying a used iPhone 6s/iPhone 6s Plus over the earlier iPhone 6/iPhone 6 Plus (whether new or used). As the iPhone 6s/iPhone 6s Plus models have twice as much RAM and a faster architecture, they likely will have current iOS support longer. With more months of support, this effectively means that they will cost less on a prorated basis for someone who takes good care of their hardware.
| | | |
| --- | --- | --- |
| Apple iPhone 6 VS iPhone 7 | iPhone 6 | iPhone 7 |
| Offers & Deals | | |
Note : as on July 2018 iPhone 6 VS iPhone 7 cost difference is around 50% when we compared both models of 128 GB space. This is just to give you an idea and hit that buying iPhone 6 is worth budget phone still in 2018 !