Fade out?
Want Bluetooth enabled car stereo?
Yes, Many old age or vintage cars do not have latest Radios compatible with your mobile phones!
Question is that how do I make my cars stereo system compatible without changing it by latest costly radios ??
Now:
I am here to help you choosing the cost effective solution to this problem.
You can simply upgrade your Old Car Radio System to Bluetooth enabled system with use of a retrofit device called as  Bluetooth Wireless Auxiliary Adapter. Which simply plugs inside your cars charger point and Radio jack and begins its working by providing easy connectivity to streaming music and phone calls over all latest iPhone or Android system smartphones and tablets.
And This Is Exactly Why I Did Some Research:
I have found out the best selling BT Wireless Aux adapters in market, which are Kinivo BTC450 and BTC455 Bluetooth Hands-Free Car Kit. These are the most simple and functional devices at such a low price point in the market. So I shall be comparing them for specs and functions, to let you choose better.
The Upgrade:
This year the Aux to Bluetooth converter Kinivo BTC450, has been upgraded to BTC455 maintaining all the features of the BTC450 with additional support for two simultaneously connected Bluetooth devices.
The Installation:
The installation is very easy, simply Plug in the BTC450 / BTC455  receiver kit into a car's stereo, and begin streaming the music and receiving phone calls from through your car's speakers, it's that Easy 🙂
This simple wireless electronic transmitter device which looks like a thick dongle disc, can be attached to your car's dashboard or console with the included Velcro pads. With a large button on top, and two smaller buttons on one side, it will be easy to control music. LED indicators will assist you to know the pairing and other functions.
The disc end of the BTC455 has BT controls and a microphone for making hands-free phone calls.
A built-in wire from the BT Aux adapter, which splits into two, one end get connected to a 1/8-inch audio plug and the second to an adapter for a car's 12-volt power point. The 12-volt adapter also holds a USB port for charging phones or other electronics.
BTC455:
BTC455 can initiate phone pairing on a press of main button, it can also pause / plays streaming music, and answers or hangs up phone calls.
Best thing is activated voice commands, such as Siri or Google Voice [Remember the phone must be compatible to voice commands]
Two smaller buttons on the side of the BTC455 facilitates skip a song forward or backward.
Sound Quality:
BTC455 supports aptX codec that delivers high quality CD like sound than the SBC codec supported by most Bluetooth devices.
[Note: The iPhone doesn't support aptX!]
Pairing:
Its easy, simple search for BT device from your phone and pair it with this Aux wireless adapter. Then begin streaming the music, or pick a call [music automatically gets paused during a call]
Voice commands:
Siri assistance :
You can get music played, begin navigation, make a call, or ask the phone to read a new text message out loud.
[Note : Siri needs active data data connection]
Lets compare:
Here I shall compare the Features and Specs of Kinivo BTC450 vs BTC455 in tabular format, with highlighted changes in Green or Orange color for ease of understanding
Kinivo BTC450 vs 455 Bluetooth Hands Free Car Kit  Review & Comparison
Bluetooth Hands-Free Car Kit

Kinivo BTC450 specs

Kinivo BTC455 specs

Deals, Discount & Offers
Best Buy
Best Buy
Compatibility
iPhone, Android, Blackberry
Bluetooth specification
Bluetooth

V2.1

+EDR
Bluetooth 4.0 with multipoint
Supports Bluetooth profiles
HFP, HSP, A2DP and AVRCP
Bluetooth Multipoint

No

Yes
Connect two devices at the same time
Supported Audio Codecs
SBC and apt-X
Built-in microphone
Yes
Music controls
Yes
Aux input jack
Yes, 3.5 mm aux input jack in car radio music system
Music player controls
Play, pause, previous song, next song
Voice command / Voice dialing
Yes
(Siri for supported iPhones)
Charge your device while listening to music via USB port
Yes
Operating distance
30 ft (10m) Class II
Charging input
DC 12V-24V
Charging output
DC 5V-1A
Dimensions
Main unit : 42 x 15 x 42 mm
Car power adapter : 24 x 54 x 24 mm
Weight
35.5 g
Warranty
1 Year Limited Hardware Warranty
Kinivo Product Support
support@kinivo.com , 855 454 6486 (Toll Free)
Package Contents
BTC450 Bluetooth Car Kit
User Manual
Kinivo BTC455 Bluetooth Car Kit
3.5mm female to male audio extension cable
Two adhesive mounting discs
User Manual
Download User Manual
BTC450 Manual
BTC455 Manual
Bluetooth Hands-Free Car Kit
Kinivo BTC450
Kinivo BTC455
Deals, Discount & Offers
Best Buy
Best Buy
Strengths of Kinivo BTC450/455 Bluetooth Hands Free Car Kit:
Compact
Suitable for mounting Bluetooth aux adapter in your car
Plug & Play operation
Charge your phone via a USB charging port
The Bluetooth connection supports music streaming, hands free calls
Supports Voice Activation using Siri and Google Voice.
Weakness
The BTC455 offers no indication when you activate its voice command
Also it doesn not have caller ID display
---
What's the bottom line?
Kinivo's two models, the BTC450 and the upgrade BTC455.
BTC 455 costs more but supports Multi-Poiint technology, allowing you to connect to two devices simultaneously. This is a pretty cool feature that I'm going to come back to.
However spending $30 more (almost 70% more amount) just to get multi-device connectivity does not looks to be too good idea, hence I recommend buying Kinivo BTC450 Bluetooth HandsFree Car Kit
If you can't get BTC450 in stock, then you can get one more good option from Belkin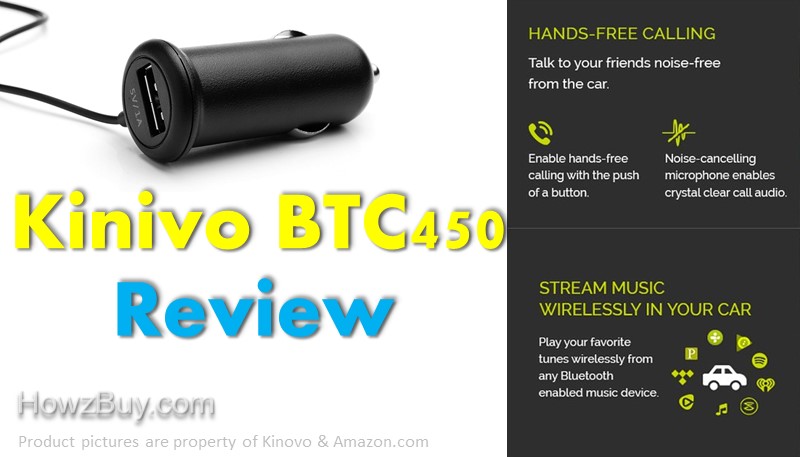 Some important questions answered for you ….
Is BTC450/455 car kit compatible with my Phone ?
Yes, BTC450/455 car kit works with any device that support the A2DP (Advanced Audio Distribution Profile), HSP (Headset Profile), HFP (Hands-free Profile), and AVRCP (Audio/Video Remote Control Profile) Bluetooth profiles.
Common devices that support these Bluetooth profiles Apple devices

iPhone,
iPod Touch,
iPad Tablets
Windows, Apple, Android, Kindle Fire HD Smartphones
Android, BlackBerry, Windows, Samsung, Droids, HTC, etc.
How many Bluetooth connections will the BTC450/455 car kit remembers?
The BTC450/455 will remember up to four previous Bluetooth connections. When the BTC450/455 is powered on, it will automatically connect to the last device it was connected to.