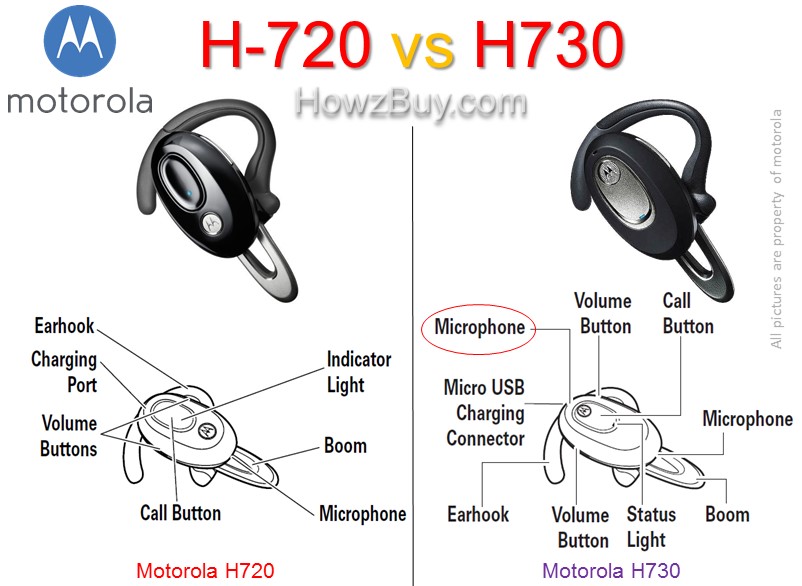 How Many Of  You  Are Motorla Fans?
Well, for those looking for the latest upgrades from Motorola, here are two new Upgrades on their H-Series headphones.
Old and Gold Motorola H710 Bluetooth headset has been replaced with H720 and H730.
And This Is Exactly Why I Have Done Some Research:
Here you will get to know on comparison of two latest launches Motorola H720 vs H730 Bluetooth Headsets for Technical Specifications, Features and Price.
All H Series Motorola models H710, H720 and H730 do offer Noise-Reduction and Echo-Cancellation.
The H-Series also looks like made with a perfect professional look.
But I want to Know:
With Price Premium of 20% ( $5.5) it will be interesting to know if you shall spend ~20% more money to go for H730 ?Obviously H730 being latest is better than its predecessor H710 and H720.
Lets Compare:
Just quickly go through the comparison table below where you will get highlighted differences between these two headsets quickly at a glance.
Motorola H720 vs H730 Bluetooth Headset Comparison
Motorola H720
Motorola H730
Deals, Discount & Offer Price
Best Buy
Best Buy
Colour options
Black
Microphone
Single Microphone
Duel Microphone
More microphones result in better sound quality and enable the device to filter out background noise.
Bluetooth Version
Bluetooth 2.1
Effective Range
10 meters (30 feet)
Sweat Proof (for workouts)
Yes
Pairing
No
Supports two connected devices simultaneously
Features
Noise-Reduction & Echo-cancellation
RapidConnect™
Answer calls with a simple flip of boom
Mute Function

No

Yes
The device has an option to mute/unmute a conversation directly from the device.
Working Time

8 Hours Talk Time

12 Hours Talk Time
Standby Time

264 hours

336 hours
Battery Life Indicator
Yes
Voice Prompts

No

Yes
Battery
 Non-removable
Micro-USB port
Yes
Dimensions
1.65″ x 1.06″ x 0.66″
1.65″ x 1.06″ x 0.79″
Weight
0.48 ounces
0.49 ounces
Warranty
 1 Year Limited
Discount OFFERS
Best Buy
Best Buy
What you get in Motorola H720 ?
Crystal Clear Sound
The Motorola H720 has built-in Noise-Reduction and Echo-Cancellation providing you better call quality eliminating interference.
EasyPair Technology [Available in Both H720 and H730]
The Motorola H720/H730 Bluetooth headsets features EasyPair technology which simplifies the Bluetooth connection process.
Talktime
8 Hours of Talktime

What you get in Motorola H730 ?
Clear Voice Quality
The Motorola H730 has Dual-Microphones with built-in noise reduction and echo cancellation provides excellent voice quality to the receiver on other end.
Voice Prompts And Advanced Multipoint
Voice Prompts will help you connect and provide voice feedback / updates.
The Advanced Multipoint will allow  Simultaneous Connection to two mobile phones 🙂
Talktime
H730 provides a strong talk time of up to 12 hours with ~14 days of standby time 🙂 This is very good feature for Frequent Travelers who don't gt sufficient time to recharge their headphones.
Finally looks like for spending 20% more Dollars you will get advanced features like Voice call, More talk-time and Multi-Mobile connectivity in Motorola 730.