During my frequent travel I do tend to loose headphones or even break them off due to rough handling. So I decided to get hands on the cheap range of headphones which are still wireless and providing me adequate sound quality with reasonable durability + music playtime. That is how I shortlisted the top 5 budget headphones under $20. As soon as I got hands on to the Mpow Flame I came to know that they have launched its upgrade which I can get by spending just a couple of dollars more! So it was obvious that I needed to check what is different in Mpow D7 Upgrade model and is it worth spending $2 more to get them on? So this post brings my study on Mpow Flame Vs Mpow D7 [Upgrade]
So lets look at the baseline mode itself which is Mpow Flame in this case –
Flame is a wireless headphone with an integrated mic to make and receive calls during travel or even exercise (yes, with the sweat-proof design it is suitable for the sports activity involving lot of sweat)
The IPX7 rating basically spells out temporary immersion upto 1 meter depth (See complete IPX rating details here) that does not mean that you should wear them in showers or swimming, but I will say that practically they will be suitable to wear during exercise or light rains only. Anyway so coming back to the point, Mpow flame are IPX7 rated and hence good for running, jogging or cycling etc. where interaction with sweat is involved.
And if you are thinking of using it purely for sports activity then the ear-hook design will make sure that they don't fall off during the vigorous movements during gym exercise. But for a traveler this may not play much role.
Further the CVC 6.0 noise cancellation technology helps preventing sound leak or I can say it seals the ear canals to get you out from the noisy environments of say busy airport or train station, but again this works in a limited manner and depends completely upon how much the headphones ear tips fit perfectly inside your ears. The experience will vary from person to person since he ear canal shape and size varies and headphones can't be made suitable for millions of combinations!
While you think of using the Mpow flame for the travel needs, next comes is the battery life – I mean how much time they will deliver the music or talktime in a single full charge. This flame model claims to deliver 7-9 hours of music time which practically varies from 5 to 8 hours depending upon the music volume, idle time in between etc. But what I think is that this much time is more than suffice for my local travel or even internal flights, and in case the power gets exhausted I can still get quick recharge it to full like in 1.5 hours or get a quick 10 minutes recharge.
Along-with the talk-time or music playtime, you need to think of the comfort during long duration wearing. It basically comes from how much comfortable you are with in-ear type design versus over ear type design.
It varies from person to person, someone like me feels in ear better in terms of looks and feel when I am on the move, but like to wear over ear design when I am back home, due to the quality of music delivered using big sized drivers. Also at home I am not making much movements to fear of over ear headphones being hurdled off.
Now before I jump off to see what's NEW in the upgrade by Mpow in D7, lets have a look at specifications comparison table, where I have highlighted the pros and cons in Green color background for ease of understanding.
After the table I will talk on what's better and is it worth spending $2 more to get them? I mean Mpow D7?
Mpow Flame Vs D7 [Upgrade] specs compare & review
Mpow Flame 2 upgrade version released

Mpow Flame

Mpow D7 [Upgraded]

Check latest price
Best Buy Mpow Flame
Best Buy Mpow D7

What's NEW?

Attractive & stylish look
Bass-up technology and balanced audio performance
Color options
 Red and Black
Black only

Upgrade [more colors]

Mpow Flame [Update version ] More color options
Red, Black, Light Gray and Tiffany Blue
Product link for Flame upgrade version colors
Bluetooth
Bluetooth 4.1
Bluetooth 4.1
Wireless Profile
A2DP, AVRCP
A2DP, AVRCP
Operating Range
10 m (33 feet)
10 m (33feet)
CSR chip
Yes
Yes
Microphone
Yes
Yes
NC
CVC 6.0 Noise suppression technology
CVC 6.0 Noise suppression technology
Hands free calling
Integrated hands free call and audio controls
Integrated hands free call and audio controls
Noise Cancelling Headsets
Yes
Yes
Voice prompt
Yes with incoming call number announcement
Yes with incoming call number announcement
Sweatproof & Waterproof
IPX7, Water-resistant Nano-coating
IPX7, Water-resistant Nano-coating (Sweat-guard technology)
Battery
Music playback time
7 to 9 hours
10 to 12 hours [upgrade]
Standby Time
 220 hours
 220 hours
Quick charge
1.5 hours quick charge
1.5 hours quick charge
Built-in lithium ion Battery Capacity
100 mAh / 3.7V
120 mAh / 3.7V [upgrade]
iOS battery capacity display
Yes
Yes
Comfort
Ear hooks
super soft silicone over-ear hooks providing snug fit
super soft silicone over-ear hooks providing snug fit
Memory-foam ear tips
Yes
Yes
Cord clip
Yes
Yes
Others
Warranty
45 days money back & 18-month warranty
45 days money back & 18-month warranty
Size
4.06 x 4.06 x 2.28 in
4.06 x 4.06 x 1.97 in
Weight
4 ounces
2.4 ounces
What are the Upgrade versions of Flame?
Firstly I found Mpow flame upgrade version, for the same price-point!
After spending much of time I concluded that this upgrade is nothing but the original Flame version itself with only availability of additional colors.
So original Mpow Flame version comes in Red and Black colors whereas the Flame Upgrade version provides More color options of Light Gray and Tiffany Blue in addition to the basic Red and Black!
I do not understand why to create more confusion rather than adding it to the base version? Mpow shall remember that more versions creates more confusion to the customers … and mind it customers don't like confusions .. no one ever have time to keep checking what is difference in upgrade versus the base version … So better to Zero down and minimize the variants.
You can check Product link for Flame upgrade version colors
Okay .. now going ahead they have launched the Mpow D7 Upgrade version of Flame.
Above info-graphics just depict what's New in the D7 variant by Mpow in these wireless version … I will just reiterate it in short …
Stylish look
The D7 looks much more slicker than MPow Flame, looks like improvements in the material used, giving the fits and finish a notch higher than flame, but again with a hitch that they are available only in Black color! But surely the design looks much more attractive than Flame.
They sound the same, with Bassup technology, might be you feel some more bass, but already the flame itself have good bass quality, these might be a bit more. So you can expect some richer sound than flame.
Powerful battery
Now here is the challenge, with almost same size Mpow engineered 20 mAh more in D7 model, which means they have packaged 120 mAh battery resulting into 3 hours of more playtime.
So you get now 10 to 12 hours of playtime or talk time as compared to the baseline version Flame.
If you look at below comparison image of what is being packed in the box, you will see that you get all in the D7 which is available in Flame box pack. So nothing to loose, but only you get more…
So the bottom-line is ….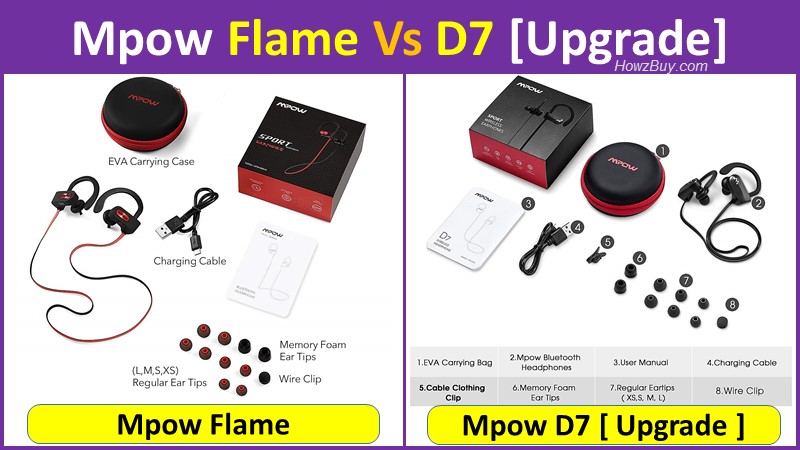 Whats the bottom-line ? Shall I go for Mpow D7 Upgrade version spending $2 more?
Yes and No!
What I mean here is that for travelers where the music play time or talk time is prime importance surely D7 makes a deal-breaker by just spending $2 more, you can clock 3 hours more.
But for those who are gym goers, or using them for exercise only .. basic model Flame itself providing 7 to 9 hours of playtime is more than sufficient, also that the Flame model as more color options (4 numbers) as against only one color option in the D7.
So barring the color option in Flame model rest goes in favor of new upgrade Mpow D7.
Hope this helps!
cheers!!
Do comment if you find this post helpful deciding which one you should buy.
---
References for writing this post are taken from below websites –
https://www.xmpow.com/mpowr-bluetooth-headphones-ipx7-sweatproof-in-ear-earbuds.html
https://www.xmpow.com/mpow-d7-upgraded-bluetooth-headphones-ipx7-waterproof-richer-bass-stereo-wireless-sports-earbuds-w-mic-10-12h-battery-noise-cancelling-earphones-for-running-jogging-cycling-exercising-workout.html