Otium founded in year 2012 has grown fast in the field of electronics. With introduction of new products and upgrades they try to continuously provide improved customer experience. In this endeavor here is new upgrade of Otium wireless bluetooth headphones by simply spending $2 more as compared to the present model in market, so in this post I shall be discussing on if it is really worth spending few dollars more to get these upgraded version of original Otium Wireless Sports Earphones?
Lets talk about the baseline model which is quite popular with almost 9 thousand customer reviews with 3.7 stars as on Nov 2018.
Otium Wireless Sports Earphones – Baseline model
Let me talk first on the baseline model which is being sold around $20 mark (as on 18 Nov 2018) with whooping 9K customer reviews .. indicating that its quite popular across the budget wireless headphones in market …
Primarily these headphones are being talked or focused on the Gym users for use during workouts, but I will say that these are also good to have for frequent travelers who want low priced headphones which frees them from worries of being lost or stolen or damaged due to frequent travels.
Compare with Otium Headphones Upgrade model
Now instead of looking at the base model features, lets begin by comparing the features and specifications of both headphones one by one, to get an idea of what is difference and what is that you will get by spending just $2 more?
Looks & Style
If you look at the info-graphics at the end of this post, you will realize that the UPGRADE is being styled in more trendy way with colorful logo and the power button.
The shape is changed such that the headphones looks more sleeker than the previous version, the curves provides a dynamic looks to the headphones.
I really loved the looks of the UPGRADE version.
True HD Beats Sound
Both of these Otium headphones deliver the signature sound rich bass with somewhat balanced mids and highs. Again I must tell you that keep in mind is that you are going to spend $20 and not $200! So sound quality although matter of subjective liking .. from my perspective both of them delivers well tuned sound.
Built in microphone – Call clarity
Second important thing in wireless headphones is the call quality which entirely depends upon the ANC or NC or Noise isolation. Both of these headphones feature the CVC 6.0 noise suppression technology.
In this case these headphones are provided with good quality of noise isolation which surely will exceed to your expectations. Super helpful while you talk on some busy places like airports or train stations or public gardens.
The microphones does their job well and the person on call will be able to hear you well clear without any echo or hissing sounds, which serves the purpose, mainly while you talk in some windy environment.
Ergonomics – Long time wearing comfort
Both the models are being provided with Small / Medium and Large sized earplugs, which provides a secure fit to most of the ear canal sizes and stays inside the ears during use, even while you are running, or jogging or gym exercise.
The silicon ear hooks further helps keeping them in place during vigorous movements and you need not bother or fear of falling them off the ear. This particularly helps when you have spectacles on.
If you ask me in the $20 range these headphones are much more comfortable compared to other headphones in similar or even higher price range. And they come with two sets of additional ear padding, which  you can use to best fit as per your ear size.
Controls:
Both headphones feature, easy to use buttons which allow skip/play/pause on your music tracks as well as all phone use without reaching your phone. Up to 30ft Bluetooth range in the open space and 10ft in the obstacles space. Can be connected with two devices simultaneously. Super quick pairing with Android, iOS and other Bluetooth devices.
Bluetooth 4.1 – range and clarity with stereo sound
Basically when you get the latest Bluetooth 4.1 technology over old Bluetooth 4.0, you ought to get a faster & stable signal transmission, clearer CD quality of sound and lower power consumption (called as Low Energy LE protocol)
So while you connect to your iPhone or Android phone, you can expect to get a smooth and fast connection over both base and upgrade models.
The Bluetooth signal transmission is pretty strong so that you can listen music over a good distance of over 30 feet or so inside a room without obstacles … like if you are using it inside a hall or in patio it will work fine in the line of sight. Sometimes it creates a signal drops in case you go far away or cross a wall or furniture in between, but that is pretty normal for any Bluetooth device on this earth.
Voice prompt
Next to all above thing is the feature of voice prompt, I think voice prompt is very much valuable since you need not reach the phone or even get a proper feedback on actions done with the help of voice calls, so these both headphones are pretty good with the voice prompt feature.
IPX7 Sweatproof nano coating
Now I have already talked over the ergonomic design and silicone ear hooks, which helps these wireless headphones staying securely on your ears, which means you will surely use them during workouts.
Which means they will face the music with sweat, here the IPX7 sweatproof rating comes to rescue, which prevents sweat entry as well as works well in drizzling rains or water splashing during face washing after the workout. In fact they also gets cleaned with water while you wash your face after intense workouts.
Learn more on waterproofing of headphones
Battery
The base version is powered by a battery backup of around 8 hours of continuous talking / music time and up to 240 hours of standby time within a single full charge.
The UPGRADE version scores slightly more providing about, 9 hours of music playtime.
So while you buy the upgraded version, you can enjoy one hour more long lasting music or talk time.
and the 240 hours of standby time gets you pull on for over 10 days! Great for frequent travelers or hikers.
The improved lithium polymer battery in the UPGRADE allows seamless enjoyment of music for up to 9 hours and 240 hours stand-by with a charge of only 1.5 hours.
Quick charging capability of Otium headphones comes to an rescue during travel where you run out of music and get 10-15 mins to plug in the headphones to the power point.
Both versions display the remaining battery life on iOS devices.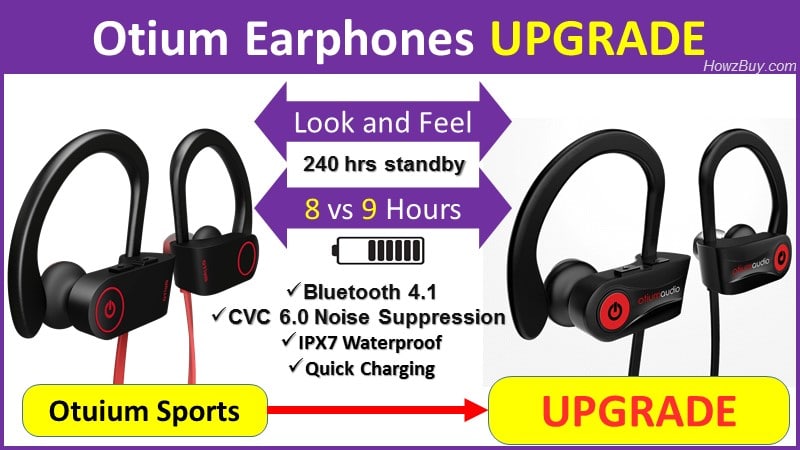 Bottom line
Surely the upgrade version with its new look and trendy style, looking sleeker and dynamic curves is worth spending $2 than the present model ….
Maybe the slightly better battery backup time lures more in the upgrade, but that is not the prime important point for me to buy those .. main point I would say is the Style quotient ….
What do you say?
If you would like to check prices of both headphones then —
Otium Wireless Sports Earphones – Base version current price
Otium Wireless Sports Earphones – UPGRADE version current price and offer.
---
References for writing this post are taken from big marketing sites like Amazon, ebay etc. as well as official website of the company. I have given below links for the same –