Wait! There is an Upgrade: Phaiser is one of the highest selling Running & Workout headphones over last one year … This week they have come-up with BHS-750 an upgrade of their most popular wireless Bluetooth Headset model BHS-730.
Now:
With an upgrade, it becomes necessary to understand the key differences between BHS 750 & 730 models for Technical Specs, Functions and Price.
What are the common features of Phaiser BHS-730 vs BHS-750 ?
Durability – Using Light weight & tough alloy material
These BHS series earbuds are made from Aviation Grade Aluminum-Magnesium-Alloy, resulting into Great Durability with Lowest Weight.
Liquipel® Nano Coating Technology – Being Sweat-Proof (Not water proof!)
The special coating protects BHS series headsets from water and moisture.
[Please note that they are not designed for underwater use, but only provides Sweat Protection]
Comfort & Fit with flexible Memory-Wire
Equipped with Patented Winged Earphone Tip Design they stay snug during your work-outs. They seem to provide a great fit for long duration, with comfort.
Magnetic Back Design – Forget searching your headphones!
When you are not using headsets just put them around your neck and they will clasp together like a neckless. This makes you free from tensions keeping them inside pocket or searching where stored!
Battery – Music playback till 5 Hours! Quick charging only 60 minutes!!
Most important is How much your headset stays awake with one single charge ?
On a full charge, Phaiser BHS-730/750 headsets will provide ~8 hours of continuous playback 🙂
And most important is with micro USB cable Recharging will take only ~60 minutes or so.
Also with LifeState Technology you get an accurate reading of remaining battery life on your iOS or Android device.
As Phaiser has updated information & specs of their latest upgrade BH-750 on their official website I have updated specs comparison table below… The colors will assist you to see the Positives & Negatives w.r.t. each other !
Phaiser TECTON BHS-730 vs Phaiser STROBE BHS-750 Review the Specifications & Features
 Headset Model

Phaiser TECTON BHS-730 specs

Phaiser STROBE BHS-750 specs

Best Buy Discount offers
Best Buy

Best Buy

Colour options
Blackout,

Heliotrope

,

Limegreen

, Oceanblue, Redheat
Heliotrope, Limegreen, Oceanblue, Redheat
Drivers
8 mm dynamic drivers
Bluetooth Version
Bluetooth 4.1 A2DP stereo transfer protocols
Effective Range
10 meters (30 feet)
Improvements
 Bullet-shaped Comply T-400 M memory foam tips
Improved Ceramic Antenna provides extended range
Microphone
Smart microphone automatically stops and starts audio at the beginning and end of calls. Noise canceling makes calling easy even in the gym or on noisy streets.
Ear tips
 SECURE FIT – Patented "anti-drop" winged earphone tips hold your Buds in place during rigorous workouts. Over- and Under-Ear fit options included.
Sweat Proof
(for workouts)
Liquipel® Nano Coating Technology with
Lifetime Sweatproof Guarantee.
Pairing
Supports two connected devices simultaneously
Features
Noise isolation
Magnetic Back
Yes
Working Time
Music & calls up to 8 hours
Music & calls up to 8 hours
Standby Time
Upto 160 hours

Upto 250 hours

Battery Life Indicator
LifeStateTM technology interfaces with Apple iOS and latest Android devices to show you at a glance how much battery life is left in your headset
Voice Instructions
Yes
Battery
Lithium Polymer Battery
Micro-USB port
Jack behind the magnet on the right earbud
Charging Time
Approximately 2 hours
Operating Temp
-10°C to 60°C
Dimensions
130 x 43 x 25 mm
130 x 62 x 45 mm
Weight
0.3 ounces
0.64 ounces
Compatibility
iPhone (3, 3S, 4, 4S, 5, 5C, 5S, 6, 6 Plus, 7), Apple Watch, iPod Touch, iPad, iPad mini, the new iPod nano, Android, Windows, Blackberry, Android Wear Smartwatches, PC, Mac and gaming devices.
Manufacturer
Phaiser
Warranty
30 days limited
 Company
Gebrüder Frischknecht GmbH 9450 SW Gemini Dr #96459 Beaverton, OR 97008-7105 United States
Model
Phaiser TECTON BHS-730
Phaiser STROBE BHS-750
Best Buy Discount offers
Best Buy USA

Best Buy

USA
What I get in BHS 750 compared to BHS 730 ?
In terms of sound quality, both headphones are equivalant, so don't expect much in this area for the BHS 750 upgrade.
The latest all new Phaiser BHS 750 headset provides all base features of BHS 730 plus Improved Range using Ceramic Antenna & Extra-Long Standby time. Now what that mean is resolving main concern of stable Bluetooth connection over a distance, new 750 gives you high range with interruption free Bluetooth connectivity.
Also both have different shape of eartip design, just look at the image below, if you ask me 750 looks better in terms of ergonomics for long term wearing comfort.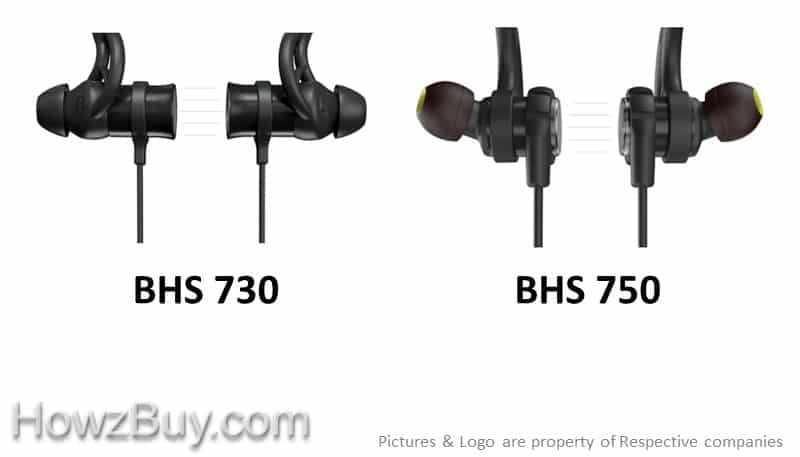 While coming to the battery life, 750 has 90 hours of more standby time as compared to the 730's, but as per me that is not something called as awesome improvement!
What's included:
Included accessories are 3 sets of ear hooks, 3 sets of earbuds, 2 clips, earphone tips, a micro USB cable, and an easy to read instruction manual + a handy travel case [This mini hard case has a secure zippered enclosure that keeps them well protected] get a FREE Original Phaiser Travel pouch!
Here is the deal:
Grab the Introductory OFFER on BHS 750 where you are getting them at Lower Price than BHS 730!! with a FREE Travel Pouch!!!
[The OFFER was prevailing on 6 Jan 2017 at the time of writing this post, Readers are requested to check final offers on Amazon]

If you like this review, do share with Family & Friends and put comment below this post 🙂
Cheers !!