In the last blog post we talked about the selfie stick selection, obviously using selfie stick you start getting good selfies during day time, but what about low light and night time ?
Does your mobile phone has got front flash along-with front camera ? if the answer is NO ! Then obviously you will end up with black faces during low light or night time photos or you have to depend upon some other light available (may be street light ! who knows) ….
Also one more issue in selfie is black circles below the eye seen due to shadow effect, which needs a fill flash.
So here are portable mini LED mobile selfie flash lights available in market to assist you getting better low light pictures 🙂 They are also not that costly and handy due to shape and size. For travelers they can also be used as emergency backup light ! wow !! that's cool.
Selfie Flash Light, Avoid black circles & improve night photography

Selfie Flash for smartphones & apple phones
As the name suggests they are mini & portable
Starting from 2 to 16 LED's depending upon model and type

Uses audio jack of your phone or tablet

Built-in battery, hence do not consume mobile power or can be used standby emergency unit
Operates in Photo OR video modes [depending upon the model]
Very good results during low-light situations, I will say it is the best accessory for selfie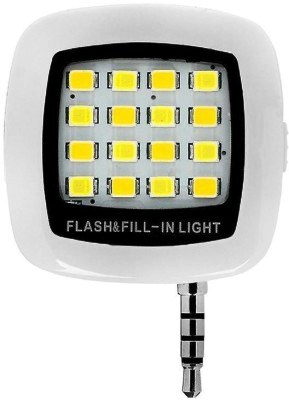 Features of selfie flash light
Most of them are having adjustable brightness settings (may be around 3 brightness levels to meet different shooting needs)
Some of them are with adjustable dimmer switch to change up the brightness
Some comes with angle change facility
These selfie flash lights are available in market from $6 to $20. Here are two three examples of available products.
16 LED selfie flash on Amazon.com for 
Hope this helps you improving your selfie skills reducing dependency of requesting someone to click shot for you …. Cheers !!
And of course do not forget to look at the Mobile camera lenses which enhances capability to take telescopic shots or super wide angle shots. Remember mobile is the only camera available with you 24×7, so you must learn how to use it most effective manner to create memorable pictures …