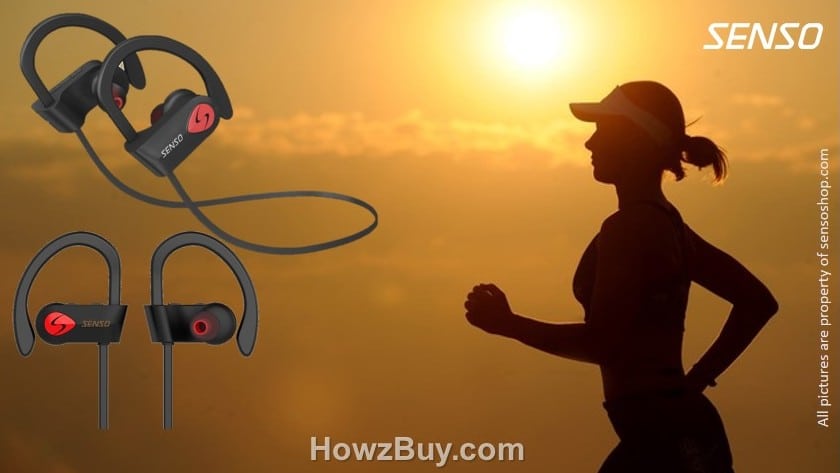 The age of bulky over the ear and wired ear buds designs are becoming a thing of the past. In this competitive market it is tough to find best ear buds to satisfy needs. That's why I'm tracking down the best for you. The Senso
S-250 is a perfect solution for any one looking for good quality earbuds with easy functionality & great battery life.
Music is a very important part of our daily lives & the market for headphones has been greatly expanded.The more easy to carry we want our music to be, the more compact and durable we need our headphones to be. In that case wireless headphones are the idea for on the go users. Before couple of years ago wireless headphones were clunky, distorted affairs. Today they offer much better functionality & durability. Senso ActivBuds S-250 offers all that comfort with Good audio quality.
Senso ActivBuds DESIGN

Lot of companies make eye catchy designs as a compensation for audio quality but audiophile's like myself care more about quality than looks. Senso Activbuds have simple yet stylish design, plain black buds, ear hook design & SENSO red logo on each side.The Senso
design is not too flashy but attractive. Controls are very simple, there's volume + & – buttons which allows you to adjust volume & simply click & hold them to go to next & previous songs. The power button is on S Senso logo, it functions for powering on/off, play/pause & connecting blue-tooth.
Senso ActivBuds Audio Quality & Features
SENSO ActivBuds are capable of delivering true Hi-Fi sound, equipped  with the latest Bluetooth CSR 4.1 technology and state of the art acoustic components, it is able to produce incredible sound quality with deep bass & clear treble.
As an active user comfort is a top priority, SENSO ActivBuds are built with quality materials. Their ergonomic design allows user to enjoy quality music without worrying about discomfort. It comes with 3 differently sized ear tips so you can adjust it as your needs.
The tangle free cables are nice addition as it a big problem to DE-tangling It while doing exercises. It allows you to concentrate on doing your work than worrying about readjustments. The ear clips are very soft & made from silicone, they  are very comfortable even wearing them on your glasses, it wont bother you at all.
This completely wireless design allows for an even greater sense of mobility and ease of use & they will stay in place. Along with that, the SENSO
also does a really good job at sound isolation with CVC 6.0 noise suppression technology it's possible to block out most outdoor noises. It is also certified with IPX7 ratings, which means you don't have to worry about here & there splashes or sweat but you can't go swimming with it.

Senso Activebuds Pairing & Battery Life
SENSO ActivBuds offer up to 8 hours of playback on a single charge and 240 hours stand-by time. It will charge 0 to 100% within 1.5 hours. So you can enjoy your music all day or you can go on a long bike ride. It is very light weight hens, no need to worry about ear pain with extended usage.
SENSO Bluetooth Headphones  are equipped with Bluetooth V4.1 wireless technology with CVC 6.0 noise supression. With Integrated mic, hands-free calling is available. It is able to connect with any Bluetooth device up-to 30ft away. Therefore, you don't have to worrying about missing any call while working out or while listening music.
SENSO ActivBuds offer one year warranty which give buyer good confidence on this product & added bonus item's make its price really worth It.The only function that i felt missing was battery indicator but that's not a deal breaker.
Finally, I'm dividing this review into Pro's & Con's of Senso Activbuds S-250
Pro's :
True High Definition Sound
Wireless & Tangle-free
IPX7 Waterproof / Sweat-proof
8 Hours of Battery life
Ergonomic Design & Comfort Fit
Passive Noise Cancellation
Compatible with all blue-tooth enabled devices & hands free-calling
1 Year warranty & hassle free return
Con's : 

At this price range you really can't complaint about anything
Conclusion

:
SENSO ActivBuds S-250 is an affordable, functional, high quality earphones that you can buy without breaking your bank.

 

What's In The Box :
Senso ActivBuds S-250 Headphones
Carrying case
Charging cable
3 differently sized ear tips
Cable management clip
Senso Active Buds Manual
Bonus Items : Dual Port USB Car Charger,  Charging Cable for Apple and Android Devices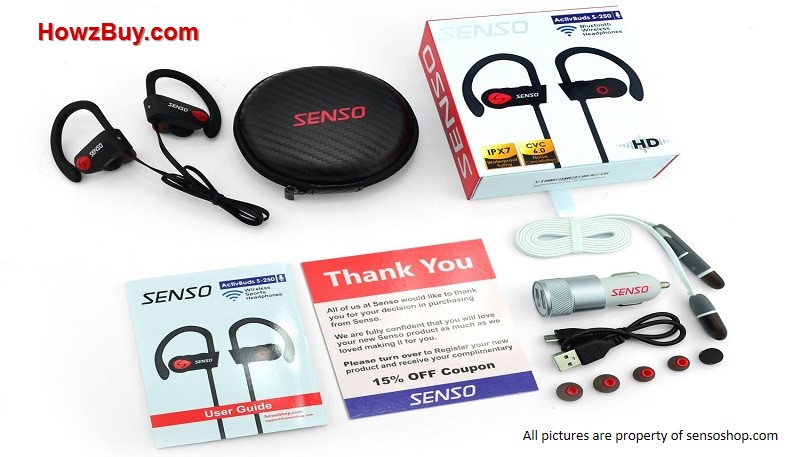 Good Read – Cowin E7 Active Noise Cancelling Wireless Bluetooth Headphones Review