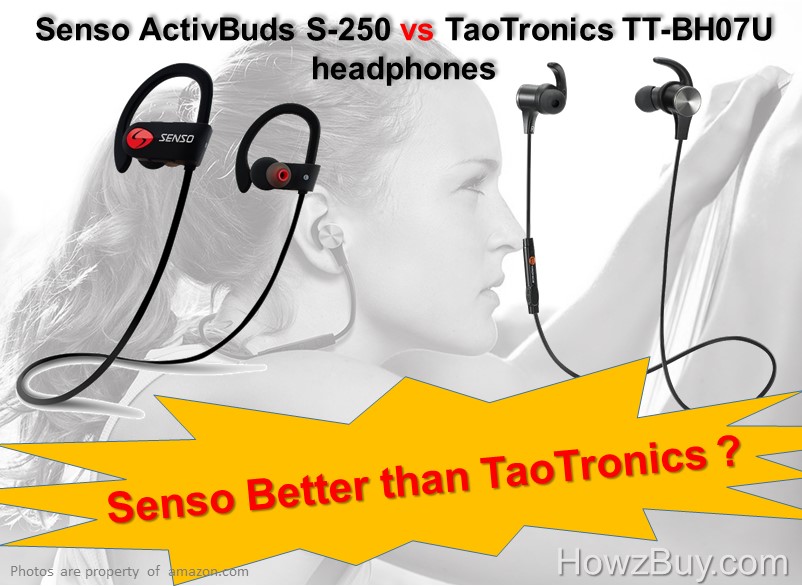 These Two Will Swing Right On Into Your Heart:
Senso is quickly catching ahead of TaoTronics which is one of the Top selling headset company today. And This Is Exactly Why I did some Research on Top selling, Inexpensive and Budget-friendly Bluetooth headphones by Senso & Taotronics.
Senso or TaoTronics?
I have selected Top selling similar priced (~$35) models from both these companies.
It will be interesting to know what of all you will get by spending + $5 amount ? Which one of these will be the right choice ? Remember that both the headsets scores @ 4.5 Star rating on Amazon with @70% 5 Star reviews !! So it becomes difficult to choose right headset from these two.
Wait:
In this article I am going to compare Senso ActivBuds S-250 vs TaoTronics TT-BH07U  headphones. First specs & then sound quality.
Lets do it:
I shall begin with comparison of Technical Specifications and the Features of both Senso vs TaoTronics in a simple table format, showing strength & weakness with Green & Orange colors.
Senso ActivBuds S-250 vs TaoTronics TT-BH07U  headphones Specs
Senso ActivBuds S-250
TaoTronics TT-BH07U
Deals & Offers
Best Buy USA

Best Buy UK, CA, DE

Best Buy USA

Best Buy UK, CA, DE

Colour options
Black/Gray, Black/Red
 Black
Frequency response
 20 -22kHz
Specs not available
Microphone
Integrated Mic
Bluetooth Version
Bluetooth 4.1 A2DP stereo transfer protocols
Effective Range
10 meters (30 feet) – helpful while in gym, keeping mobile in backpack still listening to music wirelessly
Sweat Proof
(for workouts)
IPX-7 Waterproof Rating
 ?? Only Sweatproof
Pairing
Supports two connected devices simultaneously
Features
CVC 6.0 Noise Cancellation Technology
Working Time
Music & calls up to 8 hours

Music & calls up to 6 hours

Standby Time
Upto 240 hours

Upto 175 hours

Battery Life Indicator
 ??
Onscreen Battery Meter
Voice Instructions
 No
Battery
Lithium-ion Polymer 85mAh
Lithium Ion
Micro-USB port
 Micro-USB port
Charging Time
Approximately 1.5 hours
Input Voltage
 ??
5V/500mA
Dimensions
124.5 x 119.4 x 33 mm
590 x 25 x 32 mm
Weight
0.16 ounces, 4.5 grams
0.53 ounces, 15 grams
Manufacturer
http://www.sensoshop.com/
https://www.taotronics.com
Warranty
1-Year Manufacturer's Warranty and 30 days no-questions-asked return policy
 1 Year Limited
 Contact Email ID
higlingsinc@outlook.com
support@taotronics.com
Tel : 1-888-456-8468
(Monday-Friday: 9:00 – 17:00 PST)
Deals, Discount & Offer Price
Best Buy USA

Best Buy UK, CA, DE

Senso ActivBuds S-250

Best Buy USA

Best Buy UK, CA, DE

TaoTronics TT-BH07U
Are Senso ActivBuds S-250 better than TaoTronics TT-BH07U ?
Sound Quality
Senso:
Delivers smooth, booming bass, with clear & crisp mid-tones and trebles.
The CVC 6.0 noise suppression makes it pleasure
TaoTronics:
Delivers deep sound with clear vocals, but remember you can't adjust the bass & trables!
33% Improved Music & calls Time in Senso (with built-in-mic)
With Senso ActivBuds S-250 you can enjoy Music & Calls up to 8 hours as against  6 hours in TaoTronics TT-BH07U. This means you can spend full day in a single charge, very much helpful during hiking, biking, cycling for the full day.
37% Improved Standby Time by Senso
Senso provides strong 240 hours standby time against only 175 hours of TaoTronics !
IPX7 Rated Waterproofing with Senso! Wear while Swimming!!
Senso ActivBuds S-250 boasts IPX7 rating which means you can use them while Swimming 🙂 Whereas TaoTronics TT-BH07U are Splash/Sweat proof, here Senso scores pretty high.
Warranty & Return Policy – Simple Great
Senso Provides unchallangable 30 days no-questions-asked return policy … Which simply indicates confidence of Quality & Acceptance by customers in their product 🙂
Wearing Comfort with flex silicon eartips
Senso : Supplied with 3 sizes of silicon ear tips, to fit suitably. The flex silicon ensures secure fit in your ear. The ear hooks provides ergo-fit security with comfort.
Taotronics : Supplied with 3 sizes of ear tips with 3 sets of ear hooks enabling you to choose combination to get comfortable fit.
On-Screen Battery Indicator Meter
TaoTronics supports on-screen battery meter, whereas

Senso does not support on-screen battery meter.
Magnetic Backing to store the earbuds hands-free
Taotronics features magnetic backing, allowing you to clasp them together without being worried about the storage space during workouts. This is plus point against Senso earbuds.
What's the bottom line?
With so many Cool Features such as Waterproofing, More Music time and Positive User reviews, You can simply choose Senso ActivBuds S-250 still saving $4, only what you may be missing is the on-screen battery meter ! but I think this Negative point may not change your mind … Remember finally both of them almost deliver equal Quality of sound ….