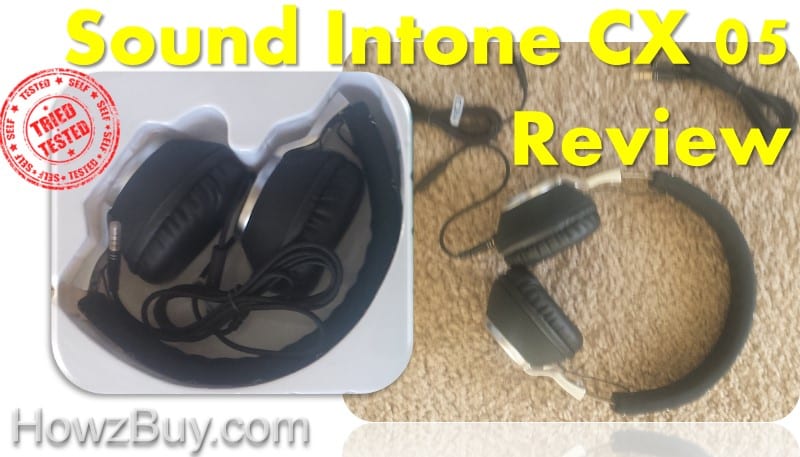 Budget friendly & Trendy Over ear Headphones:
At best budget if you wish to get the high quality sound with long lasting durability still looking trendly then I have found SOUND INTONE CX-05 Foldable Headphones for you.
Luckily I got to have hands on experience over them and jotted down my review for the same.
Lets begin comparing what we have in terms of Quality, Fits and Finish, Durability, Style, Ergonomics & so on for Sound Intoe CX 05 headphones
Sound Intone CX-05 handson Review
Mechanical design features:

Compact Structure ..
It is not compact enough to put in pocket. But can easily out in office bag.
Zinc alloy casting:
Deformation and corrosion resistance ..
Metal looks sturdy and feels sturdy too. Corrosion resistance is definitely a USP.
 Ergonomic flex design: Stretchable headband – allows for different head and ear sizes
Metal structure allows flexing. Has a greater torsional stiffness. Liked it very much, tolerance to mishandlings during travel and trekking.
Can definitely fit child as well as adult. Only issue is that it has 103 dB max volume which means for kids you need to be careful  (compared to 93dB we had on previous product meant for children)
Comfortable to wear and hours of listening comfort, Can easily wear for extended time. I tried for couple of hours without any trouble.
 Inner earmuffs have protein leather and memory foam which provides Very soft touch and adds to great comfort. … It just feels rich and comfortable …
 Multiple color options:
The one I have is black with silver stitch work on top. Box shows that product comes in three colors, I couldn't confirm though since on Amazon also I found Black one.
Sturdy design:
– Can sustain longer cycles of folding and stretching
– Cast metal housing and metal arch connected by metal links and pins
Smart Cable Design

Sound Quality

Great sound, perfect balance of Bass and trable .. the mids are definitely taken care by the design of 40 mm drivers.
The particular model I tested, has certain noise isolation capability due to cushioning materials used. However, this does not possess electronic noise cancellation. (Its passive noise isolation and not active)
Features 40mm stereo driver unit
103 dB sensitivity and 32 Ohm impedance
Call Quality:

Built-In 360° high sensitive Omni-directional microphone (I verified it by making few calls to my friends to check the effectiveness of microphone and found the call quality is great .. I mean I can vouch for it 🙂
In-line remote allows to an ease of control, the control buttons are easy to operate, simple one click operation works fine.

to answer and hang up the phone
pause and play music

Add-on features

Tangle free fabric cable
3.5 mm plug with 1.5 meter cord length
Compatibility:

As company claims, these headphones are compatible with all Android and iOS smart phones, computers, MP3 players and tablets having 3.5 mm audio jack
I Tested in on my Android and Windows laptop. Works fine. I don't have iOS though !!
What's inside the package?

One Sound Intone headphone
One manual warranty card
ne original audio cable with microphone
One fabric cable without microphone
Overall remark and recommendation for Sound Intone CX-05
After handson evaluation of the Sound Intone CX-05 headphones and at given price point this headphone provides an attractive proposition.
with Zinc alloy casting design it scores pretty high on style front …
Sound quality is great with 40 mm drivers … and the call receiving using buit-in microphone is great feature indeed .. it captures sound neat and clean way …
One more important point is that they are comfortable for long duration wear … I tested it for couple of hours of continuous use and it was pretty comfortable … the flex design with memory foam works great 🙂
last but not the least is the use of Tangle free cable .. surely its a great to have feature since I travel much …
Overall great headphones at price-point of around $20 at the time of writing this post..