Wireless earbuds technology is improving day by day & prices dropping substantially. We've seen Apple AirPods and Samsung Gear IconX earbuds, they are premium wireless earbuds that doesn't fit under budget of many people. On the other hand Soundpeats Q29 earbuds are compact, cheap & believe me the sound quality is surprisingly good.
And howz the battery life, connectivity options, features…..Well.. will get into all of these questions, but before we do, lets check specifications of the Q29 first.
Soundpeats Q29 Wireless Earbuds Review
Soundpeats Q29 Wireless Earbud Specs
Color Options
Black
Bluetooth Version
Bluetooth 4.1
Bluetooth Profie
HFP V1.6;HSP V1.2;A2DP V1.3;
AVRCP V1.6
Noise Reduction
CVC 6.0
Maximum Working Range
33 feet/10m
Standby Time
50 hours
Music/Talk Time
3-4 hr(depends on volume level)
Charging Time
1 hour
Dimension (L * W * H)
0.99 x 0.68 x 1.14 inches
Weight
0.18 Ounces/5.3g
Soundpeats Q29 – Design
Much like AirPods and Samsung Gear IconX, the Soundpeats Q29 earbuds are wireless. The Q29 earphones arrive packaged in charging case, that can fit easily into a pocket or purse. Opening the case brings the two earbuds, each designed with a minimalistic design and perfectly fitted into their respective charging docks.
When it comes to design, Soundpeats Q29 is very minimal & i have nothing to complaint about. The packing is also very simple & minimal. Thanks to the ergonomic design, they will fit in ear perfectly. The earbuds are kind of oval-shaped & quiet small than the general Bluetooth headset. No one will notice you're wearing them, if you are wearing hoodie or if your hairs covering your ear.
The Soundpeats Q29 Headphones comes with 6 interchangeable ear tips. The ear tips are in standard S/M/L sizes, two of which are equipped on the headset. Normally the medium ones are suitable for most of people. They also stay firmly planted in ears, So you can do your other work while listening music.
The small white LED that blinks regularly to indicate Q29's status like Charging, Fully charged, Low battery, In pairing mode and Standby mode. Soundpeats Q29 offer one year warranty which give buyer good confidence on this product.
Audio Quality
With Soundpeats Q29 you can enjoy high-fidelity sound when using in stereo mode. With the true wireless design you will be free from long & tangled cables. The sound quality is really improved than previous gen earbud. Now the sounds are more balanced & pleasure to listen. The Soundpeats Q29 design & CVC 6.0 technology works great in isolation of outside noises, which is great when you want to zone out & just focus on music.
It is very useful using earbuds while working out , as it cuts out all the unnecessary sounds in the gym that you don't want to hear. Q29 earbuds are sweat-proof, so you don't have to worry about any damage happening to buds because of sweaty workouts of your. There is no Soundpeats Q29 volume adjustment button, so you have to use your phone or device to control it. But the good thing is you can adjust the effects with equalizer to your preference.
Bluetooth 4.1 Technology lets you enjoy High-Fidelity Sound. Whats more….with the AB1511J Bluetooth Chipset, you can enjoy fast speeds and stable connectivity. Soundpeats q29 pairing is very simple. You can connect them with Smartphone, Iphone, ipad, PC and more. The Q29 Bluetooth headphones can remember previously paired devices. So you don't have to reconnect your earbuds every-time you use.
One more thing, you can use these earbuds together (stereo) or separately (mono) depending on your need.
You will be pleased by the mono & stereo audio performance. It is very useful in different scenarios. Like if you want to use earbuds independently to listen music or answer calls. You see, it is very useful for listening to turn-by-turn directions without disturbing others in the car.
Soundpeats Q29 earbuds are durable, fashionable and comfortable. It comes with three different size of ear tips. So you can choose according to your comfort. With Ultra lightweight, you can wear them for long time & enjoy your music, movies or call.
But wait there's more ……… You can also use Soundpeats Q29 earbuds for answering calls
Soundpeats
features in-built microphone so you can use them for answering calls. You can Answer/ Hang up/
Reject/Mute/Resume a call from control buttons of the main earpiece(R). You can also switch between calls by
pressing multi-function, just double press the button to switch between two phone calls.
You can connect just one, either the right or the left piece, and use it as a mono headset for taking calls.
The ear pieces alerts you to incoming calls and reads out the phone number. Pressing the button on the earpiece
answers the call, and pressing it again ends the call. It's all very simple.
Charging Dock & Battery life
When you decide to buy a Bluetooth earphones, battery-life is a factor that affect your buying decision. So are you worried about  Soundpeats Q29 battery life ?? Need not, as it delivers good 3 to 4 hours of battery life. Numbers may vary from user to user but the battery life is fair enough compared to other wireless earbuds which costs a lot.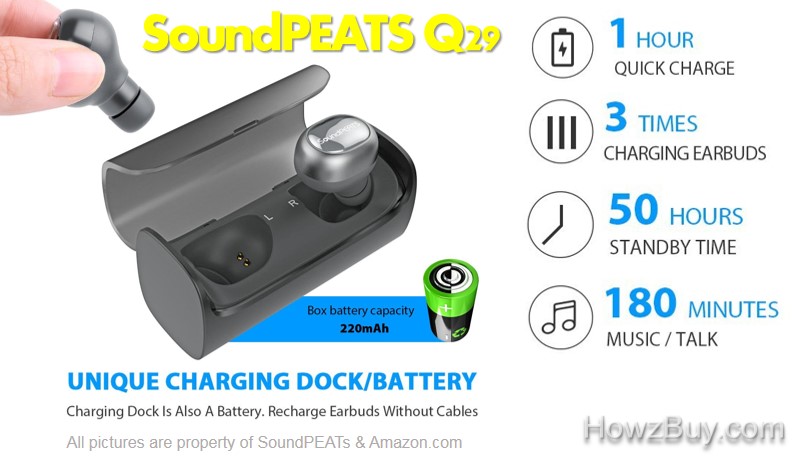 The Soundpeats Q29 charging case also works as a portable battery dock. The design  is ultra-lightweight and ergonomic. The charging case itself is very small, you can carry it anywhere or just slip into your pockets.  With just 1 hour of charging, you can charge your earbuds 3 times without any cables. That is really a handy option if you ever accidently run out of juice , you can quickly charhe earbuds with dock. Stand by time is also impressive….which is almost 50 hours. The box battery capacity is 220 mAh. The case charges via an ordinary micro USB cable.
Soundpeats Q29 – Verdict
Soundpeats Q29 earbuds produces crystal clear sound and adequate bass that brings a truly exceptional sound experience at your ear.  They are comfortable to wear even for long time. With great battery life, mono- stereo feature & built-in mic, this is a very attractive option from a budget-centric point of view.
What's In The Box
1 x SoundPEATS Q29 Bluetooth Headset
1 x USB Charging Cable
6x SoundPEATS Q29 Interchangeable Ear Tips
1 x Charging Case
1 x SoundPEATS Q29 Manual

Good Read – Vava Flex Vs Panasonic ErgoFit – Comparison & Review