On weekend while I was sitting in my friends beauty salon looking at beautician straightening curly hair of a girl, and a customer just asked her a question … How does a Steam Hair Straightener works on Every Hair Type? Oops! I never thought of this? Yeah … The my friend who is owner of that beauty salon explained to her in simple words, with some boring theory behind it … and just turned around to me saying .. .hey … why don't you put this knowledge garbage on your blog?
Humm … Although my blog is not at all related to beauty tips or products, I decided to put down a a small write-up under her expert guidance … If you like it do let her know by putting some comments below the blog post.
How does a Steam Hair Straightener works on Every Hair Type?
Steam hair straightener works on moisture infusion principle, where steam diffuses the intense heat of the shaft at the same time infuses deep into the shaft of each strand of your hair. Also the steam acts as lubricant while you operate (pull) the straightener lessening the damage to the cuticle. Now any hair type is basically made up from basic two layers, and the hair straightener heats the outer cuticle and tries to relax it into a flat shape, so irrespective of hair type this principle shall work.
Now fact is that whether blond or black, straight or curly, thick or thin, all human hair are made up of the same basic components and hence it is evident that steam hair straightener will work on every hair type!
The dryness of hair gets healed with high temperature moisture, giving shining & straight hair in one go. This is very important for office going ladies, serving the beauty touch during morning rush hours without fear of any damage to hair or overdoing with heat.
So theoretically speaking dry hair shall get the most advantage out of the steam technique, but practically even an oily hair would need some steam to act on the oiliness, conditioning it while it irons them out with heat.
The magic of hydration on hair
Its important to know What is hair made up from ?
Well Human hair made up of a super strong protein called as keratin which is also found in animal feathers, hoofs, claws and human fingernails. Now keratin forms skeleton, and melanin, a pigment gives hair its color, now remaining is some amounts of vitamins, zinc and other metals. Now important thing to note here is that about 10 to 13 percent of hair is made up of water.
Diving deep, these narrow hair shafts are further made up of two main parts,
Outside layer called as cuticle which provides a smooth structure surrounding the internal medulla.  The cuticle is formed from dead cells still protecting the hair shaft.
Now comes the Cortex which provides color pigment followed by the innermost core Medulla.
This Medulla is nearly an invisible core layer which is the most soft and fragile part, and serves as the pith or marrow of the hair.
So by now you must have realized why you should dive so deep in to what is hair made up of? simply to understand that while you think on a great hairstyle, the tools you choose should have been well understood and researched thoroughly by ignoring all the marketing gimmick by the great companies.
Flat iron with or without steam?
Well after so much gyan, you still might be wondering about using a flat iron with or without steam?
Do you still feel that steam is a marketing technique?
I am sure in that case you simply need to look at your hair under microscope.
But here one caution I must give, whichever iron you try, with or without steam, in case you observe hair breakage or hair loss, immediately stop using these hair straighteners as a damage control measure till the time you really do not dig out what went wrong (Take help from hair expert)
Mechanism of Steam addition while ironing : How it works?
Different company models have different mechanisms to deliver the steam while straightening operation. However basic principle remains the same.
There is a water capsule (separate or built-in) kept inside the flat iron stem, water gets heated alongwith the flat base, and as you press the flat iron against your hair, the steam emanates across the shafts. The steam is warm enough to match the iron's hot plates. This accelerates the process of straightening, just imagine ironing your cloths with sprinkle of water onto it.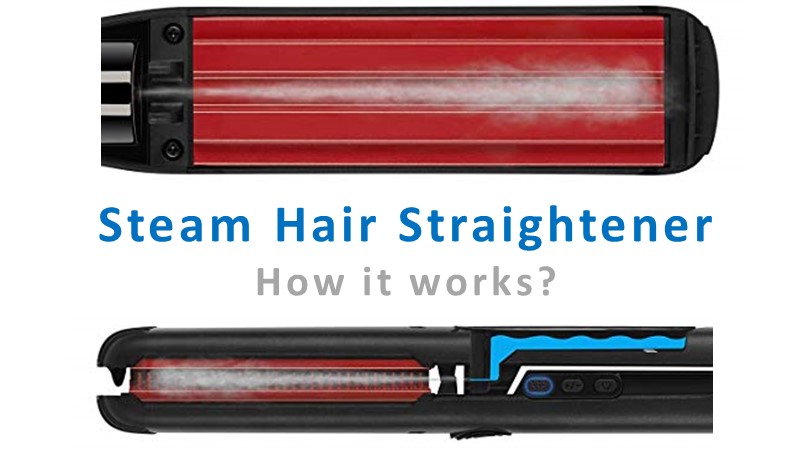 Now coming to the construction details and the costing on the main surface which is made up from Teflon (old type) and latest is Ceramic coated once. Both has its own considerations and marketing panels vouch for! You need to take the decision only after trying yourself.
Option one : Teflon coated hair straighteners
Teflon coating is known for its non stickiness and low coefficient of friction, both are equally important for the function of hair straightening. Due to its inherent properties, Teflon coating will keep the iron clear of any rogue hairs breaking off at the ends.
And imagine you are straightening your hair with tiny hair sticking to the iron, creating scorched damage!
Due to low friction hair just slides off Teflon layer, avoiding overheating of hair at single location, the heating speed remains constant  & uniform without any hair cooking on the iron surface.
Option two : Ceramic coated hair straighteners
Teflon is being replaced by ceramic on most of the cookware, so as on straighteners!
To given you an example latest  Chi original and Onei MK Halo hair straighteners have ceramic coating on to it.
The specialty of Ceramic is that it warms slowly and maintains a uniform temperature over the complete coated surface, which is really helpful during the hair straightening process.
However my internet research on various websites and forums showed that, a ceramic coating combined with steaming creates another reported issue as called as Hair Bubbling.
Why & how hair bubbling happens?
I discussed a lot on how the moisture helps hair smoothing, but as the steam is not moisture, but water at high temperature, there is always a risk that you boil hair! 
Just imagine that you place your hair in boiling water for too long, what will happen? They will kink and bubble up!
Similarly if you accidentally leave the steam based hair straightener at same place for too long, there are super chances that you boil your hair, resulting into bubbling.
To me the bubbling chances are less in the Teflon coating due to its low coefficient of friction, allowing hair to slide down quickly during the operation as against ceramic is not that competent as Teflon in this area.
However since now you know the basic reason of kinks and hair bubbling, you can take due care and avoid it with Ceramic or Teflon coated machines.
What Kind of Steam Hair Straightener Should I Get?
There are variety of options available in market claiming one over the other, why they are the best!
To me its difficult to verify claim by each company by testing them one by one, so best way is to go by word of mouth or reviews available over various websites (considering that they are not paid once)
From the iron's material type to steam nozzle size, there are many components to one straightener alone.
Groom as You Straighten
By simply adding comb design to the surface, you can groom hair as you straighten!
This simply acts to avoid tangles creation as you pull hair down during straightening operation.
The tiny rubber teeth built on the bottom plate will pull tangles free as you pull the straightener down each section of hair. So check if you would like to have it, select appropriate model accordingly.
Temperature settings
Most of the models are now available with pre-set temperature settings. somewhere around 5-6 settings allowing choice somewhere between 250 to 450 degrees Fahrenheit.
This is really good since you can start with lowest temperature which suits your hair style, go for lower if you have thin hair, and try for more if you have thick & curly hair.
Benefit when combined with steam is that you can go for slightly higher temperature getting you real smooth straight hair which you dream of, without fear of burn.
Refilling of water!
Now the most cumbersome part of steam hair straighteners is topping up of water.
Obviously you can't have large water tank on such a small device, so if you have long hair, then mostly it would not be possible to iron them in a single go and you might get to do the boring task of topping up multiple times!
Ceramic or Teflon coating
I have already elaborated both type of coating in the previous paragraph, so I will skip it here.
So assuming that you have selected the best one in market I will go ahead with guidance on How to Use them.
How to Use a Steam Straightener?
Shampoo your hair and condition them thoroughly.
Make them dry using soft towel.
Do not forget to apply a heat protectant product first.
If its too cold, you can go ahead and use your hair dryer, no issues.
Best is to apply a heat protection spray to your hair
for reference, quick link to Amazon product page for hair heat protector.
Split hair into sections and operate the straightener.
Top up water into the steam straightener, warm it up, begin as soon as it is ready. Most of them will have green light indication come-up to show that they are ready.
Do not forget to select correct temperature setting before you switch it ON.
Put small sections of hair into the tong and gently pull the straightener through to the bottom.
Repeat steps till you cover them all.
Finally finish the process with a little serum or oil to add extra sheen!
Cool down and pack the steam straighteners safely, away from kids.
Finally 
My Own Experience using a Steam Straightener
As said at the beginning of the post, my friend who owns the beauty salon gets often different beauty equipment's for trials, rescently she got Solofish Hair Straightening Professional Iron, and after listening to all the lecture from her and posting on my blog, she gave it to me as gift 🙂 So now its with me for regular use.
Only for info I am giving product link for Solofish Hair Straightening Professional Iron on Amazon.
And now .. the best part … using this all new gift from my friend … lets experiments it out …
Firstly I need to fill in some water into the super mini tank using a feeding bottle. Remember not to fill it full, leave some room for the steam formation, recommend to fill it 2/3rd of capacity, just visual judgement will be fine. I think I need to prepare a video and add it here instead of flooding the post with many images… will do so in a couple of weeks.
Now after topping it up, I selected the temperature setting to somewhere around 300℉ (suggest to keep it somewhere near low for first time use, once you know comfortable temperature you can go for more, for me my hair are thin, so wanted to play safe)
The iron itself has got six levels of temperature adjustments available in the range of 300℉/150℃ to 450℉/230℃, again depending upon type of hair you can select suitable temp, but as said, best way is to begin from the lowest, experiment and then increase the temperature. Maybe thick & curly hair would required to go the the max 450℉ , whereas for fine but wavy hair 300℉ would be more than suffice. For me it worked at the lowest range.
Just for quick reference here is recommended temperature chart as a ready reckoner –
300℉ – For first time use or thin hair or bleached hair
340℉ – 370℉ – For dyed hair or dark color hair
410℉ – 430℉ – For Normal or slightly curled hair
450℉ – For thick or super curly hair
Now plug it into power & switch ON, wait till the temperature indicator stops flashing, now it is ready for use.
Select the level of steam you need, Medium or High, again here to play safe during first use, I selected the medium one, suggest the same for you too, why to take risk?
Since I have used normal hair straightener since years, the process remained moreover same, like splitting hair in small chunks and pulling the straightener gently in downward direction. Just do not forget to read carefully all the steps I have already narrated in this post like washing, drying, applying a heat protectant etc.
Good part is that this one has got the Vented Ceramic Tourmaline-ion floating plates  which helps to create a shinier, silkier hair finish.
Ceramic emits non-damaging infrared heat, steam assists the hair gently for added heat protection. Now here the magic of tourmaline comes into picture, where tourmaline emits infrared heat and negative ions, making the heat much gentler on the hair during styling resulting into much shinier and less frizzy finish. It further enhances the hair to endure much higher levels of heat without creating damage.
Surely when I used Solofish machine, I could feel the difference against standard one without steam (which I have at home) … the 5 steam jets pointing correctly in the direction of movement during straightening works perfect, making an even moistening on all selected hair simultaneously. (I have not used any other once in market, but some straighteners have axial throw which might not be suitable covering the complete chunk uniformly is my guess)
The steam lasts for about 15 minutes, so if me and my sister wants to do it in a single go, I need to top it again! so painful … it should have Auto-top-up design 😛 … but to get salon standard finish for FREE at home, I am ready to bear this pain, mostly I can quickly do this before going to school in morning hours (I am a teacher, not a student, mind it!)
But to do this before going to school I keep it ready by topping up water n night! yes, this is the only way to save few minutes of rush hour! And if I have to look professional with soft & shiny hair, I can do this many times.
Since it is portable & goes into my backpack, I am thinking of getting it with me during weekend travel too.
I think now that my hair looking healthier after using this steam straightener, wait for some time and I will update the review with some of my before and after photos, at least I will do it after 4 weeks of testing. So wait till then for results.
Also notably, the surface coated plates ensure no snagging or pulling, it simply glides through hair, looks like this one will be suitable for all hair types including the typical African American hair!
Well there are different possible combinations of temperature and steam possible based on hair type and available time. You can try going for higher temperature & High steam mode to do it quickly during morning hours, or keep both steam & temp at lower settings on weekends, to get very good shining finish. Try it!
I request to put down your experience in the comments section, specially if you have African American hair, it might be useful for someone else reading the blog, after-all that is the reason I keep writing … to help others (Yes, this way my travel blog has given me friends all over the world from Africa to Switzerland, from my product guide blog I suppose to make such friends too)
My mother says
"I wish I could have found this Steam Hair Straightener 10 years before"
Which is the best Steam Hair Straightener in market?
If I have to decide myself which is the best, then it will take over year to buy and test or at least to ask all family & friends! but shortcut to decide this is goto big websites like Amazon and find out the high seller with good user reviews.
So … I checked on Amazon reviews and found the  most popular one with whooping 30K reviews, and this comes from the company HSI Professional, you may like to check its specs, reviews etc on Amazon. However the base version is surely inexpensive and cost you somewhere around $38, but the high end with Titanium would cost you over $109 [indicative prices as I checked on 8 July 2018.]
[This link takes you to Amazon HSI Professional product page]
And the one which I am using right now is also good one from Solofish
[This link takes you to  Solofish Hair Straightening Professional Iron product page on Amazon]
And Now How to Take care of Steam Straightener?
Finally, important tips on extending the life of your steam straighteners.
Remember maintaining them, means they will serve you longer and your hair doesn't suffer too 🙂
Keep away from water, always store in a dry place. This avoids possible damage/shock due to short-circuit.
Wipe the bristles carefully with a lightly damp cloth (Don't ever forget to unplug it).
You can use cotton swabs to clean the water tank from inside (if possible)
Keep it packed in given box.
Keep it away from children.
Safety:
Well all done, although this machine has 60 minutes no-use Auto-shut off system, to prevent any accident, do not forget to switch it OFF and pack after cleaning.
And if you are not used to, then you may like to use the protection gloves during use, however for me I don't need / use these protective gloves, it makes me uncomfortable!