Yes, it is Difficult :
When it comes to finding the Best Desk Lamp good for Reading, Writing or just having a late
night cup of Coffee sitting beside your Study Desk or the laptop Desk. Furthermore the one
which comes handy for flexible adjustments according to your needs. Along with all the
Best Features it also doesn't hit hard on your pocket. This could be a task bit more difficult
and confusing for some.
Here is the Solution :
The Taotronics 7W LED Desk Lamp is the best you could Buy if you
are searching for above mentioned features and specialities.
Stunning Looks :
Design – The Taotronics Gooseneck Desk Lamp is designed keeping in mind portability,
best in class material with robust body without lacking elegant Designs and Stylish looks.
The lamp has good finished plastic Body which makes moving the lamp lot more easier.
Lamps base is minimal in size which takes a very less space on your desk allowing your
other gadgets and book or other stuff to be properly placed without any congestion.

Features
Flexibility – The Rubber made Gooseneck of the lamp is flexible enough to be easily adjusted,
but strong enough to stay in place so you can get the best light according to your needs.
The neck can be rotated as well as bent in any directions which suits best for you.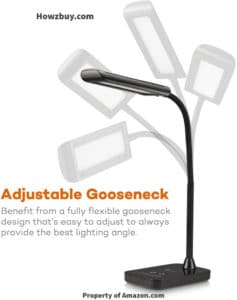 Touch Sensitive – With the lightest touch of your finger the lamp with start illuminating,
adjusting brightness by just sliding your finger across the touch controls is super easy.
Moreover with 7 Brightness Levels adjust the lamp to be dim or at its brightest.
5 Unique Light Modes – With 5 extra Color Temperatures alongside 7 brightness level for
each, gives the lamp a total of 35 unique light modes. Choose the desired mode and forget,
the lamp will start with the same mode you chose last with its in-built memory function.

Eyes Protection –  The Extra Layer of White Anti Glare gives the eyes more pleasure while
reading.Which also ensures the light concentration is perfectly balanced without any extra
bright or dim spots.

LED Life(Durability) – The small LED bulbs could last upto 50,000 Hrs or more without
replacement. Which makes the Lamp more lovable and User-Friendly. The lamp would last for
decades without any worries of loss and moreover the lamp comes with an Amazon Warranty.
Pro's
Con's

Cheap in Price
Portable
Highly Flexible
Energy Efficient

No Battery (Only AC Supply)


Expert Advice : 
The Lamp with its best Features, great life, Extreme Portability is a best choice for Artist,
Readers. Its less than 25$ Cheap Price makes me suggest you to buy this device for yourself
without any more confusion and thinkings. The Lamps size is also perfect for everyone who
doesn't want their desk to look messy with lots of things over it.
Taotronics 7W LED Gooseneck Desk Lamp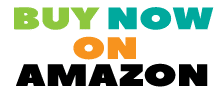 Just ordered one of the Best Desk Lamp with adjustable Neck and Brightness Level. I'm in Love with it
Click To Tweet
What's in the Box :

LED Desk Lamp
Power Cable
Warranty Card
Cleaning Cloth
User Manual
FAQ's :
Question : How much light does it produce ?
Answer : One of the nice things about this lamp is that it has seven different levels of light. It goes from a little (still too much to use as a night-light say) to a whole lot, enough to do crafts or electronic repairs by. Maximum 386lm according to the specification. Bright enough for reading.
Question : How do I charge the lamp? Does it contain a USB or a plug?
Answer : No Charging Needed. It contains a standard 110v adaptor plug that plugs into the outlet and then into the lamp.
Question : What is the Color Temperature Range ?
Answer : It's around 5000k to 6000k.
If you have any other questions please leave them in the comment section below.