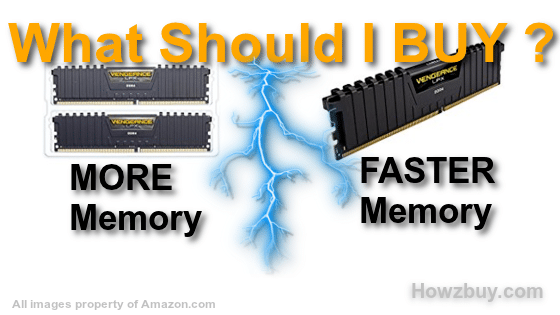 What is the Use of a RAM?/ Why you need it?
            For running any application on a Device, you need to meet its general requirements.
If you don't know what a RAM is don't worry we have got you covered.
RAM –

A RAM is a

short term memory

of a device which acts like a buffer between the

CPU

& the

Storage media

. 

It is like a Storage path where the CPU stores the data which it needs to access quickly & often.
RAM is the most crucial & significant part of the memory Hierarchy of Computer Device.
Utilizing this space CPU can give faster outputs rather than waiting for seconds.
When your Programs struggles to run, it is because you probably Need more RAM. 
That slowdown is the result of your PC having to unload tasks from fast RAM memory onto your hard drive.
General Storage medias like the HDD are High on Space but very low on Speed.
Your Rig may house a low RAM for the Memory Hungry applications of today as it came with the enough memory, when you bought it few years back.
You may also lack RAM Memory if you own a cheap laptop with limited memory. This is due to improvements & enhancements in softwares & applications.
If you know the Basics, Scroll down below where I have selected few RAM's best for Gaming as well as daily usage.
CAPACITY – SPEED what's Different?
You can measure RAM capacity in megabytes (MB), gigabytes (GB), or terabytes (TB). Increasing the size of your RAM reduces the likelihood of needing to use your hard drive for these temporary files. But once you have enough to meet your needs, you reach a point where adding more may not be the best way to get the speed improvements you're looking for. You may benefit more from buying RAM that's faster than the RAM you already have, even if it's the same amount.
RAM's speed is determined using couple of this metrics. Frequency affects maximum bandwidth, Frequency is how much data can travel to and from your memory stick at a time. Latency affects how quickly RAM can respond to a request.
Frequency is measured in megahertz (MHz)Bigger the Better. Latency appears as a series of numbers (such as 15-25-5-10) lower the better.
How Much (Or How Fast) RAM Do You Need?
Having buckets of RAM is useful if you're into professional video or audio editing. Yet even then, 8–16 GB of RAM should be enough to handle running several professional applications simultaneously. You likely won't need to think about upgrading for several years.
For a gamer, you may get some benefits from having 16 GB, but 8 GB can run most games smoothas butter. Making the leap up to 32 GB is currently unnecessary. At that point, you may pefer getting faster sticks.
Regardless of whats your daily use, speed won't matter if your motherboard isn't as fast as your RAM. A 1333 MHz motherboard will encubate your 2400 MHz RAM to 1333 MHz.
There are situations where more RAM is needed, but you're more likely to encounter them if you manage servers. The demands of running applications, games, and websites simply aren't that high to warrant packing your desktop with all the RAM you can muster.
What Should You consider while Buying a RAM?
I Think I have got my Answer and choice for Buying a new RAM
Click To Tweet
Have a look…
Consider a High Memory a bit slower RAM as an Elephant, on the other hand, Consider a RAM with less Memory but with faster Frequency as a Cheetah.
What do you think which will perform Better ?
If you Say Cheetah or the RAM with a limited amount of memory but faster Frequency.
Then you are among the 66% people who choose this, it has its own drawbacks like the RAM would have to frequently keep on fetching data from and to the Hard Disk. Its Faster Frequency of Operation might not be suitable for certain operations like Compression where you may end up with errors. Moreover,
the Heating problem. Due to continuous and Heavy Operation, their are chances that you may wornout your RAM earlier than its natural Life.
If you Say Elephant or the RAM with a high amount of memory but Slower Frequency.
Don't worry I can understand your steady way of thinking, you are among the remaining 33% of the Audience. You might think keeping moving at a steady pace with large about of data is a good idea, however the time difference would not be more than a second or a fraction of it. But Applications where you frequently have to keep on updating your data, also while you play High End games you would definitely notice a difference.
So what should I Do?
Find a RAM which Works like a Horse… Balanced Size and Speed.
Selecting RAM with around a 8 GB Memory with 2133 Mhz to 2400 Mhz for a Mid Range Gamer & you could also go for an extra 4 GB same frequency RAM if you are a high-End Gamer. Moreover, Applications used for Video & Photo editing can have the 12 GB RAM as more than sufficient.
If you are a more demanding user, there isn't a clear catch. In some instances, you're better off getting more RAM. In other cases, you will see better results going with a higher frequency and less latency. You may also notice a difference depending on which operating system you run. Switching from one to another may be all the upgrade your computer needs.
Here are some of the Memory Chips I would suggest you Buying…
| | | | |
| --- | --- | --- | --- |
| Name | RAM | Frequency | Offers & Discounts |
| Corsair Vengeance LPX 8GB DDR4 DRAM | | 2400MHz | |
| G.SKILL Ripjaws V Series 16GB |   | 2400MHz | |
| Kingston HyperX FURY Black 8GB | | 2133MHz | |
| Corsair Vengeance LPX 16GB | | 2133MHz | |
| Corsair Vengeance LPX 16GB | | 3000MHz | |