Ailihen I35 VS Ailihen C8 Headphones:
Why choose AILIHEN?
Everyone want a good quality product with reasonable price. Nobody wasting their money for cheap products. customer satisfaction is necessary factor for all the companies. The Ailihen also one of the most known company which have their Concept of "satisfaction to every single individual of our customers to be achieved"combines with the belief"endless progressive pursuit for the better and better"has been their only motivation all along!
In addition to superb quality, design matters for them alot! It matters more for you too!
A group of 5 experienced designers teams up with the technological innovation staff  for the mutual grand dream.fashion,elegance,colorfulness along with other elements are all what they take account in to eliminate any potential flaws in the future,communications among teammates are vital to the birth of any new innovative ideal. They do understand that! Ailihen is a great brand of fun and functional electronics products. Ailihen are not afraid for what awaits ahead,because they know you are and will be with ailihen always!
Ailihen I35: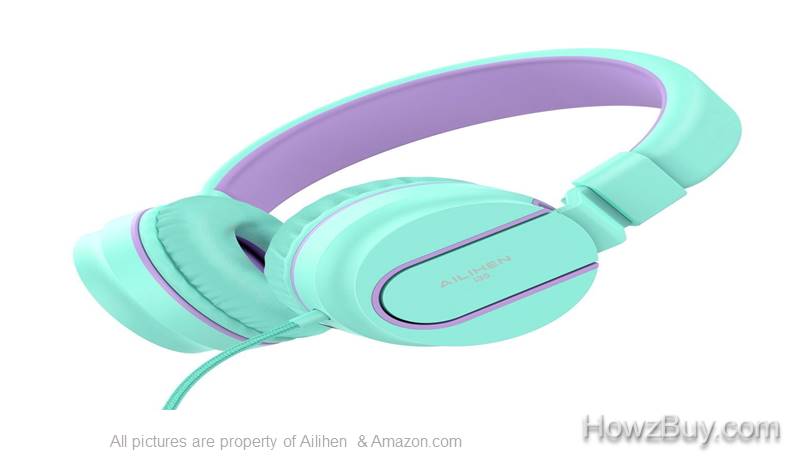 About Ailihen I35 Stereo Lightweight Foldable Headphones:
Ergonomic design make it comfortable to wear, with excellent noise-cancelling function;

The folding part have been tested for over 20000 times hence Folding design make it convenient to carry.

It have high-definition voice calls because of the 360 degree pickup microphone. 

It Compatiable with all Android phones, IOS, winphone and Blackberry system phones. End/Answer phone calls, Pause/Play music, support with switch of previous/next songs;

The protein genuine leather earmuff is used for designing, hence it make i35 comfortable for long time. wearing;
Headphone Specifications: 
Driver diameter: 40mm
Impedance:32ohm
Sensitivity: 106dB±3dB
Frequency response:20~20000HZ
Cord length: 1.5m
Microphone
Mic Dimension: 4.0*1.5mm
Sensitivity: -42dB±3dB
Frequency response : 100~10000HZ
Plug Type: 3.5mm
Mic Function: 1.play or pause music; 2. answer or end the phone calling.
Features:
Great Sound
It has amazing sound quality. You don't hear all the other sound that is going on around you because of the sound canceling capabilities. You can easily just get lost in your own world with these headphones on, and not be interrupted by what is going on around you. The bass is prominent but not overbearing The sound quality is surprisingly amazing.  For this price the Ailihen I35 Headphones probably have the best sound quality.
Useful Technological Features
Other than the look the coolest thing about these headphones is the range of features that it has. If you get a call, It's a blessing to be able to pause or start music. It has 360-degree pickup capabilities of the microphone. With this quality sound, you'd rather be talking with your friends by voice rather than texting.  There is a function right on them that allow you to answer and end those phone calls.
Very Functional Design
It's design is amazing and good looking. With a super soft and comfortable exterior and totally modern colors these headphones are so beautifully made . This is the kind of unique headphone that is sure to capture the attention of all those around you.  Ailihen I35 Stereo Headphones are compatible with all Android phones and other types of phones.  They are so lightweight at 11.2 ounces. Ailihen I35 headphones can carry them around in your purse or backpack  without any trouble,because they fold up nicely and can slip into a bag with ease and not take up much room.  The cord length of 1.5m is the perfect length to be able to lean back at your desk and not have any tension between you and your laptop.  The band is also easily adjustable to fit any head.
Everyone Can Appreciate These Headphones
For everyone who loves to singing, listening music or watching tv on any device, any mobile, phones etc. this headphones are really awesome. Adults are use it but also the kids are more comfortable with it. kids will appreciate the softness, the colors, and the amazing sound capabilities of the Ailihen I35 Stereo Foldable Headphones. These headphones are for the tech geek as well as the fashion-conscious. Adults will be happy that they can answer and end their phone calls right from the headphones and kids will love the fun colors and being able to be completely immersed in their music or video games. The headband is adjustable, these headphones are perfect for any head- small children's heads or adult heads.
Package include: 
1pc Headphones
1pc warranty card
Colour:
Light blue
Ailihen C8 Headphones :
Features:
 

Adjustable headband

 

40mm dividers,produce high quality sound

Leatherette cushions and padded headband

Foldable design on the go

Sound isolation to promote immersive listening

In Line microphone for taking calls
Design
We always noticed one main and first thing about the headphones is their design, and are they actually look pretty sleek. The model we're reviewing is gray/mint and the color combination helps give them quite a premium look. Even the cable has been given attention  instead of a simple plastic cable, the cable is a braided nylon, which is both stronger and more stylish than a plastic cable.
Comfort
Anything we use we always check it's comfortability and compability.
Let's see one by one. Just start with the earcups, which actually feel pretty good. This headphones don't have a ton of padding, but considering the fact that they are so light plus the fact that they don't really clamp that hardly, and there's enough on the earcups for even longer listening sessions. It's not the earcups that are the problem though — it's the headband.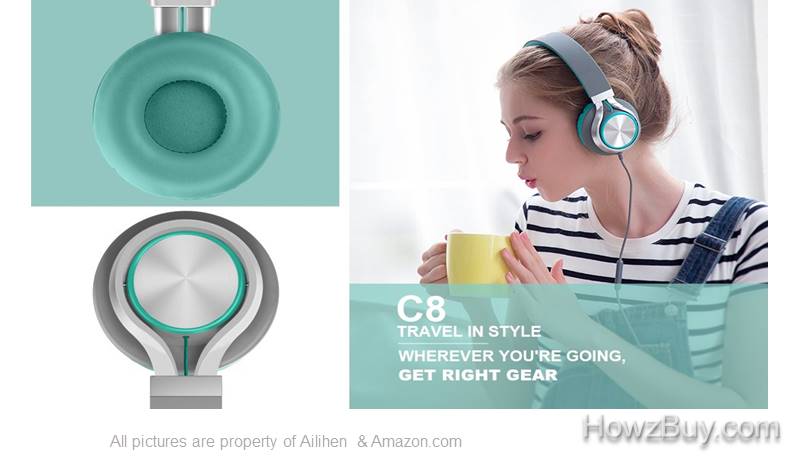 Technical specifications:
Frequency response: 20Hz – 20kHz
Active noise cancellation-No
Driver size: 40mm
Noise attenuation: Unknown
Driver type: Dynamic
In-line controls: Yes
Design: Closed
Microphone: Yes
Sensitivity:103dB
Earpad material: FoamRated
impedance: 32Ω
Magnet material: Unknown
Total harmonic distortion: Unknown
Water resistance: No
Rated input power: Unknown
Maximum input power: Unknown
Wireless distance: N/A
Wireless connection: No
Cable length: 1.5m (4.9ft)
Wired connection: Yes
Colors :Blue, orange, green, beige
Comparison between Ailihen I35 And Ailihen C8 headphones:
 Product

Ailihen I35 Stereo Lightweight Foldable Headphones

Ailihen C8 Headphones

Price:

$19.98

$19.98

Average Review:

Product Condition:

New

New

Frequency response

20~20000 HZ

Brand:

AILIHEN

AILIHEN

Category:

Wireless

Speakers

Classification:

Wireless Phone Accessory

Wireless Phone Accessory

Product Type:

wireless accessory

headphones

Item Model Number:

I35-BLUE

C8

Part Number:

I35-BLUE

C8-GM

Color:

green/purple

Grey/Mint

Product Dimensions:

10 x 8 x 3 inches

7.7 x 6.9 x 3.3 inches

Product Weight:

4.6 ounces

10.6 ounces

Additional Features
with mic, fold
Microphone
 Sensitivity
 106 dB±3dB
 103 dB±3dB
The Final Verdict?
Here, by deep research i will definitely suggest you the one which you should have to buy in between Ailihen I35 and C8. Ailihen i35 have the more quality features than the Ailihen C8. Once you try Ailihen I35 headphones, you won't want to use anything else. The weight is light and quality is high, especially at this price point. They work good for anyone who is looking for a modern and fun design with lots of capabilities including a 360-degree pickup microphone and start/stop features for both your music and your phone calls.  What makes these great is also that they fold up well so that they don't take up much space anywhere that you want to put them.  The best feature of the Ailihen I35 Stereo Foldable Headphones is perhaps the ergonomic design that allows it to sit on your head and against your ears without any discomfort while you listen to your music or have your phone conversations, and the adjustable headband is a huge plus. This is the plus point as compared to Ailihen C8. So, I will recommand to buy Ailihen I35 Stereo Foldable Headphones.