What is the difference between Amazon Echo & Echo Dot?
With introduction of Amazon's All New Echo Dot you will be eager to know the major differences in between Amazon Echo Vs Echo Dot … Here is that I have prepared simple table showing the Major and Minor level differences between the two devices i.e. Amazon Echo & Amazon Echo Dot.
Yes, Echo Dot eliminates certain disadvantages of Echo & its Tiny too!
First Major advantage comes to my mind is that you can connect the Echo Dot to your high-quality home stereo system through a 3.5 mm audio cable or a Bluetooth speaker or the Wireless Headphones 🙂 Wow ! This eliminates the first drawback of Amazon Echo First Generation version where you can only play the Audio through its built-in speaker !!
So question is that Should I get the Echo or the Echo Dot ?
My Answer is that you should get Echo Dot .. Here is comparison for the same ….
What's the Difference Between the Amazon Echo and Echo Dot?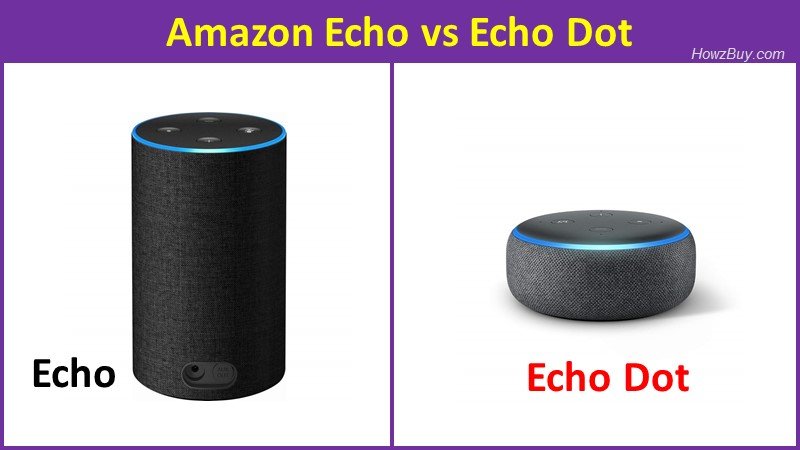 Amazon Eco vs Eco Dot
Amazon Echo
Amazon Echo-Dot
Audio Jack

No

[Plays audio through its built-in speaker only]

3.5 mm Stereo Audio Output

for use with external speakers
Audio
Built in Speakr for Voice feedback & Play Music
Built-in speaker for voice feedback when not connected to external speakers
Volume Control
Rotary Volume Control Dial

+

   Buttons on Top
Microphone Array
7 nos
WiFi Connectivity
 Dual-band Wi-Fi supports 802.11 a/b/g/n (2.4 and 5 GHz) networks
Bluetooth Connectivity
Yes, but

only to your device for playback

and not to other Bludetooth speaker or stereo system
Advanced Audio Distribution Profile (A2DP) support

Possible to connect to other Bluetooth speakers or Stereo

Hardware
Improved speech processor
Software
ESP (Echo Spatial Perception)

Connect multiple Echo devices (Echo or Dot) in the same space without interference

 Activation
 Hands-free activation through a wake word
Directional mic holes
Tiny Circles
Tiny Slots
Power indicator light
Yes

No

Power
Wall Plug
Small USB wall adapter
System Requirements
Ready to connect to your Wi-Fi. The Alexa App is compatible with Fire OS, Android, and iOS devices and also accessible via your web browser. Certain skills and services may require subscription or other fees.
Dimensions
Dia 3.3 x H 9.5″
Dia 3.3 x H 1.3″
Weight
8.8 oz
5.7 oz (163 grams)
Warranty
1 Year Limited Warranty

90-day Limited Warranty

Best Buy OFFERs

Best Buy

you need to have another Echo or a Fire TV device to order this !

Best Buy

Can be ordered without any Alexa intervention
FAQ's New Echo Dot
Do I Need An Amazon Echo To Use The Dot?
No it is independent of Echo First Generation
How to turn on echo dot ?
Plug the power adapter into the power outliet, other end of micro USB goes into the Echo Dot. Now you can see that the light ring on Echo Dot turning blue, and then orange. When the light turns orange, Alexa greets you. Remember that using low power USB power adapters, like phone chargers, may not provide enough power to your Echo Dot.
How to connect echo dot to wifi ?
Plug your Echo Dot into a power outlet.

Open the Alexa app and goto Settings.

Select your device and then select Update Wi-Fi
Tap and select your Wi-Fi network and enter the network password (if secured)
Select Connect, after successful connection to Wi-Fi network, you will get a confirmation message on the app.

You're now ready to use Alexa.
How can I connect my Echo Dot to my Music System ?
You can connect your Echo Dot to your stereo with Bluetooth pairing or direct audio cable
Does The Echo Dot Work With The Echo Remote ?
Yes, you can trigger commands via the remote
Can I Control Smarthome Products With The Echo Dot ?
Any smartphome product you can control via the Echo can be controlled just as seamlessly by the Echo Dot
How to listen to what Amazon Echo has ever recorded you saying ?
For software learning, echo will need to store your voice commands in limited manner, on the device as well as on Amazon's servers. Now to review your old recordings on Echo, open the Alexa app and then visit the History section of the Settings menu. Tap on the entry you'd like to review and then tap the Play icon to listen to the recording ! Now if you want to delete the entry, simply select it and hit Delete.
How to deregister echo dot ?
When you are selling or returning your Alexa device, you will have to deregister the device from your Amazon account. Steps to be followed to deregister alexa echo dot are –
Open your Alexa app or visit website alexa.amazon.com from your computer.
Click on Settings on the left hand side menu.
Select the name of the device you wish to deregister.
You will see a Deregister button to the right hand side of **Device is registered to: [your name]."
Click Deregister and confirm.
Done ! Its so simple and straightforward please.
Does echo dot have to be plugged in ?
Yes, The Echo Dot must be hooked up to a USB power source, wall outlet, computer or any other source of USB power.  So if you want to make it portable, best way is to use a Power Bank with good capacity like 20,000 mAh
Does echo dot have a speaker ?
Yes, echo dot has built in small speaker, so you still will be able to listen to music, video sound through echo dot after pairing with your smart phone.
Why is my echo dot flashing green ?
Echo dot do not have any screen and hence it has color codes to indicate what it is doing. Like if the echo dot is flashing green, means you've got a call coming in from one of your contacts.
Similarly if Echo is flashing Blue, means its listening to you. The lighter segment is pointed in the direction from which you're speaking.
If the Echo is flashing Yellow, means you have got an email in your inbox!
Echo ring is solid RED, means the microphone is disabled.
Echo ring is Purple means Do Not Disturb Mode is Enabled.
Echo ring Flashing Orange or Violet: means It's Connecting to Wi-Fi
What can you do with an echo dot ?
Make phone calls (basically, landline calls)
Control your smart home appliances like lights, door locks, appliances, switches and other smart home devices.
Get cooking ideas and tips
Get the news
Entertain your kids for hours on end, Play games, Find Easter eggs, Set timers and play music.
Learn about more features, simply say "Alexa, open Skill Finder" or "Alexa, tell Skill Finder to give me the skill of the day."
Get fit : Check on your FitBit stats, Get nutrition information, Do a workout
Control your TV
Use Spotify to play music
Train Alexa to do practically anything else
How can you control or turn on/off your lights, water sprinklers, air conditioner, fridge etc using Amazon Echo dot?
You can use Smart Home Equipment's such as
Samsung SmartThings
Wemo and Wink
Nest
Honeywell
Honeybee and Insteon.
Hive and Netatmo
Innology and EDF Energy thermostats
Hands-free voice control is not supported for Mac OS X devices. Bluetooth speakers requiring PIN codes are not supported.
You will be able to use a different wake-up name for each add-on device you have, Alexa, Echo and Amazon.
What is supplied with your Amazon Echo Dot
Echo Dot
Power adapter (9W)
USB charging cable
Quick Start Guide
By using codes DOT6PACK and DOT12PACK, you can get a free Dot with a purchase of 5, or two Dots with the purchase of 10
If you wosn first-gen Echo then you get $10 worth of Alexa Shopping credit, only if you purchase using Alexa Shopping
17% off Echo Dot + Philips Hue Starter Kit
14% off Echo Dot + Bose SoundLink Mini II
17% off Echo Dot + ecobee3 Smart Thermostat