In the range of $40 to $50 there are three wireless headphones from Anker soundcore series. Now which one to choose out of these three is a question based on the price, features and style. Hence in this post I am comparing three models Anker Soundcore Spirit X vs Soundcore Spirit Sports vs Spirit Pro Earbuds. You should be able to decide which one is good for you and why? Hope this study helps you to choose better.
Since I am comparing here three headphones version at the same time, it is difficult to see the pros and cons at the same time. So what I have done here is prepared a specifications comparison table and highlighted the differences in these models.
This technical specs compare will give you a quick idea on strengths and weakness against each other. Just look at Green highlights in below table.
Once you look at the table I will jump onto the comparison where the other things like style and comfort are detailed out.
Anker Soundcore Spirit X vs Soundcore Spirit Sports vs Spirit Pro Earbuds
Anker Soundcore
Anker Soundcore Spirit X
Soundcore Spirit Sports
Soundcore Spirit Pro
Magnetic cable management
Magnetic cable management
Best Buy
Check Spirit X price
Check Spirit Sports price
Check Spirit Pro price
Audio
Drivers: 10 mm
Drivers: 6 mm
Drivers: 6 mm graphene drivers
Composite Diaphragm x 2
Composite Diaphragm x 2
Dual EQ Modes
Connectivity
Bluetooth Version 5.0
Bluetooth Version 5.0
Bluetooth Version 4.2
Supported Bluetooth Codec
AAC, SBC
AAC, SBC
aptX, AAC, SBC
Operating Range
10 m (33 feet)
10 m (33 feet)
10 m (33 feet)
Waterproofing
IPX7 SweatGuard
IPX7 SweatGuard
IP68 + SweatGuard
Microphone
Mic with cVc call noise reduction
Mic with cVc call noise reduction
Mic with cVc call noise reduction
Music control
3-button remote control
3-buttons remote control
3-buttons remote control
Battery – Built-in lithium ion Battery
Playtime: 12 Hours
Playtime: 8 Hours
Playtime: 10 Hours
Standby Time
Quick charge
1.5 hours quick charge
5 mins charge = 1 hour music time
1.5 hours quick charge
1.5 hours quick charge
iOS battery capacity display
Yes
Yes
Yes
Ear hooks
super soft silicone over-ear hooks providing snug fit
super soft silicone over-ear hooks providing snug fit
super soft silicone over-ear hooks providing snug fit
Memory-foam ear tips
Yes
Yes
Yes
Cord clip
Yes
Yes
Yes
Warranty
45 days money back & 18-month warranty
45 days money back & 18-month warranty
45 days money back & 18-month warranty
Size
23.6 x 1.3 x 0.47 in
23.6 x 1.3 x 0.47 in
23.6 x 1.3 x 0.47 in
Weight
5.44 ounces
0.53 ounces
0.64 ounces
Now that you have seen the quick table and got an idea on the differences, look at the info-graphics below which will show how they differ in look and feel.
Again I have also highlighted major differences w.r.t. each other … look at the info-graphics below and proceed to read the post …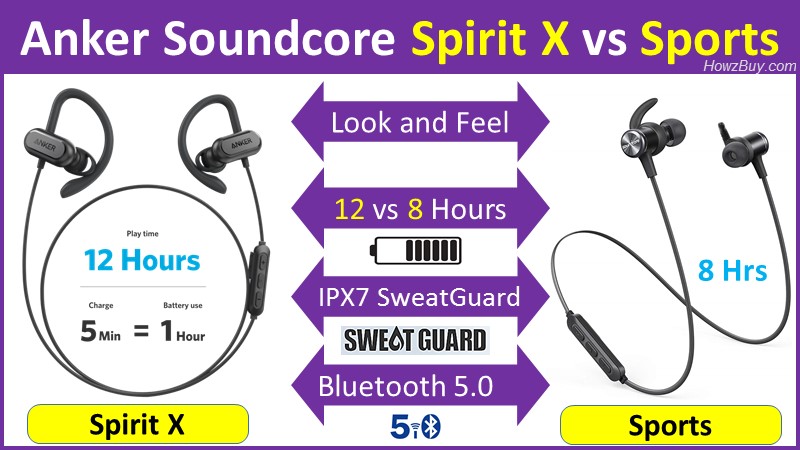 Well now that you have got some idea on look and feel .. and specs difference .. you must have decided something in mind as which one of these headphones are better for your taste …
let me dive down into some of the details which I feel are the differentiations which will affect the selection …
Look and feel
Spirit X looks slightly bulky as compared to other two models .. may be this has happened due to the fact that they need to house 10 mm drivers as compared to only 6 mm in Sports and Pro models as well as more powerful battery giving almost 12 hours of music playtime.
Spirit X has one more differentiation, the type of ear hook. It is like over the ear type hook as compared to the in-ear hooks for Sports and Pro models. Again this is as per personal taste. If you ask me I mostly like in-ear type of hooks like in Sports and Pro models wince they do not stick out and fit well in the ear canals during my workouts.
In all the three, Pro model looks professional, rich and sturdy. With its thick cable and metal finish.
Magnetic back
Handling of Spirit sports and Pro models is better due to the fact that they also have magnetic back, allowing you to wear them like a necklace, which does not fall off. If you ask me I have used both types of headphones, i.e. with and without magnetic back, but practically I found that magnetic back is super useful to wear them without being fear of falling off in any body movements like bending down or even simple walking.
Remote control
All three have three button remote control which is accessible easily for the operations like taking a call or music management, so I will not dwell much on this basic but useful feature common to all.
Durability – Sweat-proof and dust-proof
All of three models are sweat proof. The Spirit X and Spirit Sports models are IPX7 certified and the Spirit Pro models is IP68 rated (learn more on IP rating here)
What it means is that the Pro model has highest rating of dust and water resistance too.
Coming to the Waterproof (I mean water resistance) rating .. all have good water resistance. Just point to be noted here that having only waterproofing does not always help, but the headphones also should have good sweat resistance.
Why I am so insensitive about the Sweat proofing against IPX rating?
Well when you say waterproof, the headphones will surely prevent any water entry inside the circuit but what about the sweat?
Sweat is made of not only water but also body acids which are corrosive in nature, and obviously when the sweat enters onto the headphones, it may corrode the seals and damage the headphones. So design of headphones and testing with the sweat is also as important as getting them water resistance certified.
In this case all the Anker soundcore models are sweat proof and tested by Anker vigorously.
Connectivity
Somehow the Spirit Pro model has Bluetooth 4.2 as against Bluetooth 5.0 for other two models Spirit X and Spirit Sport.
Anyway all are low energy protocols, the Bluetooth 5.0 is the latest protocol.
All the three headphones practically connect to the iPhone or iPad (mobile and tablet) quickly without any time lapse, they are appraised by many customers for this feature.
So all of the three are well compatible with latest mobiles and tablets, no issues with Android or iOS devices.
Also the range of 30 feet is pretty stable with the Bluetooth 5.0 protocol for Sports and Spirit X models.
Battery backup
Best performer for the music playtime or talk time is Spirit X model which delivers 12 hours of playtime.
Second winner is Soundsports Pro with 10 hours of playtime.
And last is Spirit Sports with 8 hours of playtime.
However practically 8 hours is also sufficient range for any gym exercise or even for a day of travel needs. So even selecting Spirit sports model will suffice the purpose.
Again as said in the beginning of post, although the Spirit X features 12 hours of playtime, it also looks somewhat bulky as compared to the other two models, maybe due to the battery.
All of them can be quick charged within 1.5 hours to full life and get back to 1 hour of play time within 5 minutes, thus making them a perfect headphone for travel, where the quick 5 mins power can be a lifesaver.
Bluetooth codec
All support basic BT codec AAC and SBC, the sports model further supports AptX, which can deliver a CD like sound quality. And all works at low latency which will be useful for viewing the videos, where lip movements will look synchronized without any delay.
Sound quality
All the three models have the sound signature of Anker, which have good balance of base, treble and mids. Again it is personal matter of taste and one who loves typical Anker sound profile shall go for any of these three models.
What is my take ?
Well .. for me the Anker Soundsport Pro is the take .. although I am spending $10 more .. I get a rich looking pair of headphones .. with balanced sound profile .. delivering 10 hours of music time .. and they are really sturdy … the 5 mins quick charge makes them perfect for my travel needs ..
Wearing comfort is also good .. as already said I like the in-ear hooks which does not protrude out too much and looks descent when I wear them in travel ..
Works best on busy places like airport … allows me to make and take calls easily with good quality of microphone and good sound isolation …
Hope this helps…
Do put in comments and let me know which one you bought and why?
---
references for this post are taken from different websites like Amazon, ebay and
https://www.soundcore.com/products/variant/spirit/A3403011
https://www.soundcore.com/products/variant/spirit-x/A3451011