Senso is selling their ActivBuds S-250 really high ..
19K Customer reviews!
Yesss …. Senso ActivBuds S-250 scores whooping 19K customer reviews on Amazon !! Obviously they are en-cashing the  Brand with some premium price.
My Research on New Launches!
You know that I always like to keep an eye over latest product launches and try to evaluate them w.r.t. the established headset brands. This provides my blog readers a better chance to buy latest technology with improvements and that too at Lower Price-Point.
So whats my latest headset find for you?
Guess what?
I have found Hbuds H1 which is a better headset than Senso ActivBuds S-250, with more powerful battery, Added memory foam tips, more music play time and surprising 2 weeks of standby time!
And all this at much lower price than Senso!
Just look at the image below where I have shown both these headsets side by side. Needless to say that they belong to the same family, Hbuds looking more beautiful due to eye-lining around them. Further we will be looking into other aspects too.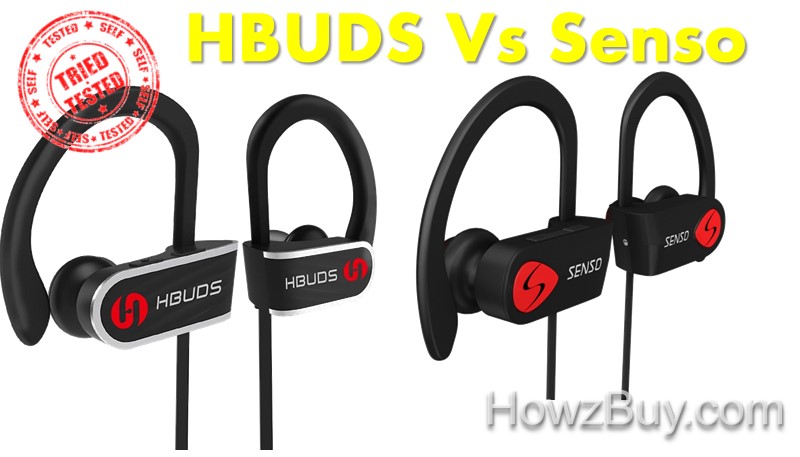 Hbuds? Need to know something more about them.
Hbuds founded in 2010, upcoming with their high quality bluetooth headphones/Speakers at reasonable prices (remember quality and price goes hand in hand)
When I found their headset model Hbuds H1, I thought that this is right alternative for the Senso ACtivebuds S250, a better alternative that too at lower price.
So immediately I contacted them from HowzBuy.com, to get a sample for evaluation, after receipt and evaluation here I am putting a hands on review for you 🙂
Specs comparison of HBUDS H1 Vs Senso ActivBuds S-250
HBUDS H1
SENSO ActivBuds
S-250
Bluetooth
Bluetooth 4.1 CSR with aptX technology
Bluetooth range
10 meters (30 feet) – helpful while in gym, keeping mobile in backpack still listening to music wirelessly
Multi-point
Supports two connected devices simultaneously
Built-in Microphone
Integrated Mic
Noise Isolation
CVC 6.0 Noise Cancellation Technology
Voice announcements
Yes
Siri Enabled
Yes
??
Controls
Simple one touch call, track and volume control
volume, skip, pause and play
Fitting to ears
Flexible & Secure (Tried and Tested) Good for Running, Cycling, Gym workouts
Few complaints from customers where fitting is an issue
Ear tips
soft silicone over-ear hook, both memory foam and regular tips are provided
3 Sets of Ear Tips (SML)
2 Sets of Memory Foam Ear Tips (S, M)
3 Sets of Ear Tips – Small, Medium, Large (SML)
Water resistance
IPX7 Waterproof rating (Sweat proof) –
Test Duration: 30 minutes, Immersion at depth of 1 m
Double nanometer waterproof technology
(can be used in shower & swimming)
Not sure, company do not mention to use in Shower
Battery
Lithium-ion Polymer 110mAh
Lithium-ion Polymer 85mAh
Listening time
9 hours
8 hours
Charging time
1.5 to 2 hours for Full charge
Standby time
2 weeks
10 days
Charging method
micro USB port
Warranty
1-Year Manufacturer's Warranty
Best Buy Price & Offers

Best Buy

Best Buy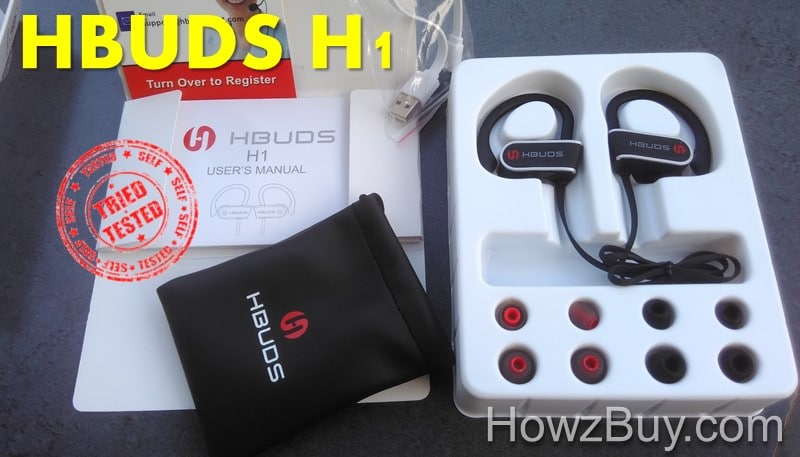 Are HBUDS H1 better than Senso ActivBuds S-250?
Sound Quality
Hbuds H1:
Delivers smooth bass, with clear vocals, good balance of mids & highs. I found it comfortable for prolonged use, due to comfortable wearing style as well as the smoothness of drivers.
Senso:
Delivers smooth, booming bass, with clear & crisp mid-tones and trebles.For both these headphones, CVC 6.0 noise suppression makes it pleasure to listen.
13% Improved Music & calls Time in Hbuds (with built-in-mic)
With Hbuds H1 headphones, enjoy Music & Calls up to 9 hours as against  8 hours in Senso Activebuds S-250. Although both the headphones are suitable for hiking, biking, cycling for the full day and even for workouts, Hbuds adds one hour more with its powerful battery. Extra bonus in less price :-)Hbuds microphone quality during the call is tested and found to be very much clear (with use of CVC 6.0), like other headsets I did not face any echo sound issue during the call. Also the person on other end was able to listen clearly in-spite of noises in the garden (during outdoor testing)
40% Improved Standby Time by Hbuds
Hbuds is backed up by strong 336 hours standby time against only 240 hours by Senso!
IPX7 Rated Waterproofing with Hbuds & Senso! Wear while Swimming!!
Hbuds and Senso ActivBuds S-250 both are rated IPX7 for its water resistance rating which means you can use them while Swimming ?
So at this front both the headsets score the same.Till now I have not tested Hbuds for shower test .. but will check it soon and update the results.

Hbuds H1 Waterproofing Test:

Hbuds are IPX7 certified, which means they can sustain temporary immersion in water upto 1 m, so I decided to give it a try :-)Look at the photo where I have immersed them inside water bath (floating green ball in photo indicates water level) … after immersion for about 5 minutes I removed them and switched on immediately.
Sound test indicated that left earbud is not working!! I thought that due to water ingress it has stopped working and my test has failed 🙁
But I realized that since they were immersed completely there was water ingress inside the left earbud speaker, I simply removed the ear tip and with simple blow of air with mouth .. the water got cleared 🙂 left earbud began working 🙂 Wow … its working … They are truly waterproof … Same test I will cover in my Video review too.
Now remember that this way testing of headphone is wrong! well they should be tested in shower or rain while you are wearing them.. this way the speakers are located inside the ear canals and hence protected from any water ingress. So even you stay in shower for long time there is no way the sound can get disturbed or you face any issues. Well still my test was severe and Hbuds could pass it 🙂
Wearing Comfort with flex silicon eartips
Hbuds:
Supplied with 3 Sets of Ear Tips (SML) & 2 Sets of Memory Foam Ear Tips (S, M).
Memory foam is added advantage over Senso, which helps you to improve comfort during long hours of wearing.
Senso : Supplied with 3 sizes of silicon ear tips, to fit suitably. The flex silicon ensures secure fit in your ear.Both headphones are equipped with an ear hook, which provides ergo-fit security with comfort.
Controls:
Both headsets are having same control panels allowing you to control the track, volume, call. The buttons are intuitive and you can easily remember them with few minutes of use.The voice assistance guides you through operations.
Bluetooth range: 33 Feet
Specially in Hbuds I found that the Bluetooth signal strength is quite good. The signal catching is quite good over a distance over 33 feet, even with hurdles in my house and gym, I could get the signal very much clear. I found this better than all other headsets that I have tested so far.
Only in case you come across a wall, then you will loose the signal, but I think Bluetooth technology has this inherent limitation.
Warranty
Both Hbuds & Senso Provides One Year warranty, indicates their confidence of Quality. Again here both scores same.
What's the bottom line?
After actual evaluation of Hbuds H1 headsets, I can say that you can get better features than Senso headphones still spending less money 🙂
What all you get is Waterproof headphones, More Music time and Excellent standby time…  A simple pouch will allow you to carry the headsets during travel including a small USB micro cable allowing you to connect it to standard charger socket.
Well if you like to explore brands, I would say you can go ahead and give a try to wear Hbuds H1 sI am sure, not only you will like them, but also save $12 🙂
Note: $12 saving is calculated based on prices prevailing on 7 Aug 2017, you are requested to check the savings based on current product prices.