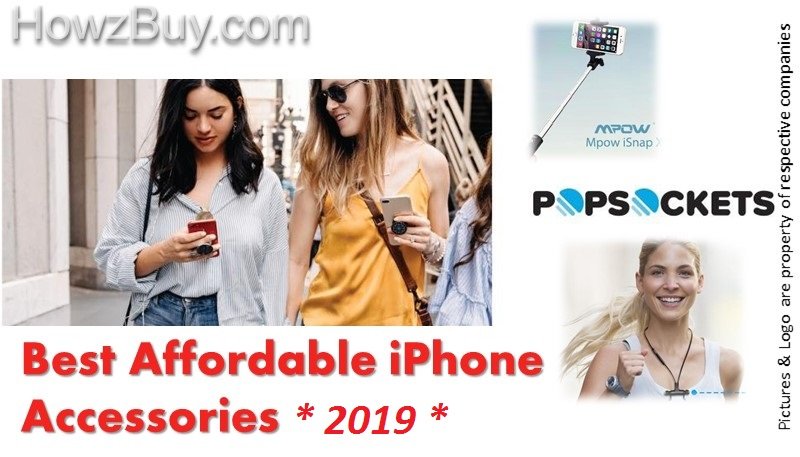 Yes, owning an iPhone is meant lot to you, so as me. and as and when the next iPhone gets launched you will get thousands of new launches of accessories in market the next day.
And while you handle the iPhone and use it to take a call, listen to the music, or take photographs, there are many accessories to assist and enhance your iPhone experience.
Yes, in this blog-post I am talking about best affordable accessories for  iPhone in the beginning of year 2018.
Best Affordable iPhone Accessories 2019
What do you do most of the time with your iPhone?
Obviously it is handling the iPhone, holding it in hands to take a call, browse on Instagram, typing messages or watching an movie ….
and for this handling I am suggesting to get Best iPhone Grip by Popsocket
Simply stick the PopSocket grip to the back of your iPhone, then just expand to use and collapse to lay flat. When expanded it provides a secure grip to prevent the dreaded iPhone drop. or even can be used as a stand while you watch movies.
Helping you to text, watch movie, show off, and simply collapse to fit into bag.
Get your Popsocket Grip from Amazon here
---
Protect your phone with a stylish Case
Yes, next important thing that comes to my mind is the protection case for my iPhone.
And mind it, the style and function matters for my iPhone.
It should be slim, elegant design matching to the class of my iPhone while providing a textured grip along the edges to prevent slips, it should also protect my screen while laying down. The air cushioned corners shall provide added protection during drops.
So I am proposing Silk iPhone 7 Plus/8 Plus Grip Case – BASE GRIP Lightweight Protective Slim Cover – "Kung Fu Grip" which provides :
Super grippy texture : simply say goodbye to drops

Slim & durable

Air pocket corners : Airbags for your iPhone

Clicky buttons

Free Screen Protector

Wireless charge compatible
Get your Grip Case from Amazon here
---
Now its time to get some selfies .. yes, the second most important task after basic things like taking calls !!
Best Selfie Stick for iPhone
So here I have found the best iPhone selfie stick from most seller the Mpow, which is one of the top brands now.
Mpow Selfie Stick salient features:
Fully Adjustable:
a 270-degree adjustable head to capture the perfect shot no matter which way it's angled.
Light and Compact:
a 31.5-inch maximum length ​but folds up to a highly portable 7.1 inches, so it's easy to throw in a backpack or purse (or even your pocket!).
Bluetooth:
With built-in Bluetooth remote control & great battery
It also comes with an 18-month warranty in case it gets damaged.
Get Best Selfie Stick for iPhone from Amazon here
---
Now you have done with taking calls from iPhone, getting some nice selfies … and its time to listen to some nice Music ..
So there are two ways to listen to the music ..
Listen directly from iPhone using a pair of nice headphones
Listen with friends using a small Bluetooth speaker
Yes, I will be suggesting both gadgets for you
Best Bluetooth headphones for your iPhone:
Here also I am recommending the best of best .. high seller on Amazon … with many features .. SoundPEATS Bluetooth Earbuds with following features
Multi connect:
Connect two devices simultaneously and work with most smartphones.
Continuous music time: Powerful battery
Enjoy up to seven hours of music on one charge (Charging time takes one to two hours)
Sweatproof : good for Gym
the sweatproof design which can withstand a day at the gym.
Magnetic Grip: no need to find a place to keep earbuds
One of the most useful thing with these earbuds is the magnetic back which allows clipping them together and hence you can wear them like a necklace while not in use, so you need not find a place to keep them.
Sound Quality:
Delivers crisp sound quality, With noise-cancelation technology
Comfortable fit:
Supplied with four pairs of ear tips (XS/S/M/L) and three pairs of ear fins to ensure maximum comfort.
Get Best Wireless earbuds for iPhone from Amazon here
And lastly a Best Bluetooth Portable Speaker for your iPhone
Here I am recommending one of the best by Anker, feel free to use if for outdoors.
Salient features of this Anker Bluetooth speaker:
Plenty of Playtime:
get monster playtime up to 20 hours of playtime (uses powerful 2100mAh battery)
Compatible with all smartphones:
Uses, Bluetooth 2.1 and up, hence compatible with your iPhone, as well as supports a standard 3.5mm (AUX) audio port too.
Get Best Wireless Bluetooth Speaker for iPhone from Amazon here
iPhone 4, iPhone 5, iPhone 6, iPhone 7 accessories, cheap, latest, best, 2019, new, latest, trends, market, style, function, buy, shop, best buy price, online, amazon, offers, discount, season, holiday, color, options