Its over couple of months now that I bought my Home theater PC and now its time to graduate! Yes, as a part of getting more lazy now that I want to buy a wireless keyboard with an integrated touchpad which will connect to my living room partner allowing me to enjoy my favorite videos remotely lying in coach spending weekends like a breeze.
In fact home theater PC itself has brought into powerful and flexible means to my life incorporating smartness, however although Windows 10 has made my life easy, still sometimes I need to deal with the operating system.
So I wanted to get a nice and simple means, may be as an accessory which will allow me to do the things remotely.
And it means I should have a wireless keyboard for HTPC.
Obviously there are numerous options in market from various brands at prices ranging from $20 to $100, so its a dilemma which one I should choose for me?
The year 2020 has brought in some new options at cheaper prices compared to the proven ones in market from Microsoft and Logitech, and that is why I also researched new keyboard options for prices, reviews, features and durability.
In this post I will be writing about proven options from Logitech and Microsoft as well as new introductions with integrated touchpads which are slowly catching up the fire due to the features and price range they are available for.
5 Best HTPC Wireless all-in-one Keyboard and Touchpad – 2020
Now most of these wireless keyboards can be with Windows 7 or later, including Windows 10, Android 5.0 or later, and Chrome OS.
Most of them work on Radio frequency (RF) receiver at aka unifying receiver (on frequency of 2.4 GHz) which you need to plug into USB port of your HTPC device.
Beauty of RF over Bluetooth is that RF receivers do not need to be into the line of sight like a Bluetooth receiver, with over range of about 10 meters (33 feet). But one drawback is it needs its unifying receiver and since most of the modern devices are also Bluetooth enabled, you can't take advantage of that.
In case you also wish to keep compatibility with the Bluetooth then you do have options of buying duel compatible wireless keyboards, I got those options too during my research.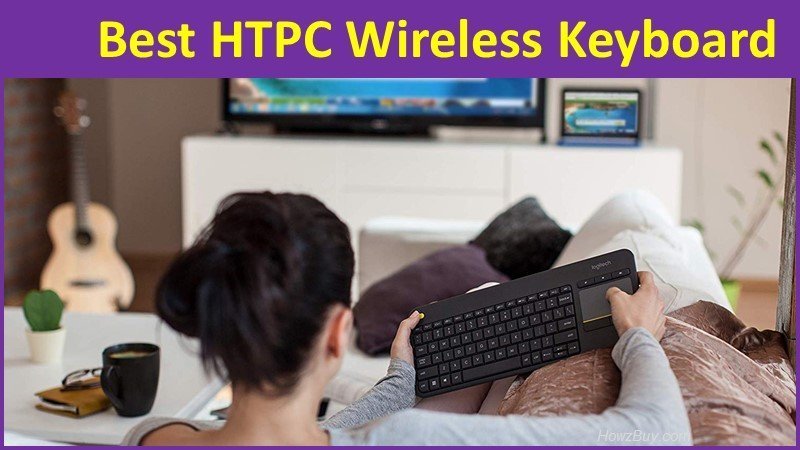 Lets see the top choices one by one –
Logitech Wireless Touch Keyboard K400 Plus
Logitech is proven and well known brand for the home theater PCs and other living room gadgets.
And K400 is the most sold wireless touchpad keyboard on earth!
This keyboard is powered by two AA batteries with life of over one year!
Pros
Simply Plug and Play device
Easy to use
Quiet keystroke operation (best for night)
Large touchpad with multitouch support
Good battery life
Operating distance of 33 feet
Trackpad with physical buttons for left and right mouse clicks
Cons
No backlit keys (difficulty in night operation)
No dedicated number pad
Dedicated media keys are limited to volume up, volume down, and mute, though virtual function keys for pause, back, and forward are inset into the F-row
The retail price on the K400 Plus is $24 (as on 04 Aug 2020), however often its sold for less, I suggest to check the latest price before you buy – Check latest best buy price of Logitech K400 Plus
Logitech Wireless Touch Keyboard K830 – 
Illuminated
Now when I speak of the cons of K400, you can have better options by spending few more dollars.
So you can get even more stylish and feature powered K830 model with a back-light and rechargeable battery pack.
Pros
Backlighting – Super useful for night use with pleasant backlighting
Simple and quick set up
Improved quality of typing experience as compared to K400
Large Track-pad to control media
Rechargeable battery with 10 days life in single charge
Compatible to Unifying receiver as well as Bluetooth
Cons
Slightly heavy as compared to K400, but its slightly bigger too.
Mushy keys
Primarily for Windows use
Trackpad is not multitouch
Keyboard is a bit noisy as compared to K400
However K830 is much more expensive than K400, so its important if you really want a Bluetooth connectivity as well as backlighting by spending about $59.99 (as on 4 Aug 2020), however often its sold for less, I suggest to check the latest price before you buy – Check latest best buy price of Logitech K830
Microsoft All-In-One Media Keyboard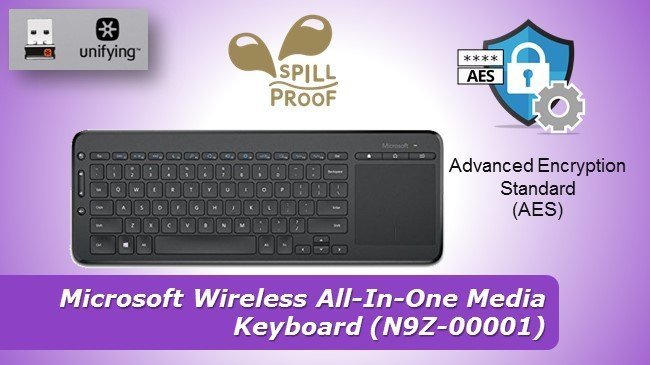 Microsoft obviously the inventor of easy world sells its own version of wireless keyboard with trackpad.
MS keyboard also runs using Two AAA batteries delivering life of about 9 months.
The wireless USB dongle works over a range of 10 meters (33 feet)
Microsoft's keyboard is the only one on my top 5 list which has a water resistance feature.
Pros
Quick & easy setup
Built-in touchpad and mouse buttons
Quiet keyboard operation
Compact and super lightweight design
Volume controls plus three customization buttons given for media functions
Dedicated mouse-click button on the left hand side of the board (operate using your left thumb).
Spillproof – useful at times you intend to use it during dinner!
Cons
Missing conventional (but secondary) keys
Touch pad is slightly erratic!
No backlighting for keys – so difficult to operate in darkness
Trackpad uses recessed left and right mouse keys which is harder to identify.
To me it looks like Microsoft could have offered a little more functionality or comfort with large sized keyboard with lot of empty space.
Main thing to remember that this is the only Spill proof keyboard in my list, considering that any home user is bound to spill something or the other many times its a good choice spending out $35 (as on 4 Aug 2020), however often its sold for less, I suggest to check the latest price before you buy – Check latest best buy price of  Microsoft N9Z-00001
Rii i8+ Wireless Keyboard with Touchpad Mouse – 
Illuminated
The Rii i8+ Mini Wireless Keyboard is available in two versions, Bluetooth 4.0 and 2.4 GHz RF one.
2.4 GHz RF one is most sold than the Bluetooth version!
This mini keyboard is available at quite competitive cost and sustained over a time-span on Amazon best sellers, hence it gets position in my top 5 list for 2020.
Pros
Simple plug and play operation
92 backlit keys around a QWERTY layout, a multi-touch trackpad
Rechargeable battery
Available in various colors including blue, green, white, red, yellow or standard black.
Cons
No nubs on the F or J keys, which would help you to type without looking at the keyboard
Touchpad is not super sensitive, two finger scrolling becomes chunky!
Not all the media keys mapped to a function
Remember that this keyboard is available under different brand names on Amazon and other commercial sites, I have selected one that shows maximum 4 star reviews and priced around $20.95 (as on 4 Aug 2020), however often its sold for less, I suggest to check the latest price before you buy – Check latest best buy price of Rii i8+ Wireless Keyboard
FAVI FE01 Wireless Mini Keyboard with Mouse Touchpad and a Laser Pointer
FAVI FE01 has taken place in top 5 list of 2020 due to the price and number of features packaged inside the small box. The keyboard is so small which fits in my hands.
This 3-in-1 multimedia wireless keyboard features a Keyboard, TouchPad and a Laser pointer too.
Its a standard 2.4GHz USB wireless receiver, which works up to 30 feet distance.
Pros
Available in 4 colors – Black, Green, Pink and Silver
Plug and play operation
Built in Laser pointer
Built-in rechargeable Lithium-Ion battery, needs 4 hours to get full charge via any standard USB port.
Auto sleep and wake function
Touchpad supports horizontal or vertical use
Cons
Sleep – Awake function brings an issue of sluggish operation after awake, best remedy is to switch if Off and On to get good results.
Poor battery life, makes you keep it plugged to the power source
This is one of the most sold mini keyboard with more than 5K reviews with 3.5 stars, priced around $30 (not available as on 4 Aug 2020), however often its sold for less, I suggest to check the latest price before you buy – Check latest best buy price of FAVI FE01 Wireless Mini Keyboard
Bottom line
Historiclly Logitech Wireless Touch Keyboard K400 Plus is the most sold wireless keyboard with touch pad used for home PC's and for those who needs basic remote functionality, it is preferred option in all the above listings.
However if you wish to get keyboard used in night-time when the living room lights are off, then you better go for the advanced version from Logitech called as K830, although it will cost bit high.
Microsoft's own wireless solution is not so popular though you may opt for it only for the reason of being spill-proof!
Finally I got two more options of keyboards which are kind of fancy and tiny in size, available at lower pricepoint than these famous once, you may like to give it a try.