When I decided to buy Roku stick for online streaming on my TV, I got confused looking at so many models like Roku Express vs Roku Premiere vs Roku Express+ vs Roku Streaming Stick vs Roku Streaming stick+ vs Roku Ultra. Wow! son many models to choose from and very difficult to decide Which is the Best Roku Stick in 2020? So I studied difference in all Roku models like which of Roku stick can stream Netflix, Hulu in full HD mode (since the stick I owned does not support Netflix due to its privacy policy – so on current Anycast stick I can only listen to Audio of nexflix and no video!)
One more thing is that Roku company website shows only two models! where as if you goto online websites like Amazona or Walmart you will see different versions of Roku models, honestly I have not understood why? Anyway lets look into which all Roku models are available and which is best Roku out of all.
First thing that is GOOD is that all Roku streaming devices can stream the main attractions i.e. Netflix and Hulu. Obviously Roku sticks can also stream other channels like Amazon Prime, NBC, ABC, Fox, The CW [ad-supported TV episodes],  PBS, PBS Kids , Crackle by Sony,  Popcornflix,  Pluto.TV, YouTube,  Reuters, and many others.
So what the Roku sticks differ  is other options, like 4K streaming and wired connectivity.
Best Roku Sitck in 2020 | Total 6 models to choose from $30 to $80
Roku Express vs Roku Premiere vs Express+ vs Streaming Stick vs Streaming stick+ vs Ultra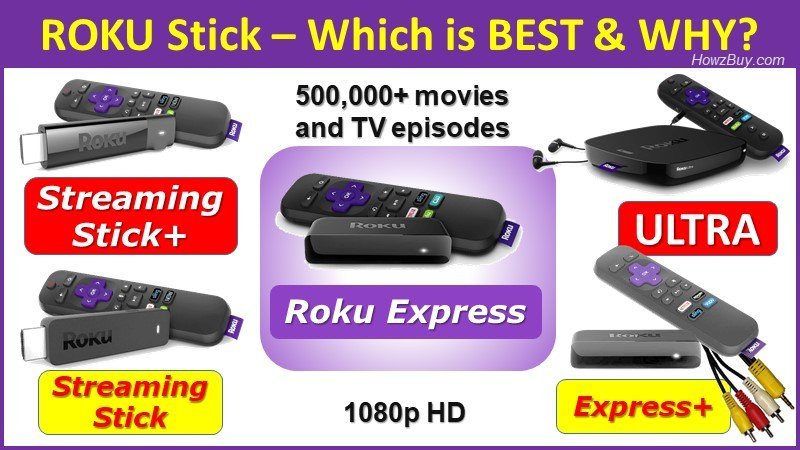 I the above overview I have tried to enlist the models as per the price as on April 2020 and its incremental features so that you can choose the lowest priced model which is suitable precisely for your need.
Let's look at simple feature and specs comparison chart for all Roku devices including latest launched Premiere & Ultra devices. The chart is also highlighted in GREEN color cell background for quick identification where the stick differs from other Roku stick. Later I will talk about each device and its benefits for you.
Roku Sitck Specs Comparison Chart (updated April 2020)
Roku Express

Roku Premiere

Express+

Streaming Stick

Streaming stick+

Ultra

Best Buy Price
Roku Express
Roku Premiere
Roku Express+
Roku Streaming Stick
Roku Streaming Stick+
Roku Ultra
Picture Quality
Up to 1080p HD
1080p HD, 4K UHD up to 2160p at 60fps, HDR10, HLG
Up to 1080p HD
Up to 1080p HD
1080p; 4K up to 60fps
1080p; 4K up to 60fps
Voice remote with TV power and volume buttons
Plain remote
TV power and volume buttons, voice commands
TV power and volume buttons, voice commands
Headphone jack for private listening
Ports
HDMI
HDMI
HDMI,  A/V cable composite port
HDMI
HDMI® (4K video via HDCP 2.2 HDMI®)
HDMI® (4K video via HDCP 2.2 HDMI®)
Internet connectivity
802.11 b/g/n
802.11ac dual-band MIMO
802.11ac dual-band MIMO w/ advanced wireless receiver; extended range
802.11ac dual-band MIMO and Ethernet Port
Supported Audio
DTS Digital Surround, Dolby Audio and Dolby ATMOS pass through over HDMI; Digital stereo over HDMI
Voice Assistant
Works with the Google Assistant
High Range
No
Advanced wireless receiver for up to 4X the range
No
Premium features
No
Premium JBL headphones, remote finder, gaming buttons, headphone jack, microSD/USB/Ethernet ports
App
Free Roku mobile app with remote control, private listening and voice search
The summary clears of what is that you get extra compared to the BASE version of ROKU.
Still lets see what you get in the BASE model (minimum(
Common features across all ROKU MODELS & Exceptions
All Rokus are having following common features –
Powered by Quad-core processor
Can play Video: 1080 HD up to 60fps
Basic wireless capabilities: 802.11 b/g/n
Dolby Audio™ and DTS pass through via HDMI®
The remote has Channel shortcut buttons to popular streaming channels
Roku Search™ – search across top channels by title, actor, or director
Roku Feed™ – get updates on content availability & price changes
Hotel & Dorm Connect for wireless internet connections that require user login
Screen Mirroring for Android™ & Windows® devices
Free Roku mobile app for iOS and Android™
Use your phone as a remote control
Private listening via Roku mobile app
Cast personal photos and video to your TV
NEW Voice search for iOS® and Android™ devices. Limitations apply to the Roku mobile app for Windows devices. (with new OS 8 update you have this capability to all ROKU devices)
So just say "Launch Netflix" or "show me movies starring Michael Keaton" and done.
NEW single sign-on option, so cable login credentials don't need to entered repeatedly into different apps.
NEW 4K Spotlight Channel which is useful for those with the super-high-res TVs. So it can instantly find the content that supports their sets.
1) BASE model – Roku

Express

Review
This is the cheapest option available, but your TV should have basic HDMI port for connection. If your TV is old then go for Express+ model with AV port.
The streaming player does not need any technical competency and just plug and play type setup.
The remote provided is also having bolt buttons which are easy to use and easy to navigate.
You will be able to watch about 500,000+ movies and TV episodes, and all Rokus are now voice search capable with latest update. Simply scheme through 1,000+ top channels, movies, popular shows almost at FREE of cost or fees on The Roku Channel.
You can easily connect to the online portals such as Netflix, Amazon Prime Video, HBO NOW and SHOWTIME or even famous cable alternatives like Sling TV or YouTube TV or live sports and news channels on CBS News, ABC News and ESPN.
All you have to do is download the FREE mobile App and begin streaming, private listening, or voice search.
Best Buy Roku Express, $
30

(as on April 19)
2) BASE model + 4K – Roku

Premiere

Review

If you own a latest 4K TV then I suggest you to spend $10 more as compared to the base version to get this 4K capable streaming stick from Roku called as Roku premiere.
If you compare LED 4K TV versus LED 4K Android TV, you will find vast price difference, so instead spending more money on getting an Android TV, you can simply choose Rooku  premiere stick with 4K capability.
This is cheapest 4K capability Roku streaming device.
Cheapest 4K Capability – BEST BUY Roku Premiere, $
40

(as on April 19)
3) BASE model + A/V Cable – Roku

Express

+ Review

Well if you have an old TV without HDMI port, then do not worry or replace the TV only for that reason, simply go for the Roku Express Plus model which do have AV cable output, which is compatible to all OLD TV sets.
So this saves tons of money for you 🙂
Suitable for
OLD TV

Sets – BEST BUY Roku Express+, $

60

 (as on April 19)
4) BASE model +Voice Search Enabled – Roku

Streaming Stick

Review

Rescently Roku has updated their App so that all versions can use voice search via the mobile device, however if you do not want to use mobile for voice search, choose this Roku streaming stick, which provides a remote control having voice command capability.
But remember just for voice search you are spending $17 more.
5) BASE model +4K and HDR capability + LONG RANGE – Roku

Streaming Stick

+ Review
Many homes have the WiFi router located in the central region of home so that you get range all over the home starting from kitchen to hall even in patio or backyard, this puts in some compromise on signal strength and streaming device can't catch signal resulting into interrupted videos.
To resolve this issue you can choose the Roku Streaming Stick Plus model which have extra long range using special antenna. This enable use of Roku even when the signal is weak. The receiver is USB powered.
Rest things remains same.
6) BASE model +microSD + Ethernet ports + gaming buttons+ headphone jack – Roku

ULTRA

Review

If you have latest TV set with HDMI port and want a most powerful Roku ever for you, then simply go for Roku ULTRA.
Its All-in-one pack containing a microSD card, voice search from the remote, an Ethernet connection, gaming buttons, headphone jack for private listening, remote finder, and 4K capabilities.
Of-course I know that Roku is not meant for gaming, but the Ultra model remote includes A and B buttons for simple games such as Snake and Solitaire!
Bottom line
Roku streaming sticks is a way to convert your home TV to a Home theater, once you install it, forget about going to a movie theater to watch latest movies! Save time, traffic and tons of money with FREE and paid options which are worth it.
The Roku sticks are easy and quick to install and use, no technical knowledge is needed to use them.
The remotes are super intuitive and easy to use, some models do have voice controls on remote and all models can have voice search via a mobile app (iOS and Android both)
All that differs is AV port, long range, 4K capability, private listening etc. which is well explained by me in the introduction section with each product name, so that choosing the right Roku is very easy.
Please let me know by putting comments down if this article is found useful for you to choose right Roku in 2020.
Thanks!