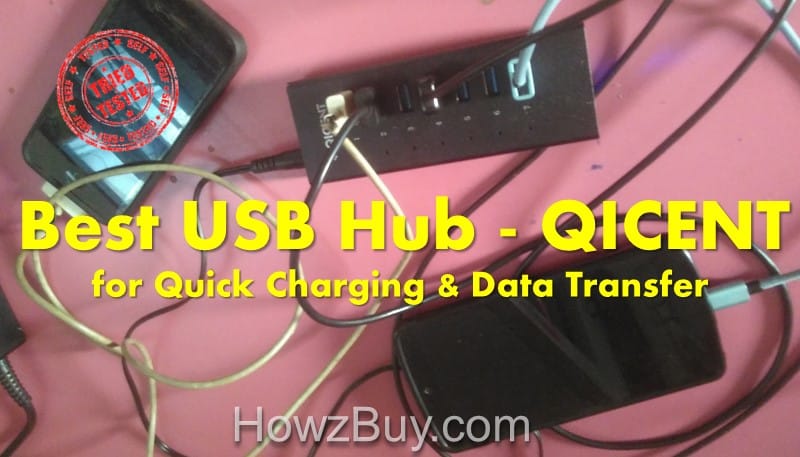 Need for USB Hub:
There are several reasons today to have a USB hub connected to your laptop or even desktop.
Data Transfer:
One of the major reason is data transfer …. connecting more number of devices together like external HDD, Smart phones, Cameras , Printers, Scanners, Keyboard, Mouse, 3D controller and the list is ever increasing due to new gadgets introduced each day in market.
Charging:
One more reason for having an USB hub is putting multiple mobiles for charging ! yes .. like my home, I have almost 6 mobiles, 2 tablets, one kindle and I need to put them all for charging on a day or other !! so everywhere you can see chargers plugged in with dangling cables!!
Solution is here which is simple and cost effective:
Yes, answer to both the above question is to use an USB hub having multiple high speed data transfer cum charging ports, making your lifeub easy and super compact.
Best USB Hub for Quick Charging & Data Transfer – Anker or QICENT ?
Now while I search for the USB hubs in market obviously Anker is the market leader ! but even there are other players in market coming up with better products and that is why I have compare the QICENT 7 port USB 3.0 hub with Anker 7  port USB hub.
Here is simple table showing comparison of features that I have gathers around internet .. here I also have highlighted the major features which are better over each other by GREEN or ORANGE color .. and once you go through the table, I have narrated my own experience using QICENT 3.0 USB Hub.
Compare Anker USB hub versus QICENT USB Hub
Anker 7-Port USB 3.0
QICENT 3.0 USB Hub

Best Buy Anker USB Hub

Best Buy QICENT USB Hub

super-fast data transfer rates
5 Gbps for up to 7 devices (Simultaneously)
High-Speed Charging

 7th port provides a 2 amp high-speed charge

and combines with the other 6 ports to deliver a total 6 amp charge.
Each USB port provides 2A high-speed charge with 2A power adapter, all 7 port support BC 1.2 quick charging protocol.
Broad Compatibility
High-grade chipset and adapter guarantee stable operation, including plug-and-play and hot-swapping functionality. Works flawlessly on Windows XP/Vista/7/8/10 and Mac (OS X [10.2 and above]).
Compatible with Windows 10, 8.1, 8, 7, Vista, XP, Mac OS X 10.6 to 10.9, Linux 2.6.14 or abov

Support plug-and-play and hot swapping, no additional Driver or Application is needed

Surge protector
??
Built-in surge protector keeps your devices and data safe and support plug-and-play, hot swapping.
Power Adapter
12V / 3A power adapter
12V / 2A power adapter (power cable is 4 ft long )

Can offer max to 3A high-speed charge for your devices if change to connect a 12V/3A Power Adapter, all 7 port support BC 1.2 quick charging protocol.

USB Cable
2.7 feet USB 3.0 cable
3.2 feet USB 3.0 data cable
Reverse compatibility
2.4 Ghz wireless devices (keyboards, mice, etc.) may not work around USB 3.0 ports. Try using a USB 2.0 connection.
Reverse Compatible USB 2.0 and USB 1.1 connect
Quality
Sturdy aluminum body withstands scratches and bumps, and can be used for longer
Data transfer LED indicators
Not available

Available

Warranty
18-month hassle-free warranty
Anker 7-Port USB 3.0
QICENT 3.0 USB Hub
Best Buy Anker USB Hub
Best Buy QICENT USB Hub
Which one shall I choose Anker or QICENT 7 port USB hub?
High Speed Charging: QICENT provides all ports with 2 amp
Anker provides only one port which is 7th one to support 2 amp high speed charge as against QICENT provides all 7 ports with high speed charge.
So if you wish to use the USB hub for charging multiple smart phones or tablets at home or office, QICENT wins providing all high speed charging ports.
High Speed Data Transfer:
Both Anker and QICENT USB hubs provide same 5 Gbps data transfer speed for 7 devices (Simultaneously) so here its win-win situation for both.
My experience using the QICENT 3.0 USB Hub Powered with Universal 7 Charge and Data Transfer USB hub:
Excellant data transfer rates
High speed charging works great, I am able to charge 7 devices at a time with no issues
Yes, I am highly satisfied with its performance.
Final recommendation for 7 port USB hub:
Looking at the benefits of high speed charging which is one of the main requirement, I would like to choose QICENT 7 port USB hub, this also provides reverse compatibility for USB 2.0 and below which is an added advantage as per me.
---
Important Note:
2.4Ghz wireless devices, such as Bluetooth keyboard and mouse adapter, may not work in close to USB3.0 which may lead to malfunction. Such devices should be connect to USB2.0 port is recommended
---