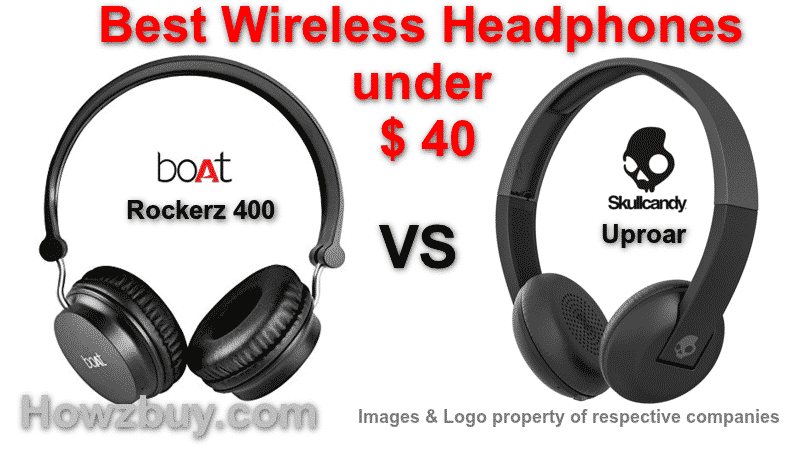 Good music needs great headphones! For some people, music is the only way to kill boredom. Some love to groove to the music and some are casual listeners. If you are also an avid lover of music, then you must have good headphones. We have a wide range of headphones available in the market but today we are putting light on the Boat Rockerz 400 & Skullcandy Uproar.
Best Wireless Headphones under $40
Boat Rockerz 400 review
If we talk about the sound, it has awesome sound quality and volume. Noise cancellation is great but we can hear headphone's sound when it's in use. The sound is clear and crisp.
Bass of the headphone is quite good. It provides good bass in this price segment. The neodymium magnet creates great bass. If you are listening songs at high volume, you can feel the bass as it vibrates.
The Bluetooth range of this headphone is also good. We can use this headphone with quite good distance from phone or laptop. It connects with Windows laptops too.
If we consider the battery, I must say that this headphone has good battery life. It takes 2 hours to charge fully and works well for around 8 hours! It indicates low battery by giving beep sound. You can also use AUX cable to use the headphone without battery.
It can be used as Bluetooth call receiver as well. There are 3 buttons on right side of the headphone. You can adjust the volume while using Bluetooth connectivity. You can also play/pause and receive/end calls using the middle button. The call quality is good. It has inbuilt microphone also which helps in calling.
The built quality of Boat Rockerz 400 is quite good. The black color looks good on ears. It is comfortable and lightweight too.
Skullcandy Uproar
Skull Candy is making waves within the budget headphone market with their new Uproar Wireless set of cans. The orange and black headphones can be found online at around $40 and are definitely worth the money.
The Uproar Wireless is mostly made of plastic which makes them extremely light. Durability wise they bend a fair bit, but I wouldn't want to drop them from head hight.
The pads on the ear cups make these pretty comfortable to wear. They are on-ear headphones meaning they will sit on top of your earlobes and not fully submerge the ear. Noise isolation, however, is still pretty decent as they do hug your head somewhat.
One thing I'm not keen on about the Skull Candy Uproar Wireless is the fact I don't have the choice to use them wired. Yes I know they are intended for wireless purposes, and yes I know there is a cabled version, but still, 90% of wireless headphones we've tried out in the past have had a cable feature.
That isn't to say these headphones are bad though, for the price they're still pretty good. What happens if I run out of battery and will not be home for the rest of the day to charge? I'm stuffed. I don't want to carry two pairs of headphones with me.
Where these headphones shine though is the sound quality. There is a heavy focus on the bass frequencies that can make your music really pack a punch. The highs and mids are crystal clear too which is surprising. I would have thought the bass would have overpowered the rest of the music, but nope, they're pretty well-rounded.
For people into softer music such as classical, I probably wouldn't recommend these, simply because of the bass. But they do bring a different listening experience to softer music.
The controls are extremely simple. There is a connection button plus volume up and down on the right ear cup. They're nice and big too so you won't be fumbling around the back of your head to accurately press a button.
I was pleasantly surprised with the Skull Candy Uproar Wireless. I keep saying it but they're a great price for the quality of music you get out of them. They look pretty stylish too. They're not too big either so you don't have to worry about standing out in a crowd. You can find more information and purchase the headphones directly from the
Verdict
Device
Pros
Cons
Boat Rockerz 400
Cheap in Price

Great Bass Quality

Feels uncomfortable after long period of usage
Skullcandy Uproar
Good Highs and Lows,

Crystal Clear

Has no 3.5 mm Jack in case of emergency battery drain you can't connect an aux cable to keep the music on
Both Headphones are the Best buy Skullcandy being the choice of many for its looks build quality
and rich sound quality.
Boat, on the other hand, promises to deliver the same match while lacking a bit in looks.
Boat Rockerz 400 comes at a price cheaper than the Skullcandy Uproar which can be a decisive factor for some.
I suggest you go with the Boat Rockerz 400 considering its audio quality and build quality.