Cowin E7 – Finding a best headphone in budget is always a challenging task. Most of the people wants  a casual headphone that will feel comfortable & also produces good sound. Without being heavy on their pockets. When it comes to headphones, you'll always find a word " Noise Cancelling". Noise cancelling is reducing ambient or background sound using active noise control. It reduces background sounds like TV's, people talking, equipment sounds or your mom or friends yelling  😆 . So you can enjoy music without any disturbance.
There is a wide range of headphones available when it comes to noise cancelling headphones. So Which is the best budget noise cancelling headphone available today ?? Well, we found Cowin E7.
E7 is a Active Noise Cancelling, Wireless, Bluetooth, & Over-ear-Stereo Headphone.
Cowin E7 Active Noise Cancelling Wireless Bluetooth Headphones Review

Cowin E7 Design
The Cowin E7 designed to be very lightweight, comfortable & stylish. The ear pads are super-soft & headband is adjustable.  You can easily and quickly adjust volume, track skip and play/pause your music with buttons on headphone. On-Board Mic pulse remote for taking calls. There is Aux input & USB charging port on bottom. Pairing up your audio device is easy and very quick when you use the NFC (Near Field Communication) touch and pair function.


Cowin E7 Features
Noise Cancellation – Cowin E7 headphones are equipped with Active Noise Cancelling technology. With the simple swipe of a button you can block all the noise from the outside world. You can easily switch in and out of the active noise cancelling mode, from the side of the ear-cup. So you can surround yourself exclusively with your favorite music. Noise cancelling is a great feature for those who travel, need some quiet environment at home, or for anyone who want to hear what they want without outside disturbance.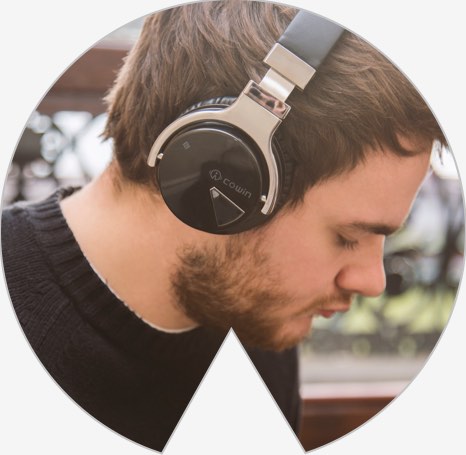 Cowin E7 Sound Quality – The 40mm ear-cup aperture drivers helps to deliver an extended audio frequency range, which will bring you parts of the music you would not normally hear. Cowin E7 delivers rich and accurate bass, with very crisp mid to high end frequencies for a truly exceptional sound experience at your ear.
Bluetooth –  Thanks to the built-in Bluetooth, there are no strings attached. It really gives you freedom from annoying long wires that are constantly wrapped around you. Those tangled wires makes me even more angry.
The wireless feature really helps when working out , doing your work or going for a walk with listening your favorite music. You don't even  have to worry about your phone or player falling outside of your pocket.
Cowin E7 Battery
Impressive battery life and fast charging process will make you fall in love with the Cowin E7. Cowin E7 delivers impressive 30hr battery life, so it gives you enough time to explore your music world without worrying about charging it. Its fast fuel feature gives you over 1 hour of playtime within 10 minutes of charging. It also includes 3.5mm Audio Cable, so even if your battery is drained you can just plug in & enjoy.
Comfort
The ear-cup pad design makes it super-soft and flexible, as a result you can comfortably wear your Cowin E7 Headphones for as much time you want. The Cowin E7 headband also has a soft padded lining for extra comfort and is fully adjustable to provide a good fit for everyone. The ear-cups can twist 90 degrees, which is helpful when you are packing your Cowin E7 into your bag or just want to store them somewhere safe.
Finally , I'm dividing my review into Pro's & Con's
The Good

The Bad

Active Noise Cancelling
Wireless

Easy to operate
Comfortable
Excellent battery life

Not Foldable
Cowin E7 – Our Verdict
At the end of the day, you will figure out that these headphones have much better features than the most of the headphones around this price range. The exceptional sound experience, great battery life, wireless features, and fast recharging make this pair of headphones very travel friendly. Cowin E7 are the best wireless headphones you can buy under $75

What's In The Box
Cowin E-7 Active Noise Cancelling Bluetooth Headphone

E7 Micro USB Cable

3.5mm Audio Cable

Cowin User Guide