In the event of NEW Launch of Galaxy Buds by Samsung which are called as the headphones for Galaxy S10 … I was expecting more unique and futuristic design from Samsung – But …. it will be interesting to study and see the comparison of Galaxy Buds vs Gear IconX 2018: Worth The Upgrade?
There are numerous discussions over internet if the new Samsung Galaxy Buds are competition to the Apple AirPods? But to me first it has to be seen if at all they have improved it to an acceptable level from their own old model Samsung Gear IconX in itself which was launched in 2018.
With numerous options ranging from $20 to $300 from small off-brands to the giants like Apple who has sold millions of earbuds till now, Samsung trying to gain place introducing an impressive upgrade of its old Gear IconX
Although Samsung have plenty of fanfare around them, its a million dollar question if their fans are ready to spend a hefty cost?
So lets see first the technical specs comparision table to compare where all they have changed or improved the design and then dive into each technical details like Sound, Size, Style, Wireless charging etc.
Galaxy Buds vs Gear IconX 2018 Specs comparison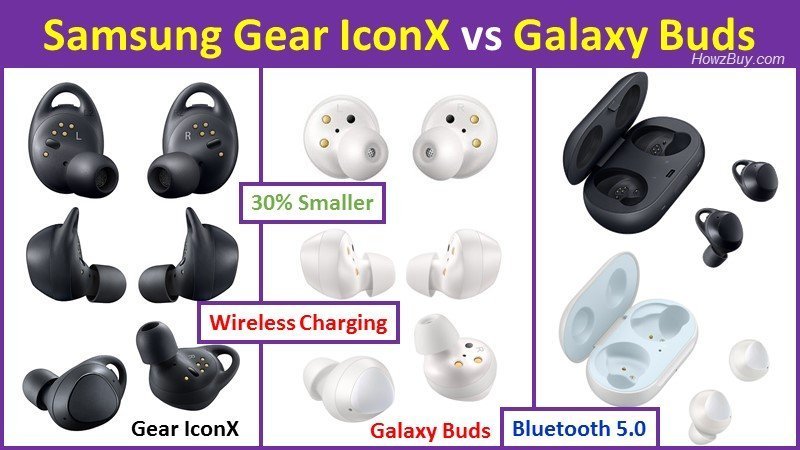 Bluetooth Cord-free Fitness Earbuds

Samsung Gear IconX

Samsung Galaxy Earbuds
(galaxy s10 headphones)

Discount offers

Color
Black, Gray, Pink
Black, White, Neon Yellow
Bluetooth
Bluetooth® v 4.2
Bluetooth 5.0
A2DP, AVRCP, HFP
Waterproof rating
IPX2 sweat-proof
IPX2 splash-resistant technology
handle splashes, a little sweat and the accidental spill
Sensors
Accelerometer, IR, Capacitive Touch
Accelerometer, Proximity, Hall, Touch
Earbud battery
82 mAh
58 mAh
Charging case battery
340 mAh – The charging case provides 1 extra charge on the go
252 mAh
– the charging case provides up to an additional seven hours
– 15-minute charge in the case will get you up to 1.7 hours of play time
Play time
up to 7 hours (Standalone Mode) / up to 5 hours (Bluetooth Mode)
upto 6 hours, wirelessly recharge for 15 minutes to get up to 1.7 more hours of play time.
Talk time
up to 4 hours
up to 5 hours
Compatibility
Android 4.4 or later, RAM 1.5 GB or above
* iOS supports music streaming and hands-free controls only via Bluetooth®
Samsung, other Android: Android 5.0 or higher & RAM 1.5GB above
Speakers
5.8pi Dynamic Driver
Specs not available
Built in memory
4GB (per earbud)
Specs not available
Music storage capacity
Up to 1,000 tracks
Specs not available
Audio Formats
MP3, M4A, AAC, WAV, WMA (WMA v9)
MP3, M4A, AAC, WAV, WMA (WMA v9)
Audio Codec
Samsung Scalable Codec, SBC
 Scalable (Samsung proprietary), AAC, SBC
Voice Guide
Language
English (U.S.), Chinese (China), German (Germany), French (France), Spanish (U.S.), Korean (South Korea), Italian (Italy), Russian (Russia), Japanese (Japan)
USB charging port
2.0 & Type-C
Earbud size
18.9 (W) x 21.8 (D) x 22.8(H) mm
17.5 x 22.5 x 19.2 mm
Earbud weight
8.0 g per earbud
5.6 g per earbud
Case size
 73.4 (W) x 44.5 (D) x 31.4(H) mm
70 x 38.8 x 26.5 mm
Case weight
54.5 g
39.6 g

What are the Major improvements in Samsung Galaxy Earbuds?
The original Gear IconX were designed for the Android users (preferably Samsung) as well as the iOS ones. However features like Real-time coaching and ambient sound pass-through were available only for the Android phones.
They worked as standalone media player too using stored music, which was feature intended specially for the Gym goers eliminating need of carrying the phone around.
The Tap-to-Control feature was liked and hated by many, which was intended to ease use during workouts!
It was powered by music presets like Bass Boost, Soft, Dynamic, Clear and Treble boost which were useful to tweak the taste while on run with simple touch pad lock.
One of the most liked feature was Voice Focus, which allowed adjusting the ambient sound levels, I mean listen to the people around without taking out the earbuds.
Another liked feature was the Auto Tracking mode which detected the motion like walking or jogging to log time, distance and the calories burned, which then get sync with the S Health App on phone to track progress, however as said earlier this was available for Android users only. And it also used to work like standalone coach on the go like getting instructions "Speed up to reach 8.5 km/h"
So now lets move on to look, what is that you get in the latest UPGRADE –
In comparison to the Samsungs Own Gear IconX
Look and Feel – Compact
Galaxy Buds are made around 30% smaller than original Gear IconX.
The look and feel remained almost similar except the size and colors, I was expecting them to be much more catchy in terms of fit and finish and more sleek, that is how they would be able to compete with the Apple AirPods! But looks like Samsung is miles away from being there.
Colors changed from Black, Gray, Pink to Black, White, Neon Yellow.
L and R marked to show which bud goes in left and right.
They are marked as Sound by AKG, looks like the sound is tuned by AKG but the drivers NOT!
Priced around $129 as against $200 for old Icon X which is too good, for sure this will attract more consumers to get hands on these earbuds at such a low price.
May be you can also take it as a must upgrade or buy the new Samsung buds for sure.
Bluetooth connectivity
Old IconX used to have Bluetooth 4.2 as against Bluetooth 5.0 in the latest launch.
What it means is more stable connection over a longer distance, as well as you will be able to connect these earbuds to multiple devices at the same time, means connect them to iPhone and iPad at the same time, One to watch a move and other to take calls.
Note – As on Feb 2019, AirPods do not feature latest Bluetooth 5.0 technology.
Samsung have also introduced a new feature called as Connection Shift, which will allow swapping connection between a smart watch and phone faster than ever. Surprisingly Samsung claims it to work on non-Samsung wearables too.
Battery Life : Improved
Major flaw of the Samsung Gear Icon X was poor battery life, when Soundguys tested them thrice for the battery life, as against 5 hours in streaming mode (as the company claims), they found that these buds last only for 1.5 hours.
As against that now the company claims to get battery life of around 6 hours in the Galaxy buds. This is being achieved inpspite of having low capacity 58 mAh battery on earbuds, by using latest Low energy Bluetooth 5.0 protocol.
The quick charging capacity remains the same, that is an hour of use with just a 10-minute charge.
Wireless charging, through the Samsung phone
The most liked thing in this NEW designed earbuds is the wireless charging as called as PowerShare charging.
All you have to do is drop the ear buds on your phone and they will power-up wirelessly! Wow!!
So within an hour they get back to life without even thinking on what technology works behind it 🙂 Cool !!
Number of contacts : Reduced to Two
When you see the earbuds from inside, you will see 5 number of contacts in the old IconX, two were used for charging and remaining for the USB data/music transfer when connected to the Laptop.
Whereas in the new Galaxy buds, you will see only 2 of them, which means the music transfer will no more happen from the USB but only wireless through your mobile app, which is BAD in my opinion. Utility of USB transfer is much more easy for most of the users.
Charging Case : Super Compact NOW + Wireless Charging capable
If you look at the NEW charging case, it is considerably smaller and Lighter with the new earbuds. The old case weighed 54.5 grams as against New one only 39.6 grams.
Also one more positive point is that apart from being capable to be charged using the USB port, the new Galaxy Earbuds are well capable of being charged wirelessly.
Now you can wirelessly recharge for 15 minutes to get up to 1.7 more hours of play time.
Remaining thing like the older case was capable of giving one full charge to the earbuds remained the same.
Amplified Dual Microphones : Improved calls in Noisy environment
When you see the NEW Galaxy buds, look at the 2 microphones, one is located outside to catch the ambient noises and second located inside which picks-up own voice.
Now here is how they say it works!
The outside mic picks up noises in busy environment and decides to use the inside mic to pick your voice, thereby making the other end user listen quietly to the conversation! I am not sure how effectively it is, but surely I will add the experience once I get hands-on to the new buds. OR alternatively you get hands-on before me, please let me know by putting comments in below section.
Earbuds Auto-Mute!
There is a proximity sensor like on the old buds, you will see it on erabuds, which is used to detect if earbuds are put inside ears, this will work like the Apple AirPods where the music gets on Mute as soon as you remove either of buds from the ear.
Voice assistant – Bixby (or Google Assistant, or Alexa)
Bixby will be switched on by default when you buy them which allows to control your phone via Galaxy Buds.
Alternatively you can also tune in Google voice assistant or Alexa too.
Any of these voice assistants can be commanded by a simple tap over earbuds (similar to the previous Gear Icon X earbuds.)
With Bixby you can make calls, send texts, check battery, advance to the next song.
Unfortunately Bixby coaching, a previous fitness-focused feature, is gone.
Comfort – Earbud Tips
Finally like any other headphones in market, Samsung has supplied with Small, Medium and Large Ear-Tips which you can choose from to achieve perfect fit to ears.
---
Galaxy Buds vs Gear IconX 2018: Worth The Upgrade?
YES, Surely Samsung Buds are an improved version of the Gear IconX.
In terms of price you get them packaged in price range similar to that of IconX or even lower than it.
Galaxy buds are impressively small, Light and have comfortable fit. So as the charging case became compact than ever to carry easily inside pocket.
In terms of technological improvements you get latest low energy Bluetooth 5.0 protocol which ensures high quality signal transmission with no latency, Wireless charging capabilities (simply keep the case over your phone), Customizable sound capabilities with single tap, New color options and super light than ever before, wheat else do you need?
---
Galaxy Buds Battery, Bluetooth, Connection Problems?
Charging case does not close when Galaxy Buds are inside
In case you are facing problem of case closing after putting earbuds in – simply check if the wing tips or ear tips are put in the right direction.
In case you have attached the wing tips or ear tips in wrong direction, the charging case door may hinder and not close properly resulting into not charging the buds.
Samsung buds not connecting problem? – soft reset them
Press that button for more than 15 seconds or until the light changes colors Blue, Red and Green.
Now turn on Bluetooth on your phone and you will find buds in the list of devices found, simply touch to repair.
Samsung buds battery problem?
Check and ensure for the following –
– Ensure that you are using the original charger supplied with your earbuds.
– Check your earbuds carefully for any corrosion or missing contacts, this might be the reason of not getting a charge
– Wipe away all sweat or moisture on your earbuds prior to placing them into the charging case
– Check that charging cable or charger connected properly to the earbud case and plugged correctly into an outlet
– Ensure your case is closed fully after putting the earbuds in case.
– Check and ensure that earbuds are OFF when storing