Harman Kardon Soundsticks III Hands On Review After One Year of Usage:
I bought this iconic Harman Kardon SoundSticks III Wireless Bluetooth Enabled 2.1 Speaker Music System about a year back and after through evaluation writing this review for you.
How Did I Fall In Love With SoundSticks!
Almost 15 years back while I was roaming around an electronic shop, accidentally I saw this mind-blowing music system and fall in love with it.
But that time I was just a student not to afford it! Time went by and I forgot about the system.
Recently when I saw this system again on Amazon, I simply clicked it to get into my house 🙂 Wow !!
Yes! Its one of the BEST Acoustic Model in World!
Harman Kardon has nearly 60 years of music history, the SoundSticks-I is the only audio system which became part of the New York City Museum of Modern Art (MoMA) as an example of Best Acoustic Design.
And mind it! The piece is worth of it for sure 🙂
I just bought the best acoustic sound system in world! Herman Kardon Soundsticks III
Click To Tweet
What's difference in Original SoundSticks & SoundSticks III?
Crystal Clear Rich Look:
The latest SoundSticks III carries the Old system of the subwoofer with satellite combination, with the same clear Poly-carbonate (PC) Super Transparant Look. To me it looks like an alien !
Glowing Blue – The Signature of Soundsticks:
It also have the light Blue glowing light, with reduced intensity compared to the older generations, surely it looks amazing during night and does not distracts as it used to be.
Satellite Speakers:
I love these tiny yet powerful rich looking Satellite speakers holding 1 inch drivers delivering stunning 10 Watt Powerful sound.Believe me the Vocals as so clear that you can listen to the whispering sounds clearly.In terms of look, they are similar to Soundstic II with addition of Black Color to the Base Rings. Just an aesthetic improvement.
The bottom rings has angle adjustment and get balanced on its own.
 Subwoofer – The Best of Acoustics! 
The heart of the system is this powerful 10.2×9.2-inch sub-woofer, pointing downwards, delivering Super Rich Soothing Bass through the acoustically designed funnel. I am sure the designer has put in his heart designing this shape. I love it, simply marvelous !!It's down-firing powered sub-woofer generated amazing bass, you can feel it on the floor …
The Wiring – Most disliked part ?
Only thins which I don't like is running thick (but high quality) wires from Satellite speakers to the main Sub-woofer. Although the wires are super strong and protected with exterior double coating, they look like out of the way in sync with the super rick look of the system. But can't help, they are needed to carry music in crystal clear way.
I don't mind them looking odds out.
The 1/8 Inch Jack (3.5 mm)
Again the old system of plugging in your smartphone to Soundstick through typical music-in 1/8-inch input jack, it proven old way which will give you flawless connectivity in minutes with crystal clear sound without any loss of frequency.
Bluetooth Connectivity:
I think this is the main improvement done over years based on Public Demand.The Bluetooth Wireless connectivity works good up-to ~10 meters.But during use at my home, I found that any barrier in between the Bluetooth signal and the Soundsticks Woofer Receiver, you will get an interruption in music play ! This is too much irritating.
The resolution to this issue:
I resolved this issue by keeping the speakers at height, which avoids any interruption / distortion due to human movement between your connected smartphone and Soundstick-III
Capacitive-touch volume buttons:
I love these super-sensitive touch buttons, they work perfectly as desired.
Only thing Harman Kardon can improve upon is display of sound level or incorporating it in a remote control, avoiding me to go physically and change the volume.
Quality of Sound – Simple Unbeatable Performance at Low & High Volumes!
Withing the year I listened to different sound tracks, Dance music, Gazals, POP …..Un-doubtfully it delivers exceptional sound clarity….Crisp and Clear ..You will surely notice the crisp vocals while you listen to Gazals … Specially during night time, when it's quiet around and you want to listen them at very low volume, Wow .. this music system gives perfect justice 🙂
And while you watch movies surely you get the theater experience with clear vocal & super toned bass …
These 2.1 channel speakers delivers distortion FREE extremely loud music in between 20 Hz to 44Hz Frequency ranges. You must feel it.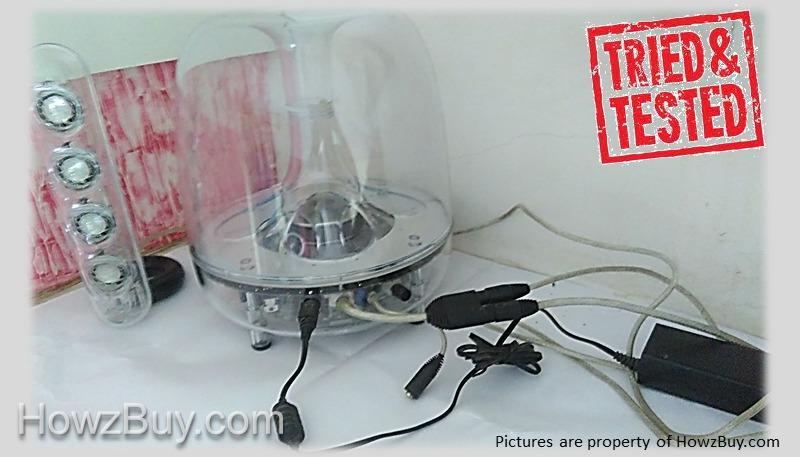 The cons:

Semi-hardwired cables:
First thing is that they remain dangling, in the above picture you can see how messy it is to see such thick cables lying on table! Since I have kept in above the line of sight, visitors are able to see only the Woofer and satellites .. but if you want to keep it on desk, then you need to think creatively to hide the cables.
Also in case of cable damage or failure, you need to get it repaired or replaced.
Lacking Jack for HeadPhones:
It does not have external jack for plugging in headphones
Solution : Purchase a dual-sided 3.5-inch audio cable for the output jacket.
No Remote Volume Control:
If you want to adjust volume, you need to goto Satellite speakers!
If you want to adjust the bass-level, you need to goto the subwoofer!!
Recommendation:
When any of my friends visit my house, they get attracted to the super rich Transparant look of Soundsticks music system. Surely it not only have this eye-catching appeal like a space age gadget but also makes all happy with Rich delivery of Music.
Well I do recommend this piece of cake to all music lovers ….. Get it here at Amazon …
---

---
Harman Kardon Soundsticks III Specs
Integrated Bluetooth technology for high performance wireless connectivity
6-Inch (150 mm) down-firing subwoofer for deep bass
Eight full-range transducers for crystal clear sound
Touch controls for volume and mute
1/8-inch (3.5-millimeter) audio connection for compatibility to various devices
Integrated Bluetooth® technology, connect to your phone, tablet, MP3 player or computer
(You can buy this version without Bluetooth too)