Last year when I wrote on TaoTronics headphones review, no one else wrote reviews or comparison and later BOOM, everyone wrote about them and they became best sellers on Amazon. This year I am writing about Zagg products selling under brand name iFrogz headphones who is known for making iPod accessories too. Their inexpensive headphones surely perform etter than other cheap headphones. The range of wireless Bluetooth headphones named Plugz, Charisma, Summit, and Impulse sold in the for $18 to $32 (as on Feb 2019) are intended for exercise or travelers, where you spend less to get more from the headphones.
The iFrogz headphones series looks similar but surely have intended purpose with each model, which I will discuss here so that you can decide which one you want to buy and why?
Just keep in mind that all these four headphones models are Bluetooth wireless compatible with Apple iPhone, iPad and works over good distance of 33 feet.
Another important thing is they all are IPX2 certified which means they will withstand vertical falling drops for 10 minutes (Equivalent to 3 mm rainfall per minute). So you will be able to use them for workouts, I mean sweat-proof. or even it will sustain some light rains. But they are not waterproof, so may not sustain drop inside water even for few seconds. However please note that in the year 2019, IPX5 rating is becoming defacto standard for headphones, and soon or later iFrogz must realize to upgrade all these models to this rating.
Anyway, they all are slim audio devices which can be your companion as well as a fashion statement.
All and above they have a wireless hub with simple, functional and intuitive control buttons to listen your favorite music or even phone calls.
One innovative feature is use of wireless hub wherein you can wrap the wires and clip it or magnetically attach somewhere on cloths. It makes them convenient for travel or workouts where you always need headphones in minutes or want to keep them away frequently. So you need not search for places to keep the headphones.
Finally they are provided with Earbud Tips for Life™ limited lifetime warranty where company replaces the tips if they get worn or damaged.
Okay, enough introduction, now have a look at specs comparison chart below, where I have marked cells in green or violet colors to give you idea on what is different or better in that model as compared to the other. This will help you quickly decide what is important for you and take a call.
In case you have more time, then you can surely go through detailed review on each model after this comparison table –
Are these headphones better than brands like Mpow and TaoTronics?
iFrogz headphones Plugz Vs Charisma Vs Summit Vs Impulse Duo Specs comparison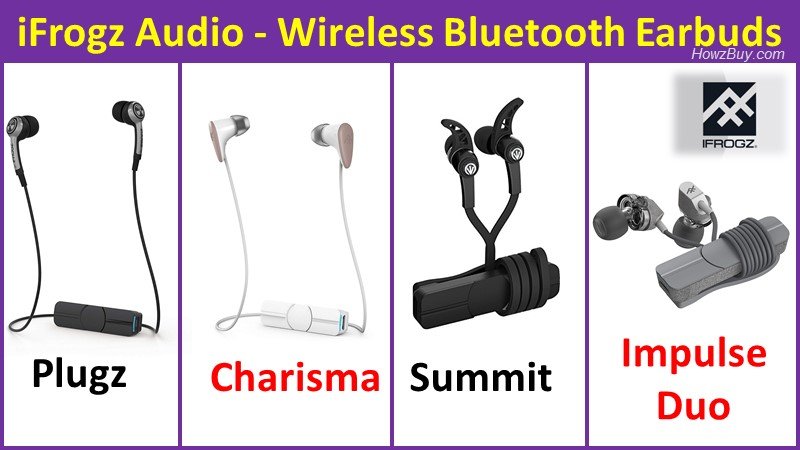 | | | | | |
| --- | --- | --- | --- | --- |
| iFrogz headphones | Plugz | Charisma | Summit | Impulse Duo |
| Offers / Discounts | Best Buy | Best Buy | Best Buy | Best Buy |
| Color options | red and black, silver and black, gold and black, pink and black, blue and black, blue and brown, and pink and white |  White, Gray | Black, Red | Black, White |
| Design intent | Stylish for men and women | Designed by women, for women | secure-fit wings | Dual Driver Wireless Earbuds |
| Drivers | 9 mm | 6 mm | 8 mm | 6 mm Dual Neodymium Drivers per Earbud |
| Resistance | 16 Ohms | 16 Ohms | 16 Ohms | 32 Ohms |
| Sensitivity | 98 dB +/- 3dB | 97 dB +/- 3dB | 102 dB +/- 3dB | 100 dB +/- 5dB at/à 1kHz 1mW |
| Frequency | 20 Hz – 20 KHz | 20 Hz – 20 KHz | 20 Hz – 20 KHz | 20 Hz – 20 KHz |
| Bluetooth Range | 30 ft | 30 ft | 30 ft | 30 ft |
| sweat-resistant | IPX-2 standard | IPX-2 standard | IPX-2 standard | IPX-2 standard |
| Working Time | 5 hours | 5 hours | 5 hours | 10-12 hours |
| Charging Time | 60 min | 60 min | 60 min | 2-2.5 hours |
| Cable Length | 35 cm | 35 cm | 35 cm | 35 cm |
| Magnetic clip | Magnetic clip | Magnetized earbuds | Magnetic clip | Magnetic clip |
iFrogz Ear Plugz review – Pinch for those on a budget
Depending upon the offer you will be spending around $20 to buy this model named "Plugz" from iFrogz
Design
I can say that these Plugz earbuds are super cheap and available in multiple color options like red and black, silver and black, gold and black, pink and black, blue and black, blue and brown, and pink and white.
They feature a stylish little radiation logo on the earbuds which looks nice.
To my surprise they looks like fragile, and the ear tips tear easily, again remember what price you are looking for .. its below 20 dollars.
The cable used is ultra thin and prone to breakage!
Although the ear tips (three sets from small to large) are said to have lifetime warranty, they get easily torn!!
Comfort
In terms of use, they are surely a step up than ant other stock earbuds. The fit and comfort is reasonably good.
If you compare them with the cheap hard plastic used for low priced earbuds, Plugz are surely Step better.
These earbuds are pretty small canal style, which means you will also get advantage of passive sound isolation, allowing you to do calls or listen to music in crowded places or outdoors. (just don't forget that they are not ANC headphones!)
Sound Quality
I felt the Plugz earbuds sound somewhat harsh or deficient, the bass also does not feel like punching … the high end sounds brittle ..
In short the sound quality is rather unimpressive.
However if you listen to Classical music, they perform on acceptable levels, or you can try dark and mellow tracks.
Bottom line –
The iFrogz Plugz earbuds are surely cheap and relatively comfortable, they offer style, an ultracompact design, and a comfortable fit. However they don't sound any better than stock earbuds included with most MP3 players.
Just to summarize, this is surely not my top choice in the given price but its one of the option in my GYM consumables list.
iFrogz Plugz Scored 2 stars on CNET review & 3.5 stars on Amazon (as on Feb 2019)
---
iFrogz Impulse Duo review – comfy duel speakers
What makes these headphones stand out of the crowd is the duel drivers for each earbuds, which means more sound power per side.
Still they are super light and comfortable to wear in ear.
Design
As the name suggests  Impulse Duo are powered by 6 mm Dual Neodymium Drivers per Earbud, still keeping it light in terms of weight.
They are sweat resistant, comfortable to wear and delivers descent sound at this price point.
And as said the magnetic clip system on the inline remote provides utility with comfort. You can roll up the cord around the remote and clasp using magnets.
Best thing is that the powerful battery provides you 10 hours of music playtime at moderate volumes.
Only hitch is that the plastic design make you feel that you are spending more at the given cost.
Sound Quality
Since these high end headphones (in the line of iFrogs wireless) have two 6 mm speakers per side, the sound delivered is good.
In all these headphone sounds better than both iFrogz Summit or the single-driver Impulse headphones.
I can't say that these are great sounding headphones, but yes, you get a well balanced reasonable bass and descent treble plus mid range. Overall good score.
They are packed with three sized eartips, which means you will be able to find out descent ear canal sealing giving you nice passive noise isolation for listening music or calls on outdoors. The background noise filtering is so-so, means person on the other end of call may hear some noises from room.
Bottom Line
At this price, you must look for a good deal to get the Impulse Duo in-ear Bluetooth headphones below $30 mark, then you are in good shape to get decent sound at decent price.
They will surely be a good consumables to carry inside pocket for gym or travel.
So keep a watch on deals where you can catch them below $30 and grab the offers!!
iFrogz Impulse Duo Scored 3.5 stars on CNET review & 3.5 stars on Amazon (as on Feb 2019)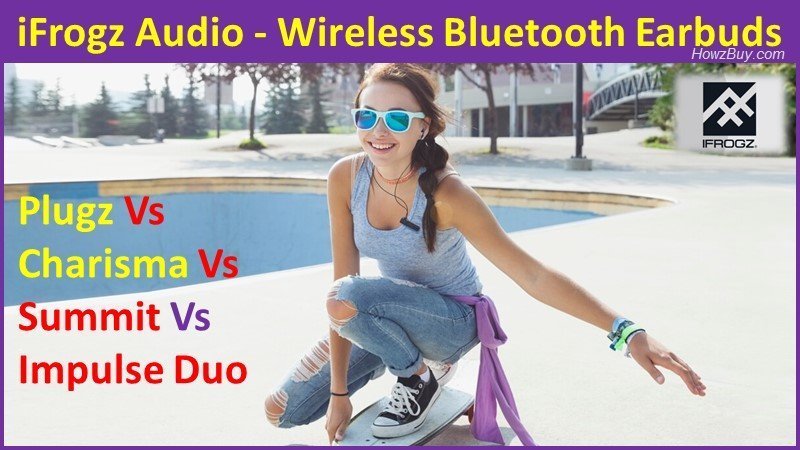 iFrogz Summit Wireless review – Raising the bar, wings for secure fit
iFrogz Summit Wireless raises the bar for cheap Bluetooth headphones, with wings that gives you secure fit.
Design
The iFrogz Summit Wireless is another good option which is lightweight, comfortable in-ear Bluetooth sports headphones with sweat resistance. They are slightly step up in this range from iFrogz.
What is different in this model is the secure wings, which makes them suitable for sports use or even a brisk walk or run. They are comfortable to wear for an hour or so.
Again the 10 hours battery life turns out to be powerful for a days use or even last for a week for daily commuting.
Overall this series looks somewhat cheap due to the use of plastic quality, Summit is one of them.
Sound Quality
The sound is modest at this price point, but surely not the great.
The clarity of mids and highs is good enough and bass punched to a descent levels, but not incredibly tight,  the sound feels a bit recessed at times!!
The ear seal provides somewhat better noise isolation from the ambient noise, useful for listening to music or outdoor calls.
Call quality is to the basic acceptable levels, with moderate isolation levels. The other end listener is able to get what noise is going at my end.
Bottom Line
I can say that spending around $18-20 on these sports earbuds is surely a acceptable proposition, again becomes a bargain in consumables for the Gym.
They are lightweight, comfortable for short duration, sound to the acceptable limits and good for gym or running.
The iFrogz Summit Wireless may not be a steal at its modest price point, but it's still a good value in wireless sports headphones.
iFrogz Summit Scored 3.5 stars on CNET review & 3 stars on Amazon (as on Feb 2019)
---
iFrogz Charisma Wireless Earbuds Review – Made for women!
Finally the earbuds which are "Designed by women, for women, the Charisma Wireless Earbuds make sure you're hearing your music in style."
Design
As said the intent is for women, compact, lightweight, simple to use, and mainly LOOKING GREAT on women.
The design shades to give nice looks to feel like wearing an ear ring, its a part of style, you can match them, specially I loved the white color.
In terms of utility for women, they carry basic features of magnetic clip to secure them when not in use, which means no more dangling earbuds (important for women!)
The wireless hub containing controls can be clipped on easily during exercise. (they are IPX2 certified)
Bottom line
Specially designed for women, these basic, functional earbuds makes sense at price-point of around $25.
With decent sound quality and looks they make a perfect for the fashion conscious women!
iFrogz Charisma Scored 4 stars on Amazon (as on Feb 2019)
---
Good read