I just shocked after looking at the Amazon search results page of Best seller over ear headphones! Yes, the top six featured headphones showed results ranging from cheapest $17 iJoy LOGO headphones to costliest $349 Bose QC ones! WOW! I thought why not check the cheapest one which will be better for my travel needs, where I always fear of loosing my costly Bose headphones? And that is how this review of iJoy Logo came into existence.
So lets look at what makes these cheap headphones the Amazonz Best seller?
The iJoy LOGO headphones looks a great value for money product, surely saving my hundreds of dollars making me free of tension of loosing them during my trips. They sound great, connect quickly to my phone, even works with the micro-SD card, ready with FM radio in it! I mean what else you need by spending few bucks?
Look at the search results below … I think the image is self explanatory ….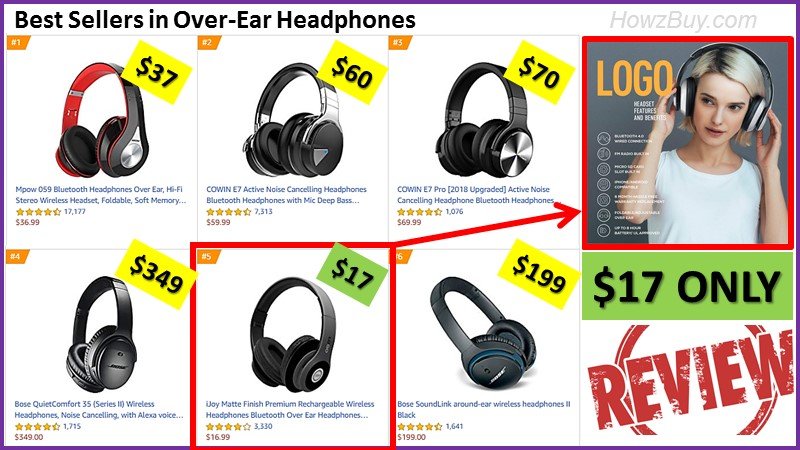 Anyway, I will start my review with the headphone specifications which you can quickly look and then go for detailed review of each function and why I feel these headphones as value for money product ….
iJoy logo Headphones – Best Cheap Wireless Headphones Under $20
iJoy logo specifications sheet

Best Buy Price / Offer

Color options
Blue, Lime, Pink, Red, Violet, Glossy white, Gold, Jet Black (Metallic), Rose Gold, Silver Metallic), Stealth, Sun, White (Metallic)
Type
Over the ear
Foldable
Adjustable headband
Features
Built in FM radio
Built in Micro SD card slot
Bluetooth connectivity (Wireless)
Bluetooth 4.1
Bluetooth range 10 meters
5 button control
play/pause/answer/hang-up, equalizer, next track/volume up, previous track/volume down
Battery
3.7V 250 mAh
Standby time
120 hours
Playback time
6 hours
Charging time
2 hours – you can listen while charging.
Compatibility
iOS devices like iPhone and Android phones
Warranty
6 months warranty
Design
Basically these are Over ear headphones made from Premium quality plastic with leather texture to provide rich look and feel.
One of the nice point I felt is tremendous variety of colors like Blue, Lime, Pink, Red, Violet, Glossy white, Gold, Jet Black (Metallic), Rose Gold, Silver Metallic), Stealth, Sun, White (Metallic) .. I mean literally you can have matching pair of headphones for every wear that you have! So much fun …
They also look descent with the leather like texture and prominent colors ..
The memory protein earmuffs makes sure that headphones remain steady on your head without hurting your ears, further the soft, snug pad on the inside of the headband provides good protection and comfort.
Although the headbands are less cushioned, you can't expect premium comfort, however surely they meet the basic functional requirement. Anyway you can't expect them to behave like a $350 headphones for sure!
The headband is adjustable to any head size and gives nice click sound during adjustments.
The plastic make me feel like they may break over period of time or rough handling, but not sure .. it will take some time to evaluate and comment on the durability aspect … give me some time for that please.
Anyway they are perfect for daily use or travel due to the folding option given by them.
Sound Quality
First thing I want to talk about the noise isolation which works on the principal of good fit over the ears to isolate outside noise entry. (remember that these are not noise cancelling but noise isolation type headphones)
Second thing I liked is the built in equalizer with EQ presets, makes it convenient to switch the sound profiles at a click of button.
My suggest is to leave it on the default EQ, I mean it sounds best.
Music is played well in these headphones with lot of deep bass .. and sounds much better than many of the costly headphones in market!
However I found that the microphone is not of good quality, so voice over call is just acceptable but now wow! but since my main intention is to use them for music playing I am okay with it.
One more thing which I felt irritating is that the warning tones are too much loud .. it really hearts while listening the music .. in fact they can be heard from a distance! Anyway can't get all things right in the low cost power-packed headphones.
Battery
Company claims 6 hours of music play time, which is more than sufficient for any general day use.
Good thing is that they can also be used with 3.5 mm jack wired connection.
One more point is that you can use them while charging – however for safety reasons I will strongly suggest not to use any headphones or even your mobile phone during charging since the li-ion batteries are at risk of explosion during charging.
Bluetooth
They can be paied with multiple devices at a time but can only be connected to one at a time.
And as said when you run out of battery power, simply plug them to the 3.5 mm jack of phone.
Features which I loved
Now these headphones have two distinct features which I loved the most.
The simple reason being that I need not connect them to my mobile phone to listen to music or radio, saving valuable battery of my mobile while I am on the move (travel)
FM radio receiver
They feature built-in radio, which helps listening to fresh music and local news channels on the go, without depending upon the mobile phone connection.
Micro SD slot
Micro SD card slot is something that is different .. one don't need to really connect it to mobile and waster mobile battery for just listening to music as well as waste mobile memory storage …
so simply stuff in more music into the micro SD card and enjoy hours of music without fear of battery drain!
So just to sum up for you the pros and cons of iJoy Logo Headphones
Pros :
Premium looking matt finish
Multiple color options to suit your style
Cheapest best sellers on Amazon
Good sounding cheap headphones
Built in  equalizer does change the way the headphones sound and can sound better for different types of music.
Built in FM radio to enjoy fresh music and local news channels
Build in Micro SD card slot allows listening music from storage device without losing battery of mobile
Cons :
Plastic material feels cheap and less durable
Microphone quality is not at par, so calls over these headphones are of poor quality
Voice instructions played through the headphones are extremely loud, giving uncomfortable feeling
Cushion over headband is stiff, needs further improvement to provide comfort.
Bottom line
One of the best seller and value for money product, surely the foldable design for easy storage and the price makes them perfect for –
– Frequent travelers
– Camping
– Playing PC games
–  Enjoy the music tracks you love
– Watch the latest popular movies
Alternate headphone suggestion from my side
If you are ready to spend upto $30 then I suggest to go for Phaiser BHS-630 HiFi stero headphone – Check latest price here