In this post I am going to compare these two $50 wireless earbuds from iKanzi, Pasonomi and ENACFIRE E18 which are best sellers on Amazon with good number of customer reviews. As in Jan 2019, both have more than 1000-2000 customer positive reviews with 4.5 STAR rating, which itself indicates that both products are liked by more people. Both are IPX 7 waterproof with 72 hours of battery backup which is really great for travelers, hiking and camping. Lets see in details on these cheap wireless earbuds.
Okay, I found these wireless headphones while searching for cheap headphones specially for my travel needs. Also another criteria was they should be wireless as well as both earbuds should be separate, I mean not connected to each other by any cord. This allows them to be shared with my wife during travel without any hassle of wires.
Also another criteria was being water resistant, specially this makes me worry free of any rains that I face during my hiking.
And third criteria was to get high battery backup so that I need not worry much to recharge them again and again, especially during hiking when I do not have time and access for charging (Although I can use power-bank, but then I can't use them!)
So finally I found these two companies iKanzi, Pasonomi and ENACFIRE E18 which are selling them for around $50 (as on 2 Feb 2019) I compared these two earbuds for specs and features as well as customer reviews too.
iKanzi vs Pasonomi Wireless Earbuds
Now from the beginning of post I am saying I have found two earbuds, but in my list there are three companies!
What it means is that iKanzi and Pasonomi are same earbuds sold under different brand names. So if you decide to buy either one of them, you can simply go by the lower price whoever is offering to you.
Best Buy

iKanzi wireless earbuds <
<

<

<>

>

>

> 

Best Buy

Pasonomi Wireless Earbuds
iKanzi or Pasonomi Vs ENACFIRE E18 Wireless Earbuds
So this is real comparison between two different models of earbuds.
Since I wanted to be sure that the quality of earbuds should be acceptable, I first checked and confirmed that all the three models of earbuds have sufficient amount of reviews available, at least more than 1,000 so that it automatically filters out any paid reviews clutter. So here is the status as on As on 2 Feb 2019,
ENACFIRE E18 earbuds scores more then 2,242 customer reviews with 4 Star rating
and iKanzi / Pasonomi earbuds scores more then 1,275 / 1,146 customer reviews with 4.5 Star rating
Prices keep on fluctuating between $45 to $55, so when you decide to buy anyone of them, please do check latest price on Amazon or any other online store that you like.
Okay so basic sanity check proves that I can select any one of them and it will be fine to deliver basic sound and durability, so lets compare their technical specs and then move ahead for detailed comparison –
iKanzi or Pasonomi Vs ENACFIRE E18 Specs compare
Wireless Earbuds

iKanzi TWS-X9

OR Pasonomi TWS-X9

ENACFIRE E18

Check latest offer price
Design
120° tilted in-ear design
Ear caps
5 pairs of ear caps of different sizes
3 x Couples Silicone Ear Tips (S, M, L)
Bluetooth version
Bluetooth 5.0
BT range
33 feet Bluetooth range
Features
built-in noise reduction technology
Not sure
Features
Touch Control and Automatic Pairing
Built-in microphone
Yes
waterproof
IPX7,  resist sweat and rain
Not sure
Battery backup
3-4 hours of music time, 22 hours with case
3-4 hours of music time, 15 hours with case,  fast charge 80% in first 30 mins
Charging Case
2200 mAh Ultra-large-capacity
500 mAh Magnetic Charging Case
Features
charging case can also charge mobile phones and other USB devices.
No
Compatible deivices
iPhone X, iPhone 8, 8 Plus, 7, 7 Plus, Samsung Galaxy S9, S9 Plus, S8, S8 Plus, S7, Note 8, Note 7, Note 5, Note 4, Huawei, LG G5, G4, G3, iPad
Warranty
 90-day money back and 12 months worry- free warranty
1-Year Manufacturer's Warranty and 30 days no-questions-asked return policy
Weight
4.6 grams
Not sure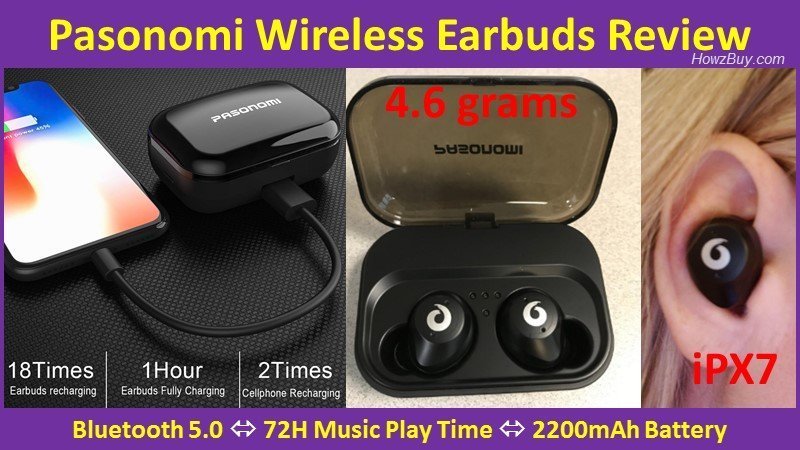 Now lets look into design aspects based on user reviews one by one –
As said earlier all three have similar design aspects except for some major differences as enlisted below –
Design
All three pairs are super light weight of around 5 grams, and small in size which means you can wear them with breeze for hours.
They look and fit neat and clean (look at the photographs of wearing into the ears)
The front tip is inclined at an angle of 120 degrees which goes inside your ear canals, to fit fall free during exercise.
As per standard practice they are provided with additional pairs of ear caps which can be used to suit different sizes of ear canal sizes to ensure snug & secure fit.
Touch controls
Power on, Play/Pause, Pick/Hang can be done with simple touch control of ear buds.
The controls are super sensitive for touch, which is good and bad, since sometimes you can unintentionally skip tracks, but that's okay and understandable.
Bluetooth 5.0 pairing
All these earbuds uses latest Bluetooth 5.0 technology, providing comfortable range of around 33 feet without any signal loss, means uninterrupted music listening.
that also means you will be able to use Multi-connect, pairing with two devices at a time, say iPad to watch a movie or listen to music and iPhone to take a call.
Also the earbuds automatically get paired with each other as soon as you take them out of the charging case, means no technical jargon to be done! (like most of other headphones in market, where you need to press power button and do some means to pair the two earbuds together first!)
So pairing is super quick with your smart phone or any iOS or Android devices.
Water resistance
iKanzi TWS-X9 OR Pasonomi TWS-X9 earbuds are IPX7 certified, which means they will be able to withstand accidental drops in water as well as light rains and sweat.
Which means iKanzi TWS-X9 OR Pasonomi TWS-X9 are suitable for hiking, outdoors and travel needs, plus you can use them for gym workouts where earbuds need to fight with sweat, which is nothing but salty water.
ENACFIRE E18 do not claim any water resistance rating, as well as customers have also not given any feedback on this aspect.
Sound Quality
Now keep in mind not to compare them with BOSE or AirPods! They can never ever reach that sound quality.
All that you need to remember is that you are spending $45 to $55, so that you can get a cheap alternative for travel needs or hiking where you can afford to loose them and keep the costly AirPods or BOSE headphones at home or office.
Having said that, they deliver descent amount of sound, but the BASS is not to that extent and most of the users have given feedback on poor bass for all three models of ear buds.
But overall they perform to the basic expectations.
iKanzi TWS-X9 claims to have built-in noise reduction technology chips which will help shielding surrounding noises for good results during calls.
Whereas Pasonomi Vs ENACFIRE E18 do not claim to have any kind of noise reduction technology.
Battery Backup
All three earbuds have basic music playtime or talktime upto 3 to 4 hours (depending upon the kind of music you are listening and volume levels), which is more than suffice for any daily use.
For travel needs I could have preferred 5 to 6 hours of music playtime, however since these earbuds have a charging case, it helps me out.
Charging case provided with iKanzi TWS-X9 OR Pasonomi TWS-X9 earbuds is powered by a 2200 mAh Ultra-large-capacity battery, which can not only recharge the earbuds about 18 times but also can charge your mobile phone, now this feels like  bonus to me as a traveler.
As against this ENACFIRE E18 earbuds charging case is powered by weak 500 mAh battery, which is suffice only to recharge your earbuds and not for your phone.
The charging case looks very attractive and easy to carry in your pocket.
So in area of battery backup you can either choose iKanzi TWS-X9 OR Pasonomi TWS-X9 earbuds.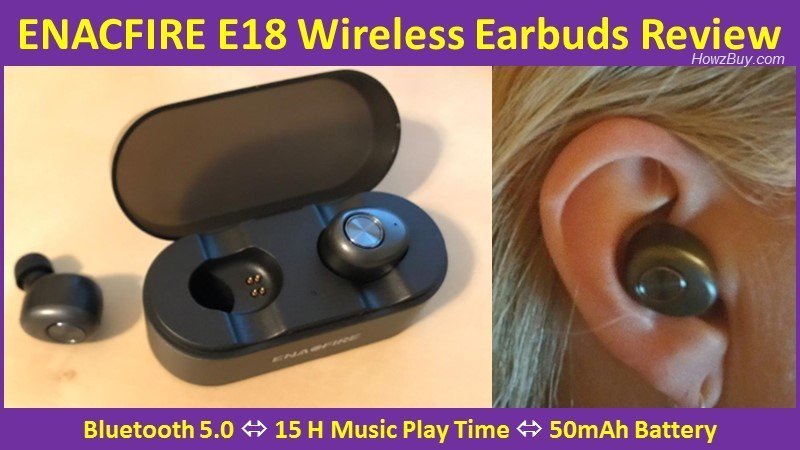 Final recommendation
Based on above study, although ENACFIRE E18 earbuds scores more than 2K reviews with 4 star rating, I found issues like no waterproof rating, poor battery backup even with case.
As against that iKanzi TWS-X9 OR Pasonomi TWS-X9 both have IPX 7 rating of water resistance, 22 hours of battery backup using the charging case.
Also the charging case have 2200 mAh battery which is more than suffice for the earbuds to make to life 18 times, as well as power your mobile phone in case of emergency.
Now I have narrowed down to either iKanzi TWS-X9 OR Pasonomi TWS-X9.
Out of these two earbuds, iKanzi TWS-X9 claims to have noise reduction chip, I am not sure how much its true, but that is the only plus point compared to Pasonomi TWS-X9.
However looking at the actual samples both earbuds are the same only marketed by different companies, so out of two  iKanzi TWS-X9 OR Pasonomi TWS-X9 earbuds, you can choose which ever is available at lower prices on the given day.
---
Some tips and tricks
How to reset the earbuds?
See this simple video explaining the process to reset the earbuds – https://www.facebook.com/ikanzi/videos/726731677708919
How to adjust the earbuds volume?
You can adjust the volume by pressing and holding on the ear buds. The left ear bud turns the volume down and the right one turns volume up.
How to invoke voice assistant?
Push and hole earbuds for about 2 seconds on the either touch-pad it will launch Siri or Google assistant
How to use one earbud at a time?
By default you will have both the earbuds paired to each other, so that you can listen them at the same time.
When you want them to use as single on say two mobile phones then follow this simple process –
Put both earbuds back in charging case
Go to Bluetooth settings on your mobile phone and forget the device.
Now pick only one earbud from case which you wish to pair with mobile phone, press the back of earbud until it blinks red and blue.
This will make earbuds enter into pairing mode and you will see X9 in the Bluetooth devices list.
Click and select to pair.
Repeat the process with another earbud with second mobile phone.
---
References for this post are taken from various websites including
http://www.enacfireglobal.com/index.php?route=product/product&product_id=3