How I got the Speakers…
For the last one week I have been at my Uncle's house for a certain family program. But my Gadget geek sense makes me keep on looking for new gadgets and Technical stuffs around me.
So when I reached here, I got my hands on the JBL Clip 2 bluetooth Waterproof Speaker & JBL Charge 2+ which my Uncle had bought 2 months back.
Here is a review of the JBL Clip 2.
So here is a hands on Review of the JBL Charge 2 Plus bluetooth Waterproof Speaker.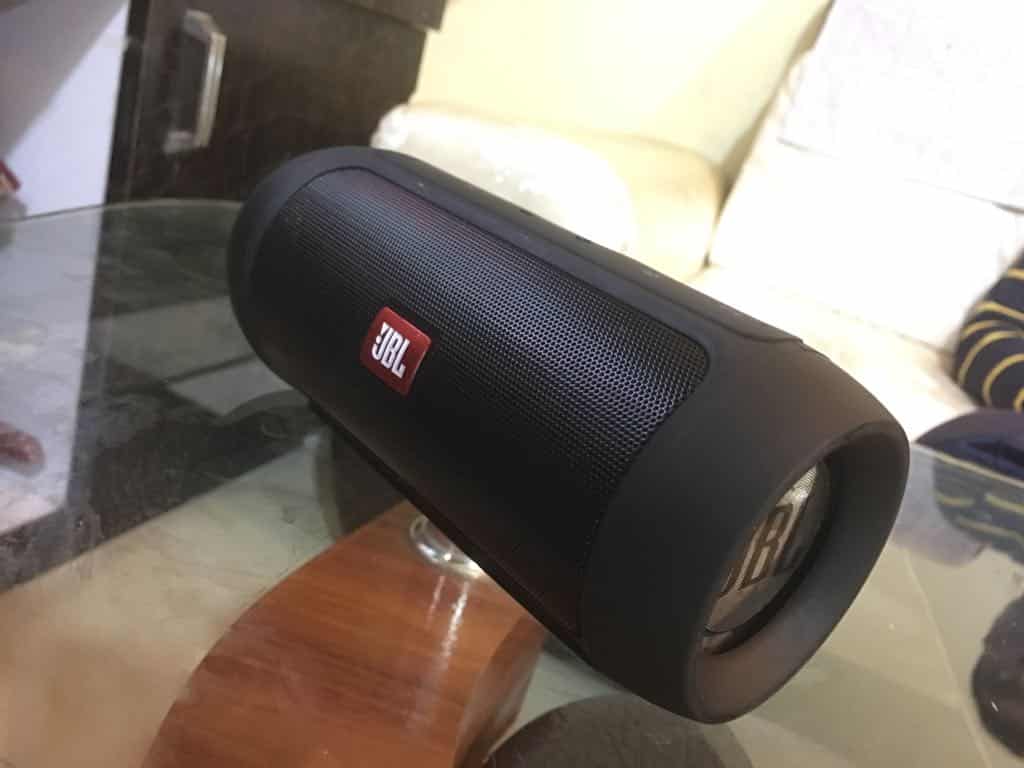 Features :
Light in Weight : It is quite light in weight, which makes it easy to carry in your hand without any extra need of bags.
The design is perfectly shaped to fit it in your hand while you carry.\
Weighs around 600 gms.
Splashproof : The device is not Waterproof it is Splashproof, which means it can withstand minor sprays of water. Submerging device in water is not advised as it may cause water entering the speakers and causing major damage to the circuits.
Noise & Echo free Speakerphone : You can also pick up calls through the Speakers, it has a high quality microphone and can also work as a speakerphone within the connected Bluetooth range.
High Capacity Battery : it has a 6000 mAh battery backup which lasted for 4 5 days on around 1 to 1.5 hrs of daily playback.
Aux In Support : You can use its Built-in cable to connect the Speaker to your phone or your PC in case you don't have any Bluetooth Support.
Memory Card Support : Insert your Micro SD card in the slot and it will start playing songs directly from it.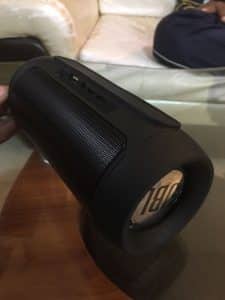 Social Mode : You can connect upto 3 phones to the JBL Charge 2+ while the Social mode is ON, I personally have not tried this feature as I was only with Speaker here at my Uncle's place.  
General Specifications :
Price, Offers & Discounts

Best Buy USA, UK

79

x

185.2

x

79

(mm)
 Weight
Music playing time
up to 12 hours (varies by volume level and audio content)
Battery charge time
Signal-to-noise ratio
Battery type

Lithium-ion Polymer (3.7V, 6000mAh)

Frequency response

75Hz – 20kHz

Output power
Transducer
2 x 45mm
Control and Connection Specifications
| | |
| --- | --- |
| Bluetooth version | 4.2 |
| Bluetooth transmitter power | 0 – 4 dBm |
| Bluetooth transmitter frequency range | 2.402 – 2.480GHz |
| Bluetooth transmitter modulation | GFSK, π/4 DQPSK, 8DPSK |
Sound Quality :
"I used the Wynk Music Player with Audio Quality set to Best HD (320 kbps) and connected it to my Samsung Galaxy J7.
In an average room of around 100 sq fts with among two of my siblings I played few songs while we were playing cards.
The sound was loud enough, everytime anyone among us wanted to speak something he urged to reduce the volume of the Speaker as the person who spoke was not audible(Speakers at its full audio level).
The Bass was impressive for a speaker sized this, without any loss to the audio quality you can enjoy the feel of a mini party for hours."
This was the quality of the Sound in JBL CLip 2 but what for Charge 2Plus
Considering the same scenario same source of audio same bunch of guys playing Cards, just the Speakers were changed to JBL Charge 2+.
So judging them, The Sound was quite Loud, The Bass radiators on its two sides did their work perfectly. The Bass was pleasing to the ears, moreover their was no loss in clarity to the music was noticed.
I loved the way the Speakers sound even at full volume.
Build Quality :
The Speaker has a rubber moulding to both the sides housing the bass radiators. While the body is covered with a metallic net with a JBL logo on its face. All the Buttons and Slots are placed on a Rubber strip on the Speaker.
The all around look of the Speaker is impressive as well as sturdy and could also withstand drops from around 4  to 5 feets.
In my week long stay, I dropped it a few times from around 4 feets of height. Even after multiple falls on the hard floor surface the speakers were working without any problem.
What's in the Box?
1 x JBL Charge 2+
1 x 5V 2.3A USB Adapter
1 x Micro USB cable for charging
1 x Quick Start Guide
1 x Safety Sheet
1 x Warranty Card
Final Thoughts :
As I already said I loved the way the Speakers ound even at full volume. They are rock solid in being loud and Crystal Clear in Clarity.
2 of its High Quality Bass Radiators are best even for any beat Drops you come across they will sound perfect.
It High Capacity Battery lasts more than 10 Hours which makes it a good choice in the Wirlress Speakers range.
Verdict
The Speaker is perfect for small events and parties like your kids Birthday or kitty Parties.
This are High Quality Speakers with Premium Sound and Build, I would definitely recommend you buying them in case you are seeking for Best Bluetooth Speakers with a Budget of $60-$70 this are the Must buy Speakers for you.