While I decided finally to cut the cord and get a wireless gaming mouse in budget of around $150 I have three top notch options Logitech G Pro Vs G502 Lightspeed Vs G903 Lightspeed Wireless Gaming Mouse which are most popular intuitive designed for intense gaming.
Since all the three models priced the same it is important to see what are the architectural differences (performance wise), ergonomic differences and key parameters that will make me choose wisely to suit my needs.
I know choosing the right gaming moose will not be harder then you expect !
Pro Vs G-series – Basic difference
Logitech has its well known flagship series called as G-series lightspeed wireless mouse aesthetically designed to look futuristic and cutting edge with plenty of buttons and configuration options. (G502, G903 etc)
As against that they have also came out with an option like the Logitech G Wireless Pro lightspeed wireless mouse which is simple, more traditional looking, have bare minimal thumb switches, super light weight (important for intense gamers)
What is Logitech LIGHTSPEED Wireless Technology?
In short Lightspeed brings wireless mouse at part with wired connection in terms of latency.
The Pro and G series which are powered by Logitech own Lightspeed technology are priced slightly different than the normal gaming mice, so its important question to my mind "What is the Lightspeed wireless?" which makes it a winning combi gaming mouse.
With one-millisecond report rate and end-to-end signal optimization LIGHTSPEED technology delivers competition-level responsiveness at speeds faster than most of the competitive wired gaming mice in market today.
LIGHTSPEED delivers wireless signal strength up to 16x (12dB) higher than the competition, further strenghtened with a unique Frequency Agility Mechanism which automatically avoids problematic interference which can be caused by other electronic devices including your own keyboard, hence delivering smooth and consistently endless  gaming experience.
Endless gaming with POWERPLAY wireless charging system
POWERPLAY is cherry on the top …
Simply forget about charging your gaming mouse …
When you have already spent over $100 to have worlds top performing gaming mouse … better to spend few dollars more to get endless battery performance …
All these LIGHTSPEED gaming mice can be further powered by a wireless charging system aka POWERPLAY.
POWERPLAY means that these gaming mice can pair directly with the POWERPLAY's integrated LIGHTSPEED wireless receiver for optimal signal strength and the convenience of charging and data over a single USB cable.
Are you right handed or lefty?
One more important factor that should not be missed our it Right or left-handed ambidextrous design. Its well known that many of the right hand people also use left handed mouse efficiently when gaming for hours !
Now ….
Beginning of my research is with preparation of detailed technical specifications comparison chart of all three gaming mice which will provide me an idea of which one scores better over another and in what aspect.
Of-course .. I will be looking at functional aspects too after the specs comparison ..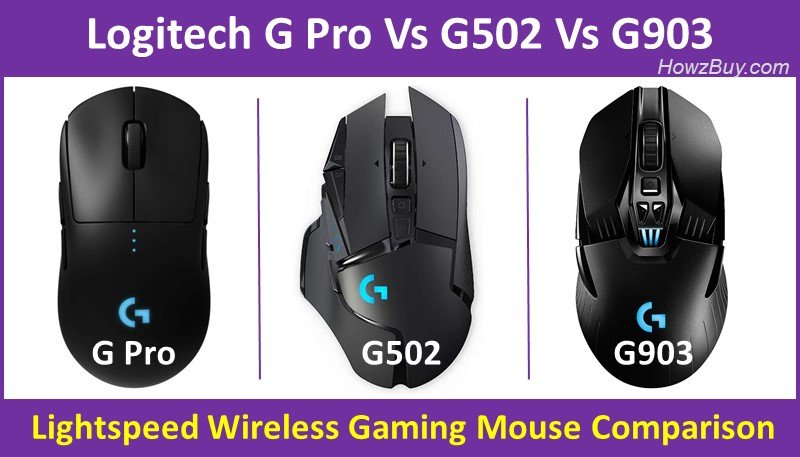 lets look at the table below …
Logitech G Pro Vs G502 Vs G903 Lightspeed Wireless Gaming Mouse Comparison
Light-speed Wireless Gaming mouse
Logitech G Pro Light-speed
Logitech G502 Lightspeed Wireless
Logitech G903 Lightspeed Wireless
Price
All are priced same on Logitech website $149 (as on July 2020)
Check latest price
Best Buy Logitech G Pro Light-speed
Best Buy Logitech G502 Lightspeed Wireless

Best Buy Logitech G903 Lightspeed Wireless

Ratings picked just for comparison as on 11 July 2020 from internet
4.5 STAR Rating out of 1753 ratings
4.6 STAR Rating out of 8234 ratings
3.6 STAR Rating out of 1348 ratings
Series
PRO
G-Series
Wired / Wireless
Yes
Rechargeable
Yes
Optical Sensor
Yes
Tracking capabilities
HERO Sensor
HERO 16K
Resolution
100 – 16,000 DPI
Zero smoothing/acceleration/filtering
Max. acceleration
 > 40 G
Max. speed
> 400 IPS
Some differences to be noticed
Right or left-handed ambidextrous design
Yes
No
Yes
PTFE Feet
Yes
No
Yes
Dual Mode, Hyper-Fast Scroll Wheel

No

Yes
Programmable Buttons
4-8
7-11
Onboard Memory Profiles
5
5
3
Responsiveness parameters
USB data format
16 bits/axis
USB report rate
1000 Hz (1ms)
Wireless report rate
1000 Hz (1ms)
Wireless technology
LIGHTSPEED Wireless
Microprocessor
32-bit ARM
Battery life
Lights off
Up to 60 hours
Up to 60 hours
up to 180 hours
Default lighting
up to 48 hours
up to 48 hours
up to 140 hours
Fast charging
??
5-minute charge on USB 2.0 gives 2.5 hours of gameplay
??
System Requirements
Windows® 7 or later
Mac OS® X 10.11 or later
Chrome OSTM
USB port
Internet access for Logitech G HUB software download
Other features
Just few minor things to look at quickly
Hyper-fast scroll wheel
POWERPLAY compatible
Removable side buttons
LIGHTSYNC RGB: 1 zone
LIGHTSYNC RGB: 2 zone
LIGHTSYNC RGB lighting
Mechanical Button Tensioning System
Durability (Life)
PTFE Feet
250-km range
PHYSICAL SPECIFICATIONS (Weight and Dimns)
Height x Width x Depth
125 x 63.5 x 40 mm
132 x 75 x 40 mm
130 x 67 x 40 mm
Weight
80 g
114 g mouse only
Optional extra weights: up to 16 g
110 g mouse only
Optional extra weights: up to 10 g
Cable length
1.80 m
What is in the BOX
Each gaming mouse comes with handful of things – lets look at whats inside the box
Gaming Mouse
LIGHTSPEED™ USB receiver
LIGHTSPEED™ wireless receiver
LIGHTSPEED™ USB receiver
USB charging/data cable
Optional receiver extension adapter
Receiver extension adapter
Optional receiver extension adapter
Optional side buttons (2x left, 2x right)
4x 2g Weights
Optional 10-gram weight
Optional button covers (2x left, 2x right)
2x 4g Weights
Optional side buttons (2x left, 2x right)
Optional button covers (1x left, 1x right)
Accessory box
Accessories case
User documentation
2-year limited hardware warranty
Check latest price
Best Buy Logitech G Pro Light-speed
Best Buy Logitech G502 Lightspeed Wireless
Best Buy Logitech G903 Lightspeed Wireless
I know that above table and its background colors at places have given you a fair idea of which mouse compares better and which one you may be thinking about 🙂
Also its important to look at which games you are looking at and what is the daily time you spent on those games .. also many people prefer gaming mouse for design work due to its low latency and multi function button capability.
someone may look for First-person shooter (FPS) games like Apex Legends, Call of duty, Warface, Tom Clancy's Rainbow Six® Siege, Squad, Insurgency, Verdun, Red Orchestra 2, Sniper Elite 4, PLAYERUNKNOWN'S BATTLEGROUNDS etc
or you may think of using it for design work.
Lets look at features of each mouse and then compare them against each other ….
Logitech G Pro salient points
Simplicity at its best – Traditional looks with most advance features
Super light weight – Avoids fatigue while you are doing quick shots / movements during gaming
Facilitates moving buttons from left side to the right side
Logitech G Pro is perfect combination of function and technology. The design has went through iterations based on direct feedback from over 50 professional esports players.
G Pro is built for extreme gaming performance incorporating all the latest advanced technologies available with Logitech engineering team.
Powered by HERO 16K sensor G Pro can clock speeds over 400 IPS and deliver peak performance at any dpi with zero smoothing or filtering.
G Pro get benefit of latest wireless technology which totally eliminates any possible latency. Ensures seamless connectivity with its lag-free, 1 ms report rate connection.
Most interesting thing is weight of mere 80 grams ! With its incredibly thin shell, innovative ladder-chassis design and advanced battery, the package is evolved in only 80 grams !!
Further you can configure your preferences using Logitech Gaming Software (LGS) the six buttons can be configured to activate in game commands as needed.
For those who likes funky gaming .. get customized lighting with its 16.8M colors which can be configured to sync with other G products like keyboard etc. If you like ….  use LIGHTSYNC to come out your mice with game-driven lighting effects which will reflect to in-game actions.
In simple words the G PRO mice can be used for professional gaming with its super advanced technology delivering high performance, precision and speed which is required to win the game.
Logitech G903 Lightspeed
Cutting edge looks with ambidextrous design.
More buttons and more features in the same price as Pro and G503
Facilitates moving buttons from left side to the right side
You can add extra weight of 10 grams if you wish at the bottom
3 times more battery life as compared to Pro and G503 models
Logitech G Pro vs G502 vs G903 Lightspeed wireless
Ergonomy
Right or Left hand
With its ambidextrous design G Pro and G903 both can be used by Right handed or Left handed persons, whereas G502 is specially designed for Right handed persons.
Basic shape and size of G Pro is much more smaller allowing you to suit palm, claw and fingertip grips, but this is totally subjective feeling and I suggest you to get feel of each of these mice before taking a final call.
The biggest ergonomic difference can be felt due to the mice length. With big hands and long fingers you may prefer to go for G903 in place of G Pro.
Also the weight factor plays an important role for long hours of gaming !
With 114 grams G502 is heaviest in all three. G903 almost near to it with 110 grams and G Pro is lightest weighing only 80 grams.
However remember, lightest may not always means the best, so G502 & G903 provides facility to add weights to the mice (it can hold more weight below the mice cavity) – depending upon your personal preference again the choice between three matters.
DPI Shift Button location
G Pro DPI / sensitivity button is below the mouse which is practically useless in gaming world !
G502 DPI shift button is placed on the left side of the mouse which is not as good as G903 but surely better than G Pro
G903 DPI / sensitivity button is located near the scroll wheel which is most preferred location as per most users.
Battery Life
G Pro and G502 works upto 48 hours in single charge in lights ON mode, which means you can use it for a week without need to get back to charging station. In case you wish to prolong the life, lights OFF mode gives you 60 hours seamless operation 🙂
However here the winner is G903 with its marathon battery life of 140 hours with lights ON mode and 180 hours in lights OFF mode !! Means you can simply charge it once in 15 days !
G502 brings some real game difference with its ability of 5-minute quick charge capability to deliver an extra 2.5 hours of gameplay.
POWERPLAY Wireless Charging System
Having said that G903 is winner in battery life, this winning difference can become void in a second if you start using a wireless charging system!
All the three mice models are compatible with its innovative POWERPLAY continuous wireless charging technology.
Its as simple and intuitive as you read, yes …. the mice pad will keep charging while you are gaming !
So you need not ever worry about charging your mice in lifetime !!
And bonus is that it has an Integrated light speed wireless receiver ! Wow !!
Of-course you need to spend some extra dollars for it .. but its neat bargain between comfort and money 🙂 .. just check here how much you need to spend to get it.
So whats the bottom-line?
With same price tag of $150 for all 3 models here are some major takeaways –
Go for G Pro

If you like traditional but advanced lightspeed wireless technology
Lightest mouse (80 grams only)

Go for G502

If you like cutting edge design
Out of all three this gaming mouse has scored highest rating of 4.6 STAR out of 8234 customers which is remarkable indicating popularity in gaming world.
If you want don't want to spend money on POWERPLAY wireless charging, go for G502 which facilitates 5 minutes quick charge capability
If you are left handed person – forget about Logitech G502 Lightspeed Wireless.

Go for G903

If you want to have super battery life, G903 is the right choice. (this way you can also saving investment on Powerplay wireless charging system)
DPI button location is perfect for gamers for on the fly switching
Finally it is important to get hands on experience at least for an hour on each of these gaming mouse since subjectivity matters a lot.
Also you may take recommendation from friends considering all the aspects that I have talked sine beginning of this article.
Do let me know which Lightspeed wireless gaming mouse you chose and WHY? Feel free to put in comments below.
Cheers !!