Tired of tangling wires and bulky wired Keyboards ?:
Its been a long ago the use of wired Keyboards and mouse has been a history now. Still some people around have been looking for the best Wireless Keyboard for Mobile, PC and any iDevices.
Friend of mine saved a lot of his time and money when he bought this Keyboard :
The Logitech K480 and K380 are two similar Logitech wireless keyboards with some different features. They are simple and awesome in features. They have long battery life, and they both have large compatibility options.
Watch how :
Video Courtesy: Logitech
To suit your needs here, I will help you to decide best wireless keyboard. After hours of Brain scratches and visits and talks to various customers online. I have wrote this post in an easy to read format, and best comparison table that will help you to find out which one is best.
Yes, I'll definitely recommend you buying one of them :
I've also provided overall product recommendation at the end of this review.
Logitech K380:
No need to buy a separate Keyboard :
This is a type-on anything Keyboard which lets you connect and type on almost any Device which supports Bluetooth Connectivity for external Keyboards. No need to buy a separate device for each of your iDevice or Android Device.
Easily switch Devices, how? :
Easy Switching between connected Bluetooth devices is like a cherry on the cake as it allows me to type on my android device now & with just a press of a button I could type on my Computer or my any other connected Device.
Moreover…
The device is too light in weight as well as small in size which makes it more unique for use.
That Elegant feel :
The finesse  design looks premium and well- crafted with multiple color choices. The round shaped button are perfect for your fingers while it comes to comfort of typing. The color combination used makes the device look a bit costlier while it isn't.
Features of Logitech K380:
Two year Battery life: The K380 is a Multi-Device. And gets a long life out of the 2 AAA alkaline batteries.(pre-installed)
Compatibility: It compatible with all wireless devices that support external keyboard through Bluetooth wireless.

Windows 7, Windows 8, Windows 10 or later
Mac: Mac OS 10.10 or later
Chrome OS™
Android™ tablet or smartphone: Android 3.2 or later.
iPad or iPhone: iOS 5 or later
Apple TV 2nd or 3rd generation

Can connect to three devices simultaneously
Design: Compact and lightweight design
Wireless Range: 10 m (33 ft)
Special keys: It has special keys like hotkeys and it Switches easily between devices.
Indicator Lights (LED):  It having Battery LED, and 3 Bluetooth channel LEDs.
Logitech K480: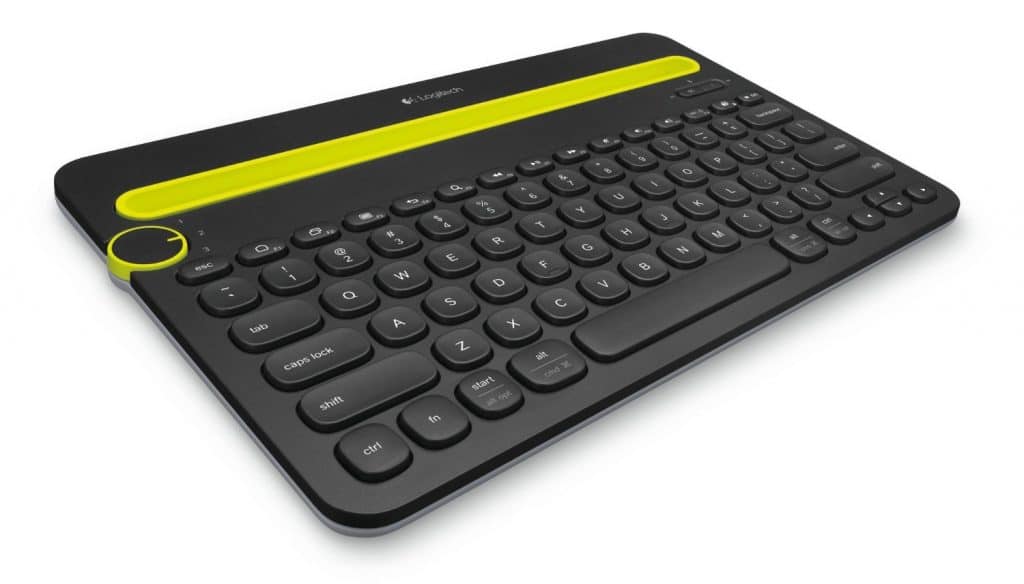 Answer to your Doubts :
I found some questions on Quora "Is there any Remote to control my Android Device?", "What is a good external Keyboard for MacBook Pro?". Being an expert product reviewer I myself have tested many wireless Devies like Mouse, Keyboards, etc. But everyone of them had some pros as well as cons.
Have a look at the Logitech K480 Bluetooth Keyboard it supports My MacBook as well as other Android & iDevices.
Click To Tweet
What you'll get, with the Device :
A Device for your Computer, Mobile, as well as any of iDevices :
A single keyboard allows you to type on anything! The Bluetooth® Multi-Device Keyboard K480 is a unique keyboard for your Windows, Mac or Chrome computer…that also works with your Android or iOS mobile devices. With a flick of a switch, you can change typing from one device to the next. (Bluetooth wireless device required).
This is How you can switch from multiple Devices :
"

Is there any Keyboard which can connect two devices and choose Output Channel?

"
"

How can I use one set of mouse and Keyboard for two Computer ?

"
The Device has a round dial above the Esc Key which lets you to switch between your connected devices. The dial is labeled as 1, 2 & 3 which means you can seamlessly connect and work on upto 3 devices without having to pair them every time. Just rotate the Dial and start Typing.
In-built Slot for holding devices :
Bit of a less than the keyboard sized above the Keypad is a long cradle where you can make your phones or any iDevice stand still. While the size of the slot being long enough you could put almost up to three devices in the slot. Isn't that handy when it comes to replying to a text message on Whatsapp or Facebook while you are busy doing your work on your PC. No need of picking your phone and type, while you can type by just switching the device from the dialer and the  handy device cradle would ensure that none of your device goes out of sight.
Waterproofing :
The main problem with wireless Keyboards or any wired keyboard is that they are not waterproof. I have seen many people asking "Is the Logitech K480 Bluetooth Keyboard Waterproof ?". Same Problem goes with the K480, this wireless Bluetooth keyboard is not Waterproof you'll have to buy a separate Water & Dust Protector for the K480.
Features of Logitech K480:
The Logitech K480 is a Universal and Multi-Platform device.
 Compatibility: Logitech K480 Works with Smartphones, tablets, and computers. It is compatible with computers like Windows, Mac, and Chrome computers and Android or IOS mobile devices.
Battery life:  The battery life for the K480 is two years.
Integrated Function Keys & Hotkeys.
 Logitech K480 has Integrated cradle to hold tablets and phones.
A range of Bluetooth: upto 10 m/ 33 ft. Bluetooth wireless range.
On/Off power switch
Battery life Indicator Light
Watch the Keyboard in Action
Video Courtesy: Logitech
Lets Go, compare them :
Logitech K480 vs Logitech K380
Product Name
Logitech K480
Logitech K380
Product dimentions
7.68" x 11.77" x .79"

4.9" x 10.9" x .6"

Weight
1.81 lbs/ 820 g

0.93 lbs

Price
Best Buy USA, UK

Best Buy Germany 

*Currently sold at a Discounted Price

Best Buy USA, UK

Best Buy  Germany

Range
10 m/33 ft
Battery
2 AAA batteries (pre-installed)
Special Keys
Home, App-Switch, Back
 (Home, Back, App-switch, Contextual Menu), Easy-Switch™
Integrated Cradle
Available
Not available
The Model Year
2014
2015
Connectivity
Connects three devices simultaneously
Connection Type 
Bluetooth Classic 3.0
Indicator Lights(LED)
Battery LED, Bluetooth Discoverable status LED
Battery LED, 3 Bluetooth channel LEDs
Color Options
White & Black
Blue & Black
Compatibilty
Compatible with all wireless devices that support external keyboard through Bluetooth wireless.
Warranty
1 Year Limited Hardware Warranty
Recommendation: 
Choosing the Best One :
While Choosing the Best one among this both it depends from person to person, some would find the small size better, while some would prefer the Device holding Cradle useful. But, According to me while I buy certain products I take care that device follows certain my self-made standards 🙂
Points every Buyer must consider : (for Keyboard)
Is the money spent worth the product…? ask yourself before buying something. Read customer reviews on internet, visit multiple reviewing sites. If you are sure with the choice then you should proceed no hassles nothing.
Now the question arrives "What's the price of Logitech K480/K380 ?"

Same goes with this two products, Currently both the Keyboards are priced same in the market. The K380 is a newer 2015 model and the K480 being the 2014 model. Both device almost house the same features only with some minor differences. Which make them the Best Wireless Keyboard under $30 for Android, PC & iDevice. Yes, the money spent will be worth more than your happiness I assure.
Lags after Button Press…!! 
Oh! Damn I bought the Keyboard… & now it just works like my i typed a letter few milliseconds back and its show later. Yes, Both the Devices are almost Lag free with good transmission rate for Input. But its a machine and Today or Tomorrow it would definitely have some problems or issues. It depends on how serious the Lag is… With High Speed Bluetooth 3.0 connectivity support I think lagging is kind of myths for this Keyboards.
"My Logitech K480/K380 Keyboard lags… What to do? "
Try updating the Application You used to connect the Device.
Make sure you have sufficient amount of RAM in PC/MAC devices which ensures smooth working.
Ensure that you are not Operating the device far away than the maximum Opearting Range(10m/ 33ft).
Still have issues contact the Logitech Help & Support Center, they will surely find the way out.
I feel like typing on a Old Typewriter :
What's the use of the Keyboard if it doesn't fit your comfort zone. Using the wireless devices like keyboard should be comfortable n easy. A user must feel that just a book is kept on laps, incase he/she uses the Keyboard while sitting down on bed/ Sofa
Weight – The K480 as compared to K380 is way to bulky when it comes to its weight. Its almost around 820 g while the K380 being 421 g, almost half in weight. Which makes it more portable and handy.The Extra Device selection Dial & the Device Cradle might make make the K480 bigger & heavier.
Design – K380's compact design looks perfect and fine for regular use while you can keep the device in Bag or your purse in case if you need to carry it For a Gaming Trial at your friend's place. while the K480 being a bit of larger in size.
Buttons – K480's Button structure looks a bit of polygonial in shape & the K380 has rounded shaped buttons. The comfort level for them depends from person to person. I would find the rounded shaped buttons as well as the other equal in comfort.
Environment Proof :
Shockproof – Not completely but upto certain extent both the devices can withstand shocks from a minor fall from 2-4 ft. The more heavy the device will be the stronger shock it will get from falls. As the devices are made with completely plastic bodies their are chances that a high fall can damage the device externally or internally.
Waterproof – Both the devices are not Waterproof. Don't try to have a cup of coffee while your keyboard rest aside. Incase the Device gets wet accidentally, remove the batteries immediately and let the device dry out completely for almost 7-8 Hours or more. Put the batteries later and try to use the Keyboard. Check IPX Rating
Battery Life – Based on two million keystrokes/ year the Company guarantees a 2 Years of Battery life. Still the Batteries being removable incase if you feel you are a hardcore gamer or a fulltime writer, you can replace the batteries if required.
Drawbacks :
Only Major Drawback I Could find,
Missing Numberpad : Both the devices miss a number pad which proves useful for gamers while playing 2 player games which use same Keyboard for Player 1 & 2.
Our Verdict :
It was Difficult to choose one among this two K480 vs K380, I concluded that the overall product recommendation goes to the K380. K380 has more advantages than K480. It has Excellent versatility for the price,Along with Multiple Bluetooth connections, it is much smaller and slimmer, so it's even easier to take anywhere you may need a keyboard. While the Logitech K480 has great features and two color options, the portability and ease of use of the K380 takes the cake.
Thinking of buying the best Wireless Keyboard less than $30
Click To Tweet