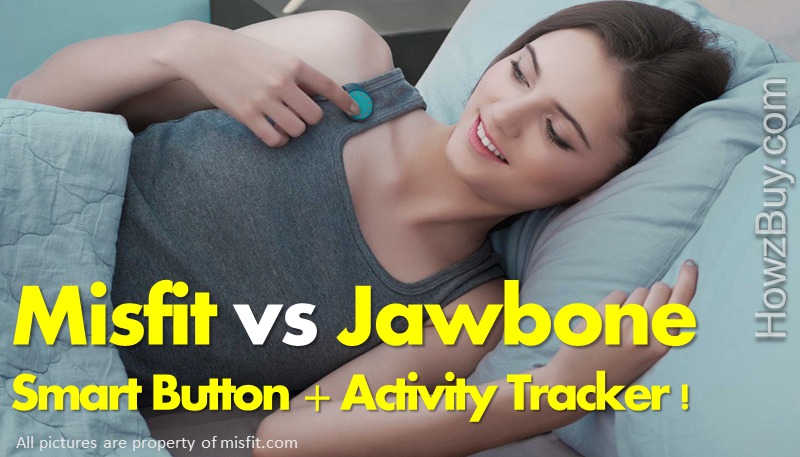 While you begin your journey towards fitness, mostly it keeps on swinging between start & stop cycles ! Everyone knows that you began exercising and stopped it !! Family & Friends make fun of you !!! Well the small fitness trackers like Misfit Link & Jawbone Up Move are here to help you out. They are so small, that you can wear them in stealth mode, no-one even knows your journey towards fitness, wear it in Bra hook, or pocket or even on the Shoe less ! makes it practically invisible to others. Once you are comfortable with your fitness journey, you can start sharing it on social apps like FaceBook & Twitter, compete with your family & friends too. All this you can do by spending just $20 or below 🙂
So here I will talk about the highest seller Jawbone UP Move & Comparatively less famous Misfit Link fitness trackers. The reason for selection is their size & price range, both are below $20 fitness trackers as on date of writing this post.
So before I dive into details of each tracker, you can look at below comparison table, which will give you quick review of both, and if the time permits, go-on reading full review till end of post 🙂 ….
Misfit Link vs Jawbone UP Move Activity Tracker specs
Tracker
Misfit Link
Jawbone UP Move
Colors
Black, Red, Teal, White
Blue burst, Onyx burst, Ruby rose, Slate rose
Display
LED indicators
Social Sharing
Yes
Material
TPU/Polycarbonate
Nylon-like anodized aluminium
Bluetooth version
Bluetooth 4.1 BLE (Bluetooth Low Energy)
Splash proof
Yes
Swim Proof
No
Treking
Tracks steps, distance, calories, and light and restful sleep
 Tracks steps, exercise, overall calories burned, hours slept and quality of sleep
Coaching
App helps reaching your goals
Alarm / Alert
No
Heart rate monitoring
No
Charging time
No charging required
Battery life
Replaceable battery lasts up to 6 months
Best Add-on Feature
Storing up to 30 days worth of data
??
 Smart Button
Smart button enabled to control connected household devices
No
 Add-on tracking
Tracks cycling, yoga, soccer, tennis, basketball, dance and more in addition to steps, calories and distance.
App Compatibility
Link syncs with fitness and health apps like LoseIt!, Runkeeper, MapMyFitness, MyFitnessPal and IFTTT.
Track your food, drink, calories, nutrients and use the UP App Food Score to quickly know if you are eating right
Compatibility
iOS and Android
Best Buy Price
Best Buy
Discontinued by the manufacturer
What is that common in both Misfit Link vs Jawbone UP Move ?
Design
Both trackers are designed to be worn in a band, on a clip.
Quality of your sleep
Sleep quality is one of the most important part of your fitness journey, Best sleep quality is indicator of healthy life and it is important to know the phases of sleep, so that you can improve upon. Both trackers are able to track your sleep, and show you records for comparison and improvement. The App will tell you if its best time to goto the bed 🙂
Best thing is you need not tell the tracker that you are going to sleep, but the tracker senses slowing down of movements & switches to sleep mode monitoring.
Swim-proof
Both trackers are splash proof, means you can't wear them while swimming ! But they can sustain light showers & splashes.
Wireless Synchronization
Both devices synchornizes over Bluetooth with your smartphone app, enabling to transfer activity data and using it through app for further guidance to achieve goals, share with family and friends.
Marathon Battery Life
Both uses  regular coin watch-style battery which lasts till 6 months, so you are free from daily boring task of finding a charger and fear of loosing tracking due to discharged tracker 🙂
Price
Both are priced below $20 at the time of writing this post, so pretty budget friendly to your pocket, in fact they are the cheapest fitness trackers as on date.
What Misfit Link can do, which Jawbone UP Move Can't ?
Misfit Link is not only Fitness Activity Tracker but also a Smart Button
Now here Misfit Link clearly have winning strategy over Jawbone UP Move tracker, it can act as a Smart Button !! You can simply use if as control switch, I have enlisted activities it can do for you remotely saving lot of extra money you need to put into getting these features buying different costly gadgets in market !!
Selfie Remote – use it as remote selfie button of smartphone. [save $]
Music system remote – control the bluetooth sound bar [save $]
Powerpoint presentation clicker – advance slides in your presentation in a click [save $]
Send a Yo [know more what is Yo]
Trigger a Harmony Hub activity [know more on Harmony Hub]
Turn on/off the Misfit Bolt Smart Bulb 
Find your phone – To me this is the most value added thing that can be done using the Misfit Link tracker button 🙂 Many times in a day I keep misplacing my mobile phone in house as well as in office, finding it back with small button tracker which I am wearing 24×7 gives me fantastic help so far.
So both tiny trackers are best suitable for women & girls [don't worry men also can use them as well] who can use them 24×7 without being noticed by anyone, keeping the journey to fitness known only by looking at the results 🙂 
although proposition of using Misfit links looks lucrative with add-on function of Smart Button, saving lot of $$$ which you might need to spend having separate devices for (refer to list above showing approx $10 saved)