If you are looking for Active Noise Cancelling Over Ear Wireless Headphones under $50, then you are on the right page where I am comparing three models from Mpow which are ANC over ear headphones and all priced $50 as on 08 June 2019. The models are Mpow H5 vs Mpow H5 2019 Upgrade vs Mpow H18.
In this review you will see comparison of all three models and will be able to decide which one is worth buying since all are priced same i.e. $50 as on June 2019. I have considered Mpow H5 as baseline model and compared its specs with other two.
Lets understand what is better in the 2019 Upgrade of H5 and another model which is different in style (Classic vintage model) H18 which looks old styled but have high battery power delivering about 50 hours of music playtime.
Lets begin this review with looking at the common features and later look at the differences w.r.t. each other.
What are the common features of Mpow H5, Mpow H5 2019 Upgrade & Mpow H18?
All of three models are Over Ear Wireless Headphones working on Latest Bluetooth 4.1 protocol to connect to your Android / iOS smartphones and tablets; MP3, MP4; iPod; PC; TV and other Bluetooth enabled devices.
All are over ear type design which are good for sound isolation and cold environment since they also serve to keep your ear warm. I personally love over ear design when I am travelling in chilling weather, they protect from environment noises as well as the wind.
They are foldable so easy to go in backpack as a last layer, which you can take out at any point of time.
Active Noise Cancelling (ANC)
The H5 / H5 UG / H18 feature the most liked ANC feature which means they can isolate the most irritating sounds like a humming noise of jet engine, air conditioning system noise, wind noise making your travel most comfortable.
Active noise cancelling (ANC) technology simply senses the standard frequency noises and generates sound waves which cancels out these environmental noise creating a sort of silence into your ear canal. However this has limitation that it works best on the standard frequency noises such as airplane cabin noise, city traffic or office air conditioner.
However ANC do not work effectively on human voice (medium frequency) or industrial machine noises (high frequency) – Again in such case the Over ear design works isolating these noises physically using sealing on the ears, H5 basic model has high clamping force hence works good, but slightly painful for long time wearing (Mpow has tried to work out on this in the upgrade of H5 by reducing the clamping force)
For me my frequent air travels becomes a breeze using ANC, it works fantastic.
Again ANC works on complex algorithms which are specific to a brand, where leaders like BOSE have their own propriety logic's which are considered to be best in world, but again they also cost you more.
The ANC technology from Mpow strikes a balance of price to the function. I mean considering the $50 price they work to the best.
Tip :
For all these models you will find a ANC ON/OFF button which can be used to save some battery power. So when you really do not need it, like at home or office, simply switch the ANC OFF to save power and switch ON when you are outside in noisy environment.
Hands Free calling (Good Microphone)
The H5 / H5 UG / H18 features CVC 6.0 noise cancelling technology for improving the call quality. I have written a detailed post on What is CVC6.0, you can read it here.
In short CVC6.0 is a set of complex algorithms from Qualcomm which understands the environmental noises and filters them out from entering the microphone making the call quality containing only your voice and not the wind or scrabbles in garden.
So its like suppressing the background noises and boosting human voice which is way better than any other headphone without CVC.
Sound Quality
The H5 / H5 UG / H18 are powered with 40 mm drivers which can be considered as decent diameter for the over ear type headphones.
The ANC and passive isolation makes the music experience really focused on the performance of drivers and chip generating the sound waves.
The audio drivers uses standard audio chip delivering a clean and balanced bass, treble and mid range notes. I personally felt them more like an audiophile headphones!
If you are a high bass lover then you need to use some equilizer to boost the bass.
Bluetooth connectivity v4.1
The H5 / H5 UG / H18 uses latest Bluetooth 4.1 protocol which supports quick pairing with your smartphone, range of over 33 feet (10 meters) and gives some extra hours of music play with the low energy protocol.
Once connected, Bluetooth 4.1 will result into low connection drops, in fact these Mpow models practically have no connection drops unless you move out of range or go behind some concrete wall. I am using the basic model H5 and found that actual range is more than 33 feet if you are in the line of sight ( I tested it in my office where I can go over to 50-60 feet without any signal loss)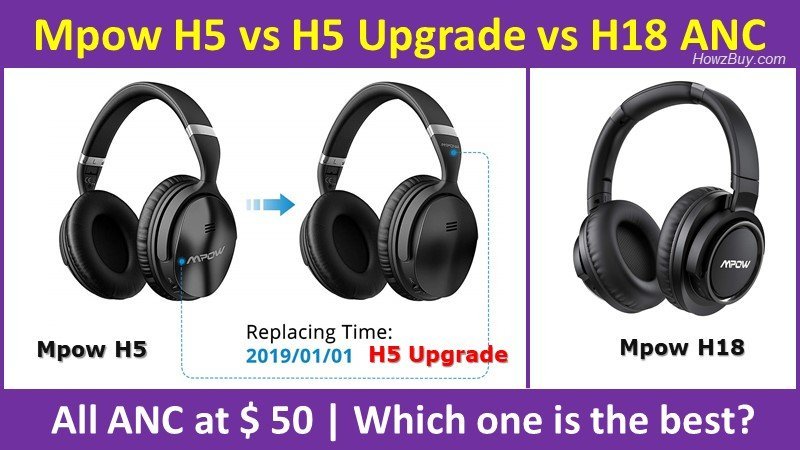 Before we see the differences w.r.t. the base H5 model, please have a look at below comparison table showing differences in green background color and then move on to detailed description.
Mpow H5 vs H5 Upgrade vs H18 | All $ 50 | Which one is the best?
Mpow Best Active Noise Cancelling Headphones

Mpow H5

Mpow H5 Upgrade

Superior Deep Bass

Mpow H18 Update

Deep, accurate bass response

Release date
Jan-18
Aug-18
Jan-19
Color
Black, Silver
Black, Silver
Black

Offers / Discounts

Active Noise Cancellation
Yes
Yes, Upgraded ANC Technology compared to H5
Updated ANC technology significantly reduces noise
Denoising Depth
20 ±3 db
22 ±3 db
25 ±3 db
Drivers
40 mm
40 mm
40 mm
Style
Mirror Style
High-end Electroplated Mirror Style (Larger than H5)
Vintage Style
Ear Cushions
Baseline model
Comfortable around-ear ear cushions for all-day wear (larger than Mpow H5)
Super soft, memory-protein earmuffs
Headband
Baseline model
Upgraded headband with less clamping force
Adjustable metal slider on soft headband to fit all head shapes and sizes
Foldable
Yes, All three models are foldable
Music / Talk time
Up to 18 Hours
Up to 30 Hours
Up to 50 Hours
Microphone
Hands-Free Call, Microphone only works in the wireless mode.
Noise cancelling
CVC 6.0
Bluetooth
Bluetooth 4.1
Wireless range
33 feet
33 feet
56 feet
Over-ear control buttons
track/volume, play/pause music, answer/hang up calls
Charging Time
About 2 Hours
Battery
300 mAh
500 mAh battery
800 mAh large battery
Manual Download
mpow h5 user manual

free download

 
 
Warranty
 45 days money back & 2-years worry-free guarantee.
Compatibility
Android/iOS smartphones and tablets; MP3, MP4; iPod; PC; TV and other Bluetooth enabled devices
Connectivity
Wireless and Wired using 3.5 mm audio cable
Mpow H5 vs H5 Upgrade vs H18 | All $ 50 | Which one is the best?
To find out which of the above three headphones are best, you need to look at the micro level differences.
Remember that you are paying the same price to get any of the above models, so it is important to read below information carefully to decide which one you will finally buy.
Active Noise Cancelling (ANC)
Mpow has worked further on ANC function in the H5 2019 Upgrade, mostly this will be on the software front improving the capability to filter the environmental noises.
The H18 which is introduced in Jan-19 also gets this upgraded ANC function which significantly reduce environmental noises.
So here you can go for H5 Upgrade or H18 to get advantage of latest ANC function.
Denoising Depth
H5 Baseline

20 ±3 db

H5 Upgrade

22 ±3 db

H18

25 ±3 db
Build & Design
Baseline H5 (contemporary)
H5 itself have a glossy finish ear-cups with aluminium highlights on the headband providing a rich feeling.
The remaining parts of headphone are primarily looks to be matte plastic.
Clamping force of headband in base H5 model is somewhat high making it uncomfortable for long time use.
H5 2019 Upgrade (contemporary)
Upgrade mainly focuses on the comfort improvements.
The ear cups are increased in size which are larger than base H5 model, what it means is that they will cover the ear fully and can be used for larger ear sizes or when used for small ear sizes will cover fully providing a good isolation.
The headband in H5 Upgrade is slimmer than original H5, thereby reducing the overall clamping force, making it comfortable for long time wearing.
Obviously the Mpow H5 [2019] Upgrade is lighter with the ultra-slim headband and provides more portability / flexibility.
H18 (Vintage)
H18 mainly differs in terms of style. It is designed to look like vintage headphone, so if you are vintage lover, do for this pair of headphones.
Remaining things remain almost the same, except that this model is available only in Black color.
One more thing in H18 is use of Super soft, memory-protein earmuffs, which means you get more comfort with large ear cups which are soft touch to the ears.
Battery Life
Baseline H5 & H5 2019 Upgrade (20 – UG 30 hours)
Both these models provide music playtime of around 18-30 hours depending upon the usage of ANC and music volume. However the H5 Upgrade is backed up by more powerful 500 mAh battery, which means practically it will deliver more music playtime, to my estimate it should be around 30 hours.
To me while using the base model H5, the music playtime is more than suffice, since I use it daily at home after office hours. Sometimes when I use it outside, specially in garden, then I do put up ANC but again its not for hours together .. so no issues with this
And they get back to life in just 2 hours of recharge, so pretty good bargain.
Further the standby time extends up to 3 weeks.
H18 (50 hours)
H18 are packaged by a bigger battery than H5 (300 mAh) and H5 Upgrade (500 mAh) ..
H18 is powered by 800 mAh powerful battery hence delivering upto 50 hours of music playtime.
Bluetooth range
Somehow the technical specs says that H18 can work up to range of 56 feet as against 33 feet for H5 / H5 UG, however practically I have seen that the H5 also works till that range if its in clear line of sight.
However since I have not tested H18, maybe practically it will be giving a wireless range more than H5. If you buy H18, do let me know about the results by putting comments under this review.
Bottom line
If you ask me which one to choose by spending $50, then I will surely go for H18 ( latest price check ) which gives music playtime of 50 hours, upgraded ANC  software and a vintage look.
However if you are fascinated by the contemporary look of H5 then surely go for the Upgrade of H5 ( latest price check ), which costs the same but provides updated ANC logic and larger ear cups making them more comfortable than ever.